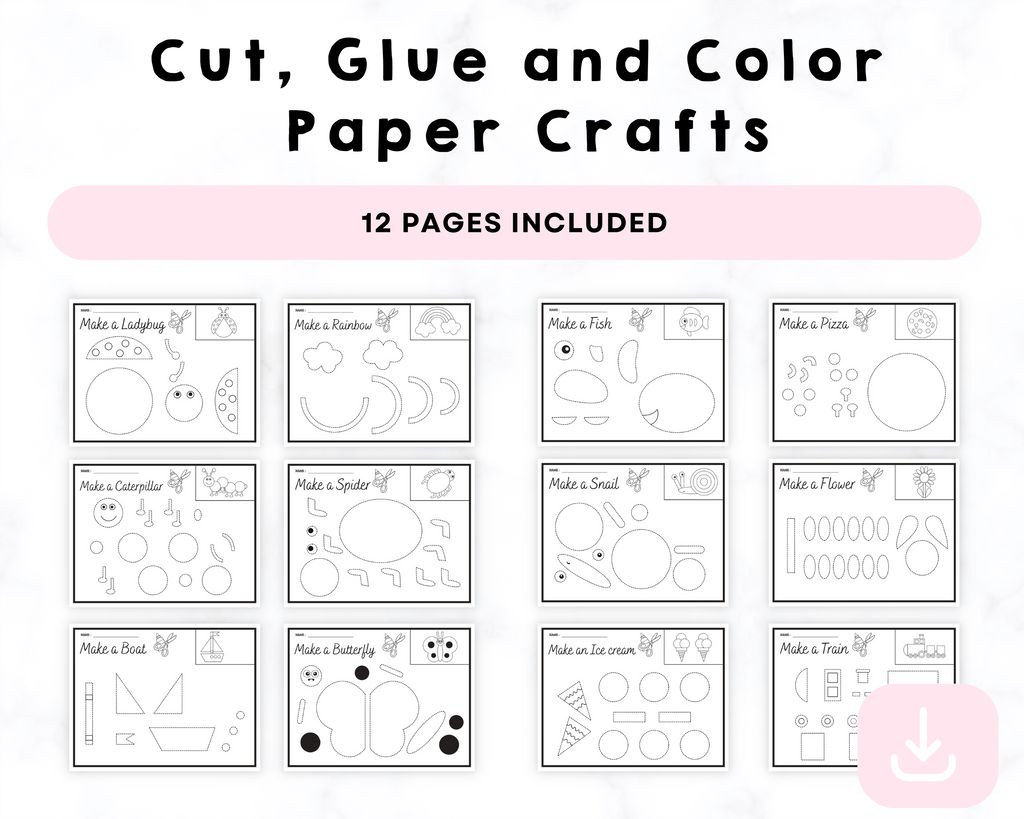 Cut, Glue and Color Paper Printable Crafts
Cut, Glue and Color Paper Printable Crafts
description
🎨✂️ Unleash Creativity with Our 12-Page Cut, Glue, and Color Paper Printable Crafts! Craft, Create, and Play with Ease! 🌟🖌️
🔍 What's Inside?
Explore 12 meticulously designed pages filled with a variety of paper crafts waiting to be brought to life! From cutting and pasting to coloring, each page features charming crafts that engage young minds in a world of creative exploration. Crafted to inspire imagination and fine motor skills, this pack offers an array of interactive activities for endless crafting fun.
✂️🖍️ Crafting Adventures:
Cutting and Pasting: Engage in hands-on activities that encourage fine motor skills and creativity through cutting and pasting shapes and figures.

Colorful Creativity: Foster artistic expression with coloring elements that bring each craft to life in a personalized way.
🌟 Why Choose Our Printable Crafts?
Versatile Collection: 12 pages filled with diverse crafts, ensuring hours of creative entertainment.

Interactive Design: Engaging activities that captivate young hearts and minds while promoting fine motor skills and creativity.

Personalized Masterpieces: Encourage individuality as children add their unique touch to each craft through coloring and assembly.
🎨 Perfect for Little Artists!
Inspire hours of imaginative play and artistic exploration with our Cut, Glue, and Color Paper Printable Crafts. Whether for home-based activities, classroom projects, or as a fun and educational resource, these printables offer a world of creative possibilities.
🛒 Add to Cart Now and Let the Crafting Adventures Begin! 🎨✂️🌈
Contact us
Crystal & Co.
P O Box 55263
Hurst, Texas 76054
crystalandcomp@yahoo.com
Sign up to our mailing list