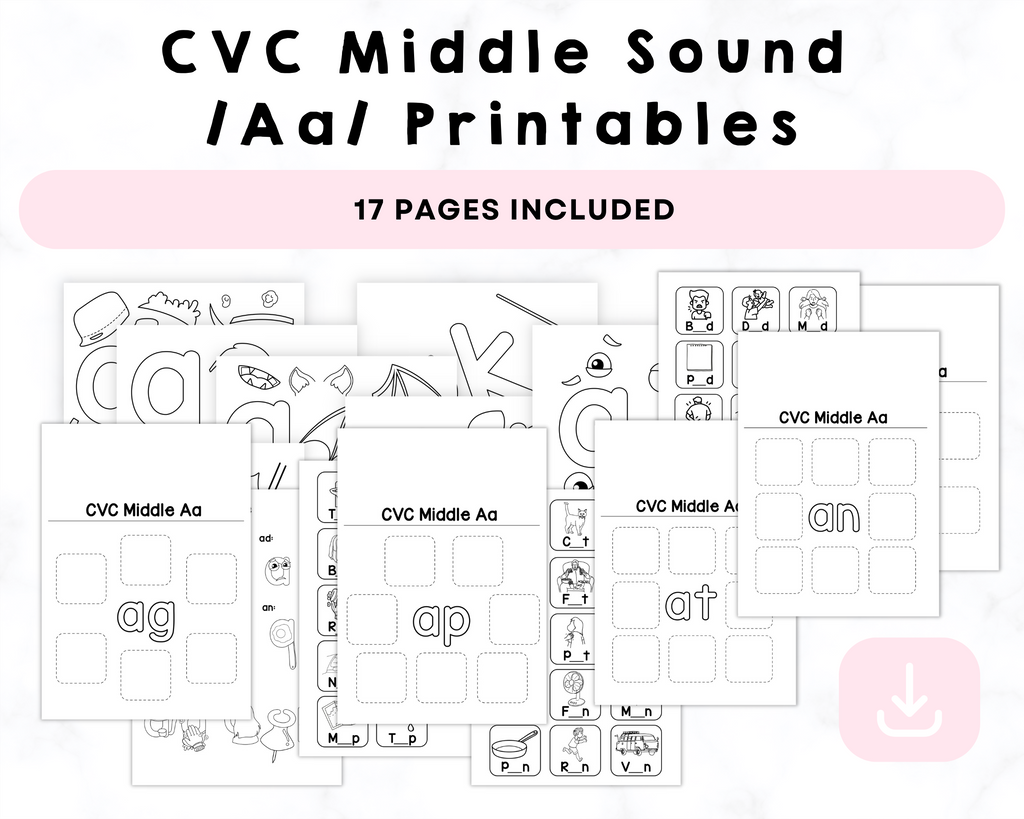 CVC Middle Sound /Aa/ Printables
CVC Middle Sound /Aa/ Printables
description
Introduce your little learners to the exciting world of phonics with our engaging 17-page CVC Middle Sound /Aa/ Printables designed specifically for preschoolers. These printable worksheets are meticulously crafted to help young minds grasp the fundamental concept of middle sounds in simple CVC (Consonant-Vowel-Consonant) words, focusing on the vibrant and essential vowel sound /Aa/.

**Key Features:**

1. **Targeted Learning:** Our printables are meticulously designed to focus on the essential middle sound /Aa/, making it easier for preschoolers to grasp and enhance their phonemic awareness.

2. **Interactive and Engaging:** Each page is filled with colorful images and exciting exercises, ensuring an interactive learning experience for your little one. The captivating visuals will keep them engaged and eager to learn.

3. **Multiple Learning Opportunities:** With 17 pages of carefully crafted exercises, your child will have ample opportunities to practice recognizing and producing the /Aa/ middle sound in various CVC words.

4. **Progressive Difficulty:** The worksheets are structured in a way that gradually increases in complexity, allowing for a smooth progression of learning. From identifying the middle sound to forming complete words, your child will build confidence step by step.

5. **Reinforce Reading Readiness:** By focusing on the /Aa/ sound in CVC words, these printables lay a solid foundation for reading readiness, enabling your child to approach early reading with confidence and excitement.

6. **Print and Play:** Easily print these worksheets and introduce them as part of your at-home learning routine. Whether used in the classroom or at home, these printables are a valuable resource for every budding reader.

Empower your preschooler with the skills they need for successful reading and language development. Grab our 17-page CVC Middle Sound /Aa/ Printables and watch as your child blossoms into a confident reader. Learning has never been this much fun!

Please note: This is a digital product. No physical items will be shipped. After purchase, you will receive a link to download your printable pack.

Contact us
Crystal & Co.
P O Box 55263
Hurst, Texas 76054
crystalandcomp@yahoo.com
Sign up to our mailing list