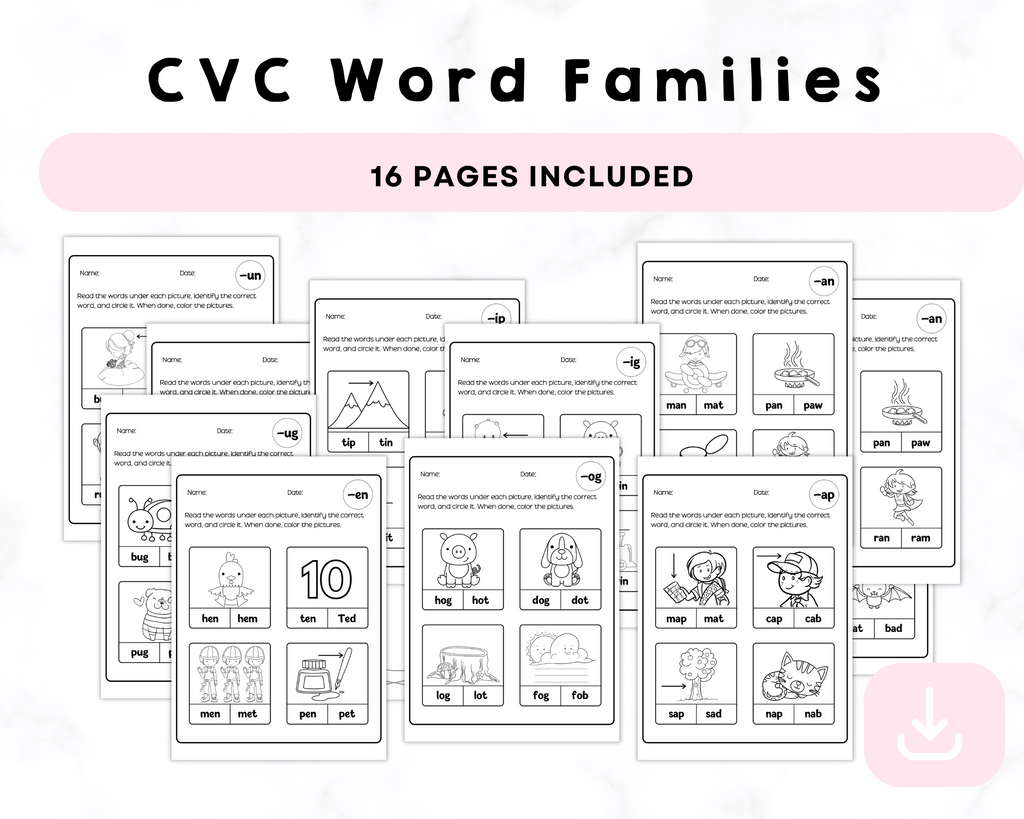 CVC Word Families Printables
CVC Word Families Printables
description
🌟 Unlock the Magic of Reading with Our 16-Page CVC Word Families Printables for Preschoolers! 📚✨
 Specifically designed to captivate and empower preschoolers on their reading journey, this pack is a gateway to early literacy success.
🔤 What's Inside?
Explore 16 vibrant and engaging pages brimming with colorful illustrations and interactive activities focusing on CVC (Consonant-Vowel-Consonant) word families. Each page introduces and reinforces fundamental word patterns, aiding in building strong reading foundations.
🧠 Educational Adventures:
Phonics Mastery: Foster phonemic awareness as preschoolers grasp the basic building blocks of reading through fun and accessible exercises.

Word Recognition: Enhance word recognition skills by immersing young minds in word families, empowering them to decode and read with confidence.

Early Literacy Development: Lay the groundwork for lifelong reading success by introducing essential reading strategies and skills at an early age.
📝 How to Use:
Print, learn, and read! These printables seamlessly integrate into literacy lessons, making them perfect for parents, educators, and caregivers seeking to nurture early literacy skills. Ideal for both individual and group activities.
👶 For Ages 3-5:
Tailored to preschoolers' developmental needs, our pack introduces and reinforces early literacy skills in an engaging and age-appropriate way.
🛒 Add to Cart Now and Watch Young Minds Blossom into Confident Readers! 🌈📚
Please note: This is a digital product. No physical items will be shipped. After purchase, you will receive a link to download your printable pack.
Contact us
Crystal & Co.
P O Box 55263
Hurst, Texas 76054
crystalandcomp@yahoo.com
Sign up to our mailing list