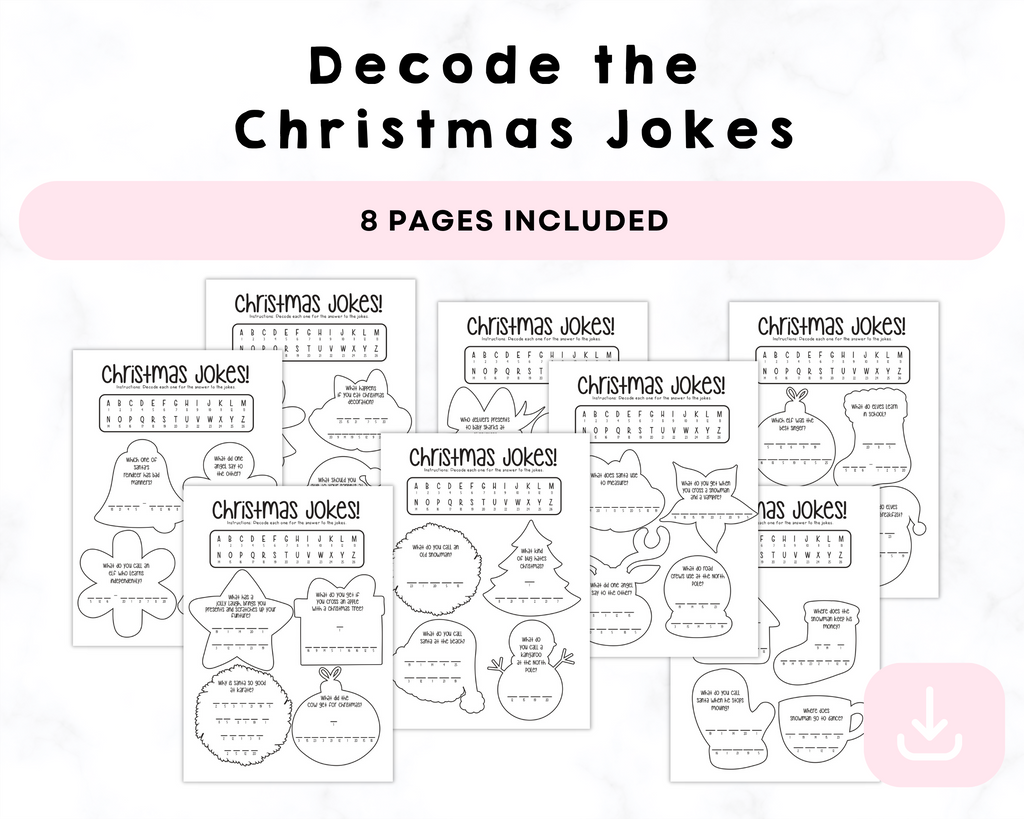 Decode The Christmas Joke Printable
Decode The Christmas Joke Printable
description
Introducing our 8-Page Christmas Joke Puzzle Printable: Unwrap the Laughter!

Get ready to jingle all the way with our delightful 8-page Decode The Christmas Joke Printable. This festive pack is a merry collection of brain-teasing word puzzles infused with the spirit of the holiday season. Bring the joy of solving puzzles and the laughter of Christmas jokes into your celebrations!

🎄 **Pages of Puzzling Fun:**
1. **Jolly Jumble:** Unscramble the letters to reveal the punchline of a classic Christmas joke!
2. **Santa's Secret Message:** Decode a special message from Santa by solving this cryptic puzzle.
3. **Frosty's Riddles:** Answer the riddles to unravel the icy humor within.
4. **Christmas Crossword:** Fill in the blanks to complete the crossword and reveal a festive joke!
5. **Holiday Anagrams:** Rearrange the letters to discover the hidden joke in a seasonal phrase.
6. **Yule Logics:** Use your logical thinking to complete the grid and unveil a laugh-out-loud joke.
7. **Reindeer Rhymes:** Match the rhyming words to create a reindeer-inspired joke.
8. **Mistletoe Mix-up:** Rearrange the words to craft a hilarious holiday joke that will have everyone in stitches!

🎁 **Why Choose Our Christmas Puzzle Printable?**
- 🤣 **Endless Laughter:** Spread holiday cheer and create memorable moments as you decode jokes with friends and family.
- 🎅 **Interactive Entertainment:** Perfect for holiday gatherings, parties, or a cozy night in by the fire.
- 🧠 **Brain-Boosting Challenges:** Exercise your brain with a variety of word puzzles that keep you engaged and entertained.

Add a dash of merriment to your Christmas festivities with our 8-page Decode The Christmas Joke Printable. Get ready to sleigh those brain-teasers and have a ho-ho-whole lot of fun! 🎉

Please note: This is a digital product. No physical items will be shipped. After purchase, you will receive a link to download your printable pack.

Contact us
Crystal & Co.
P O Box 55263
Hurst, Texas 76054
crystalandcomp@yahoo.com
Sign up to our mailing list