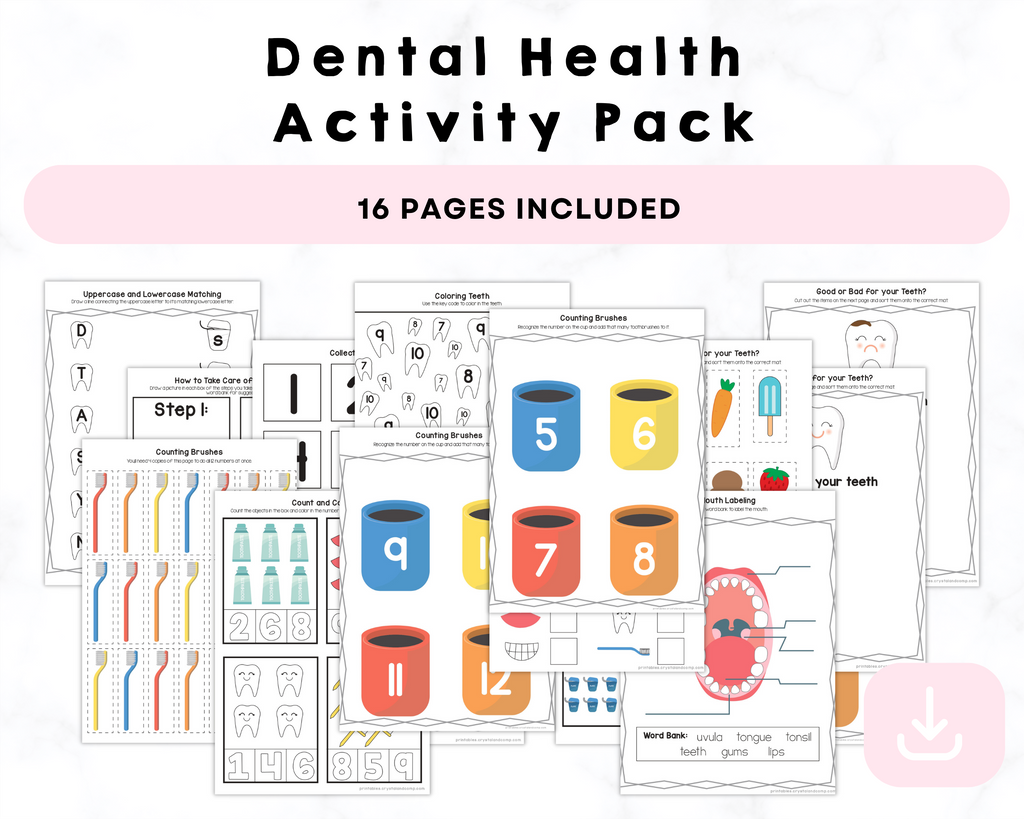 Dental Health Activity Pack Printables
Dental Health Activity Pack Printables
description
Introducing our Dental Health Activity Pack Printables – a 16-page bundle designed for the bright smiles of preschoolers! Dive into a delightful learning adventure with engaging activities that make education fun.

🌟 **Educational Fun:** Explore dental health with captivating uppercase and lowercase letter matching. Connect the dots between letters for a lifelong love of language.

🦷 **Counting Brushes:** Numbers come to life with our imaginative counting brushes activity! From one to ten, your preschooler will count their way to dental brilliance, fostering numerical skills and a sense of responsibility for their pearly whites.

🎨 **Vibrant Design:** Our pack isn't just about learning; it's visually stimulating! Charming illustrations and vibrant colors make the dental health journey utterly enjoyable.

👩‍🏫 **Teacher and Parent Approved:** Loved by educators and parents alike, our printables strike the perfect balance between fun and education. Ideal for both classrooms and home learning.

📚 **Comprehensive Bundle:** Unwrap 16 pages of dental-themed bliss, from letter recognition to counting drills. A holistic learning experience that leaves a lasting impact.

🎉 **Interactive Learning:** Say goodbye to dull worksheets! Our printables encourage hands-on exploration, creating a positive association with dental health education.

🌈 **Print and Play:** Convenience meets creativity! Simply print the pages and embark on a hassle-free dental adventure that fits into your busy schedule.

🦷 **Early Dental Literacy:** Give your little ones a head start on their dental health journey. Our activities promote not only letters and numbers but also an early awareness of oral hygiene.

Transform learning into extraordinary fun with our Dental Health Activity Pack Printables. 🌈🦷✨

Note: This is a digital product. No physical items will be shipped. After purchase, you'll receive a link to download your printable pack.
Contact us
Crystal & Co.
P O Box 55263
Hurst, Texas 76054
crystalandcomp@yahoo.com
Sign up to our mailing list