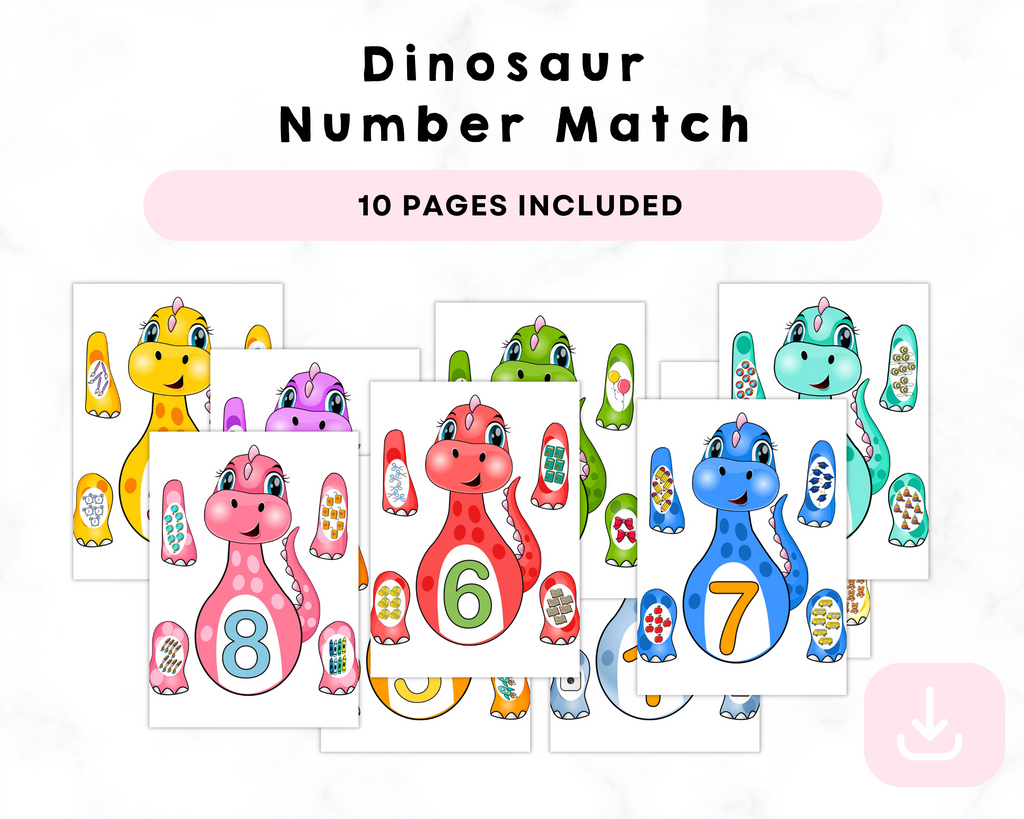 Dinosaur Number Match Printables
Dinosaur Number Match Printables
description
🦕🔢 Roar into Learning with Our 10-Page Dinosaur Number Match Printables! Explore Numbers While Assembling Dinosaurs! 🌟✂️
Embark on a prehistoric adventure with our captivating 10-page Dinosaur Number Match Printables! Explore carefully designed pages filled with vibrant dinosaurs waiting to be assembled and matched with their corresponding numbers. From cut-and-paste activities to assembling dinosaurs with numbers, each page offers an exciting blend of creativity and numerical exploration.
🦖 Educational Adventures:
Dinosaur Assembly: Engage in hands-on activities by cutting, pasting, or assembling dinosaurs while matching them with their respective numbers.

Number Recognition: Foster numerical skills by associating and matching dinosaur parts with the correct numbers, making learning numbers a Jurassic adventure.
✂️ How to Use:
Print, cut, match, and play! These printables are designed to blend the fascination of dinosaurs with foundational numerical skills. Ideal for parents, educators, and caregivers seeking to make number learning interactive and enjoyable.
🌟 Why Choose Our Printables?
Interactive Learning: 10 pages offering creative and interactive activities that make learning numbers fun and memorable.

Dinosaur Excitement: Vibrant illustrations and assembling activities that captivate young minds while reinforcing number recognition.

Skill-Building: Promote fine motor skills and numerical understanding through hands-on assembly and matching exercises.
🦕 Perfect for Little Paleontologists!
Inspire a love for numbers and dinosaurs with our Dinosaur Number Match Printables. Whether for homeschooling, classroom activities, or as an engaging learning tool, these printables combine the thrill of dinosaurs with essential numerical skills.
🛒 Add to Cart Now and Let the Dino Number Adventures Begin! 🦕🔢🌈

Please note: This is a digital product. No physical items will be shipped. After purchase, you will receive a link to download your printable pack.

Contact us
Crystal & Co.
P O Box 55263
Hurst, Texas 76054
crystalandcomp@yahoo.com
Sign up to our mailing list