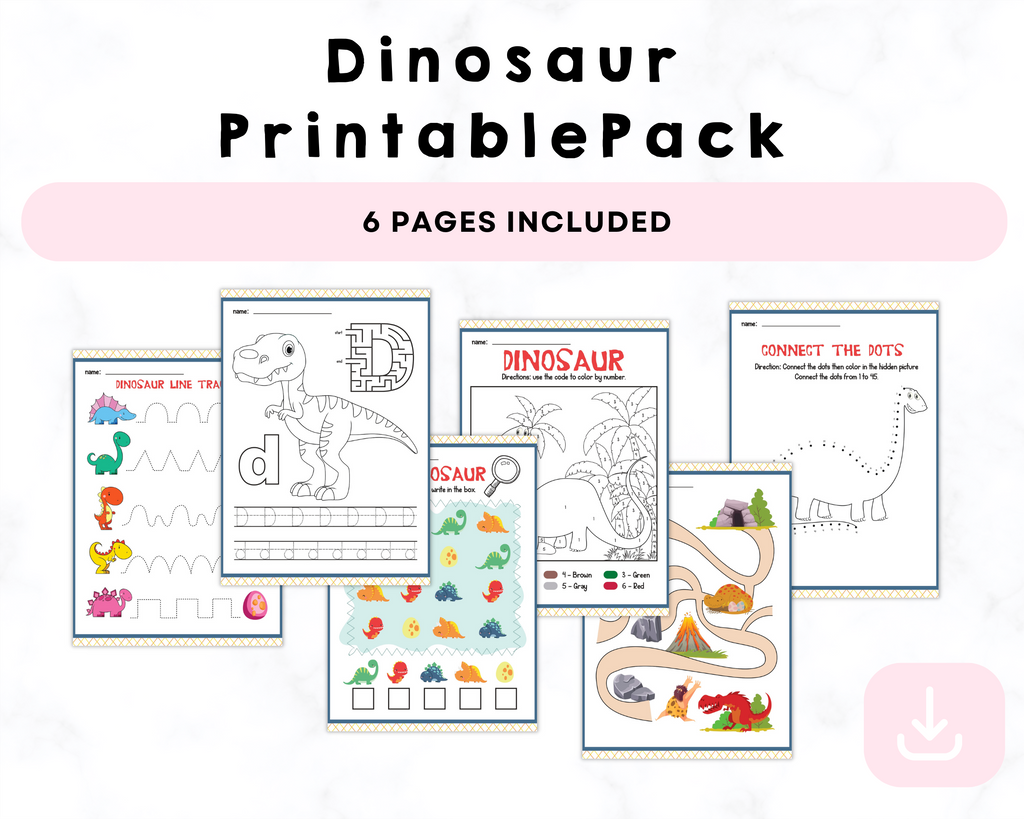 Dinosaur Printable Pack
Dinosaur Printable Pack
description
Introducing our Dinosaur Printable Pack - A Prehistoric Adventure for Little Learners!

🦕 Dive into the fascinating world of dinosaurs with our 6-page Dinosaur Printable Pack designed especially for preschoolers. This educational and entertaining pack is perfect for igniting curiosity and creativity in your little ones.

1️⃣ **Connect the Dots:**
Connect the dots and unveil a prehistoric mystery! Watch as your child practices counting and learns about dinosaur shapes and sizes in an engaging and interactive way.

2️⃣ **Color by Number:**
Bring dinosaurs to life with vibrant colors! Your young artist will have a blast matching colors to numbers and creating their own colorful dinosaur masterpieces.

3️⃣ **Map Adventure:**
Embark on a journey through the dinosaur kingdom! Explore various territories, discover different types of dinosaurs, and enhance spatial awareness through our delightful map activity.

4️⃣ **Line Tracing:**
Perfect for developing fine motor skills, our line tracing activity allows children to trace dinosaur outlines, aiding in hand-eye coordination and precision.

🎨 Our Dinosaur Printable Pack offers an incredible opportunity for both learning and fun. Foster creativity, improve motor skills, and build foundational knowledge about dinosaurs, all in one pack!

💡 Encourage your child's love for learning and fascination with dinosaurs today! Download our Dinosaur Printable Pack and let the prehistoric adventures begin! 🦖

Please note: This is a digital product. No physical items will be shipped. After purchase, you will receive a link to download your printable pack.

Contact us
Crystal & Co.
P O Box 55263
Hurst, Texas 76054
crystalandcomp@yahoo.com
Sign up to our mailing list