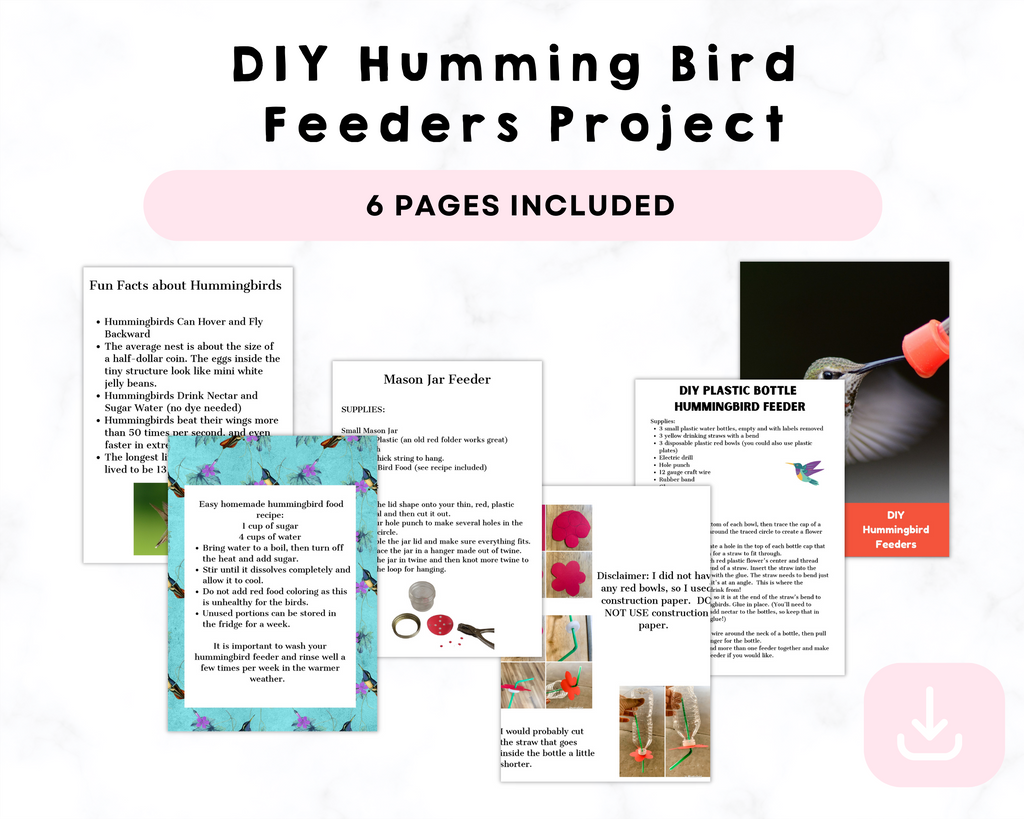 DIY Humming Bird Feeders Project Printables
DIY Humming Bird Feeders Project Printables
description
🌺🐦 Spark Creativity with Our 6-Page DIY Hummingbird Feeders Project for Curious Preschoolers! 🌟🌿
Discover 6 thoughtfully designed pages filled with fun facts about hummingbirds, an easy homemade hummingbird food recipe, and step-by-step instructions for creating a DIY plastic bottle hummingbird feeder. Each page inspires young minds and encourages their interest in these tiny, fascinating creatures.
🐦 Educational Adventures:
Fun Facts About Hummingbirds: Learn interesting trivia about hummingbirds, their unique characteristics, and their extraordinary behaviors.

Homemade Hummingbird Food Recipe: Engage in a simple and safe recipe to create nourishing food for these delightful birds.

DIY Hummingbird Feeder: Follow easy instructions to craft a plastic bottle feeder, fostering creativity and practical skills.
📝 How to Use:
Print, create, learn, and attract hummingbirds! These printables are designed to encourage hands-on learning and exploration. Perfect for parents, educators, and caregivers seeking to inspire a love for nature and DIY projects in young learners.
🌟 Why Choose Our DIY Hummingbird Feeders Project?
Comprehensive Content: 6 pages packed with engaging information, activities, and step-by-step instructions for an exciting project.

Interactive Design: Colorful and captivating illustrations that bring the world of hummingbirds to life, sparking curiosity and creativity.

Hands-On Learning: Encourage practical skills and eco-awareness through a fun and educational DIY project.
🌸 Perfect for Nature Enthusiasts!
Bring nature closer to home with our DIY Hummingbird Feeders Project. Whether for family activities, classroom projects, or as a fun and educational resource, these printables inspire a deeper appreciation for wildlife.
👶 For Ages 4-6:
Tailored to preschoolers' developmental needs, our project introduces the wonders of nature in a playful and engaging way.
🛒 Add to Cart Now and Let the Hummingbird Adventure Begin! 🌺🐤🌿


Please note: This is a digital product. No physical items will be shipped. After purchase, you will receive a link to download your printable pack.

Contact us
Crystal & Co.
P O Box 55263
Hurst, Texas 76054
crystalandcomp@yahoo.com
Sign up to our mailing list