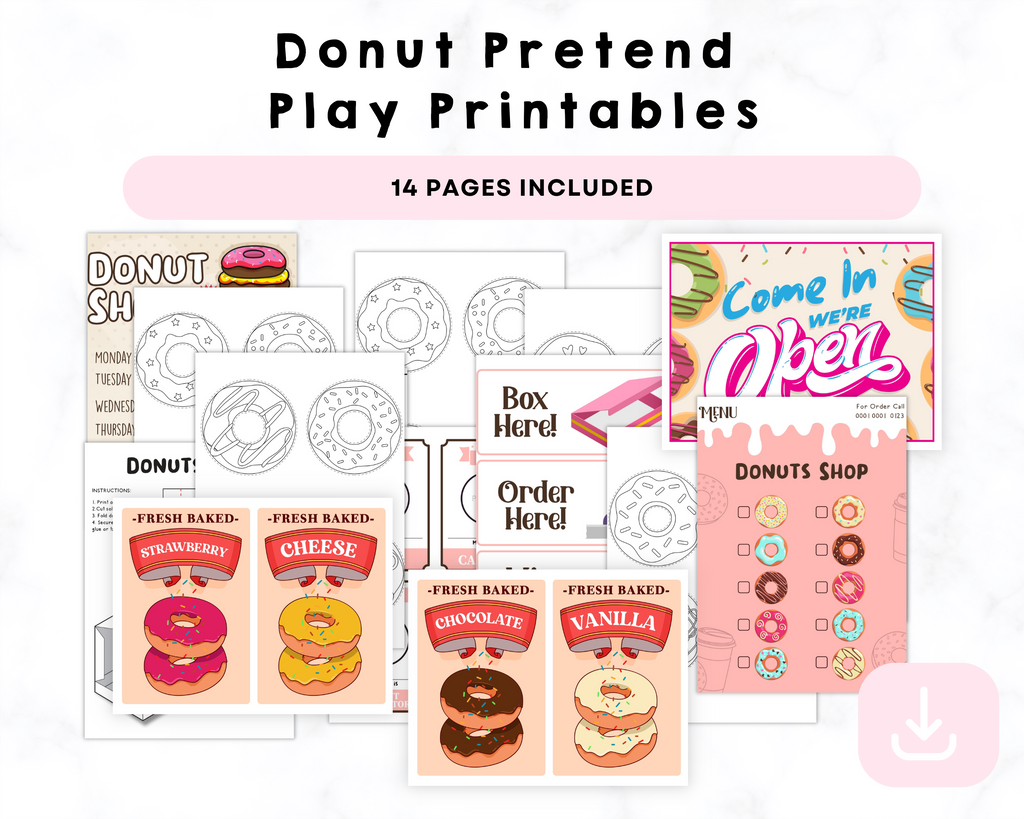 Donut Pretend Play Printables
Donut Pretend Play Printables
description
Introducing our delightful 14-page Donut Pretend Play Printables, a creative and educational tool designed specifically for preschoolers. Transform playtime into a sweet adventure with these charming printables, perfect for fostering imaginative play and early learning skills!

**Product Features:**

1. **Wholesome Fun**: Let your little ones embark on a pretend play journey filled with delightful donuts! Encourage creativity and imaginative thinking as they pretend to be pastry chefs, serving up delectable treats.

2. **Colorful and Engaging**: Our 14-page printables feature vibrant colors and captivating designs, sure to capture your child's attention and make learning an enjoyable experience.

3. **Learning through Play**: Each page is thoughtfully crafted to introduce basic concepts like shapes, colors, and numbers in a playful and interactive way. Watch as your child effortlessly learns while playing with these adorable donut-themed printables.

4. **Customizable Designs**: Tailored for preschoolers, these printables allow young minds to engage in coloring, cutting, and arranging, enhancing their fine motor skills and creativity.

5. **Versatile Play Options**: Whether it's a pretend bakery or a make-believe tea party, these printables provide endless opportunities for imaginative play and social interaction, promoting essential developmental skills.

6. **Parent and Teacher Approved**: Created with input from early childhood educators, our printables align with educational standards, making them an excellent resource for both parents and teachers seeking to supplement learning at home or in the classroom.

7. **Print and Play Anytime, Anywhere**: Simply print the pages and let the pretend play fun begin! Whether at home, in the classroom, or on-the-go, these printables are easily accessible and a great addition to your preschooler's playtime.

Inspire creativity, learning, and giggles with our 14-page Donut Pretend Play Printables. Join us in this delicious adventure of pretend play that's as sweet as a sprinkle-topped donut!
Please note: This is a digital product. No physical items will be shipped. After purchase, you will receive a link to download your printable pack.
Contact us
Crystal & Co.
P O Box 55263
Hurst, Texas 76054
crystalandcomp@yahoo.com
Sign up to our mailing list