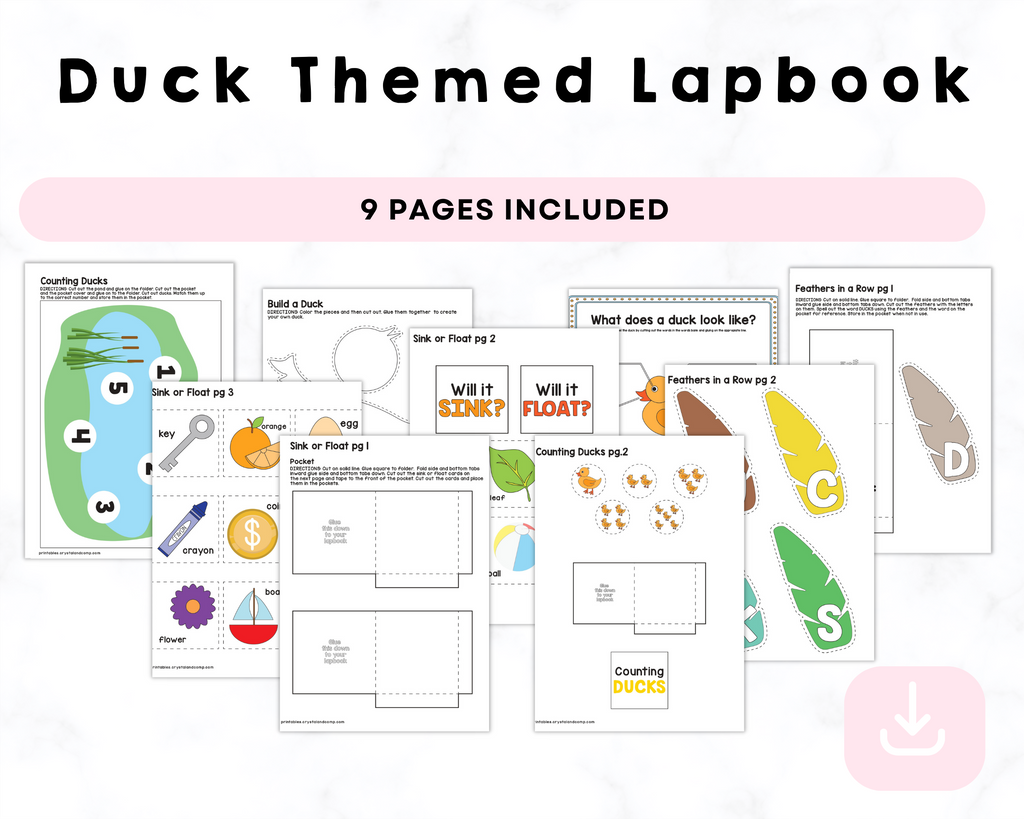 Duck Themed Lapbook Printable
Duck Themed Lapbook Printable
description
Introducing our delightful 9-page Duck Themed Lapbook Printable - a perfect blend of educational fun for young learners! Dive into the charming world of ducks with this engaging lapbook, designed to make learning enjoyable and interactive. Let your child quack into the world of counting and building, all while discovering fascinating facts about our feathered friends.

**Page 1: "Ducklings in a Row" Counting Activity**
Count along with the adorable ducklings as they waddle through the pond. This page will help your child develop counting skills while enjoying the playful company of these cute little ducks.

**Page 2: "Build-a-Duck" Craft**
Unleash your creativity and construct your very own duck! Cut, fold, and assemble to craft a cute duck character, providing an entertaining hands-on experience for kids.

**Page 3: "Feathered Facts" Duck Trivia**
Discover intriguing facts about ducks - from their habitats to their unique behaviors. Expand your child's knowledge about these amazing waterfowl while having a quacking good time!

**Page 4: "Duck Colors" Learning Activity**
Explore the vibrant colors of ducks with this interactive coloring and learning page. Enhance color recognition and creativity while celebrating the hues of these feathered creatures.

Embark on a quacking adventure with our 9-page Duck Themed Lapbook Printable! Perfect for homeschooling or supplementing classroom learning, this engaging lapbook is sure to make a splash in your child's educational journey. Get ready to quack up some knowledge and enjoy hours of learning and laughter with our duck-themed extravaganza!

Please note: This is a digital product. No physical items will be shipped. After purchase, you will receive a link to download your printable pack.

Contact us
Crystal & Co.
P O Box 55263
Hurst, Texas 76054
crystalandcomp@yahoo.com
Sign up to our mailing list