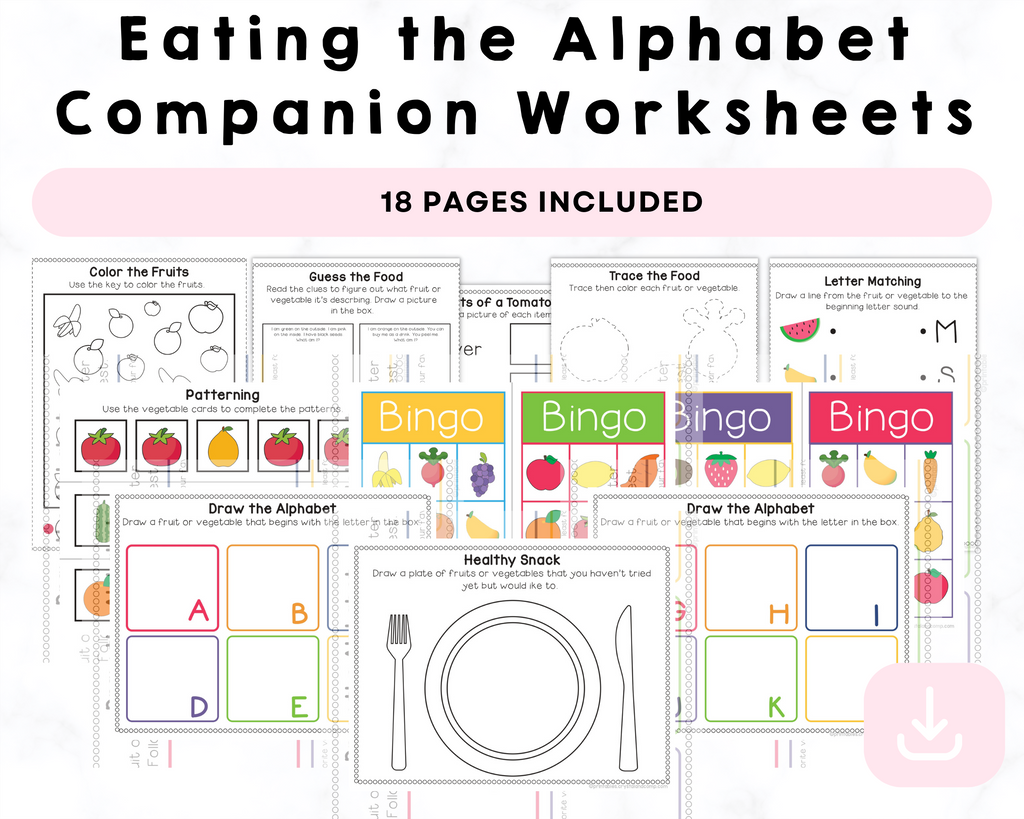 Eating the Alphabet Companion Worksheets Printables
Eating the Alphabet Companion Worksheets Printables
description
🍎🌽 Explore ABCs and Healthy Eating with Our 18-Page Eating the Alphabet Companion Worksheets Printables! Learn, Match, and Color Healthy Fruits and Vegetables! 📚🖍️
Dive into the world of letters and nutritious foods with our comprehensive 18-page Eating the Alphabet Companion Worksheets! Tailored to blend alphabet learning with the exploration of fruits and vegetables, this pack sparks curiosity and healthy eating habits. From letter matching to drawing the alphabet and color sorting, each page offers a delightful fusion of learning and healthy habits.
🍇🥦 Educational Adventures:
Fruit and Vegetable Letter Matching: Engage in activities that reinforce letter recognition by matching each letter to its corresponding fruit or vegetable.

Draw the Alphabet: Foster fine motor skills and alphabetic understanding by practicing drawing the alphabet in a fun and interactive way.

Colorful Creations: Encourage artistic expression by coloring fruits and vegetables, and participate in color sorting activities for added learning fun.
🖍️ How to Use:
Print, learn, match, and color! These printables are designed to make learning the alphabet an exciting journey through healthy eating. Ideal for parents, educators, and caregivers seeking to combine literacy and healthy habits seamlessly.
🌟 Why Choose Our Worksheets?
Holistic Learning: 18 pages offering a variety of activities that merge alphabet learning with knowledge about nutritious foods.

Interactive Design: Vibrant illustrations and engaging exercises that make learning about letters and healthy eating enjoyable and relatable.

Promoting Healthy Habits: Encourage an early appreciation for fruits and vegetables while reinforcing foundational literacy skills.
🍓🥕 Perfect for Little Learners!
Inspire a love for healthy foods and literacy with our Eating the Alphabet Companion Worksheets. Whether for homeschooling, classroom activities, or as an educational resource, these printables offer a fun and nutritious approach to learning the alphabet.
📥 Instant Download:
No waiting, just learning fun! Instantly download your printables and embark on a delicious and educational journey through the alphabet.
👶 For Ages 3-6:
Tailored to the developmental needs of young learners, our pack introduces letters and healthy eating habits in an engaging and playful manner.
🛒 Add to Cart Now and Let the Healthy Alphabet Adventure Begin! 🍏📚🥦


Please note: This is a digital product. No physical items will be shipped. After purchase, you will receive a link to download your printable pack.