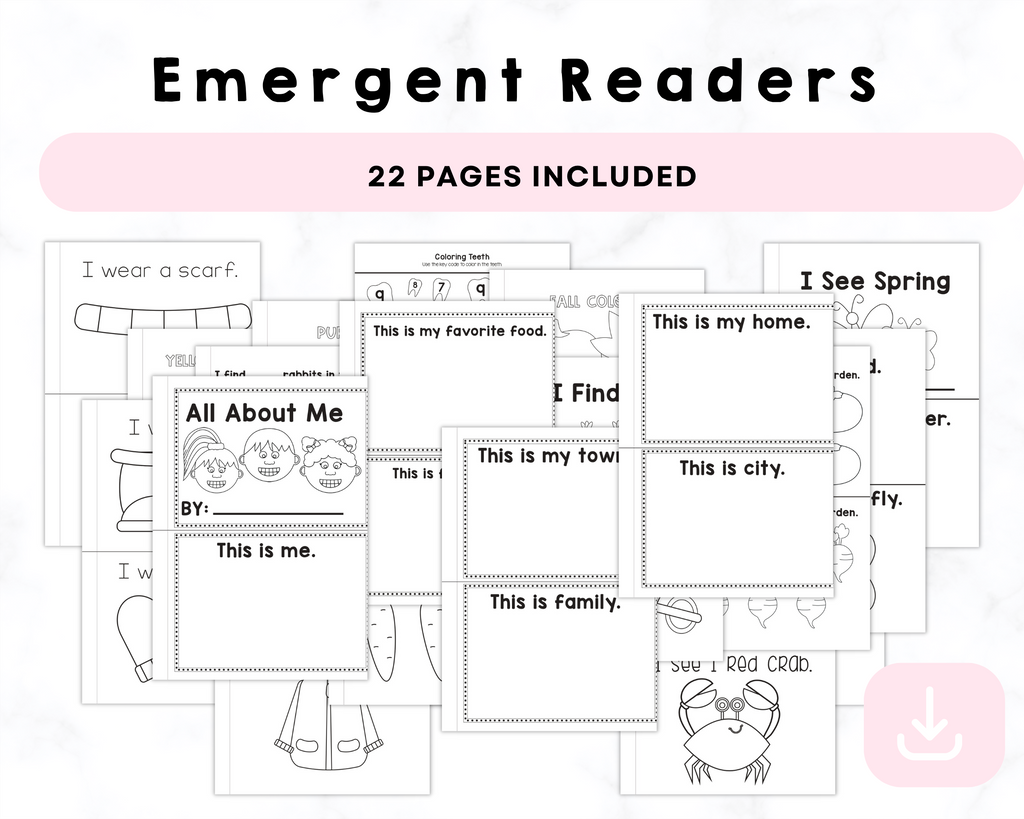 Emergent Readers Printables
Emergent Readers Printables
description
📚✨ Unlock the Joy of Reading with Our 22-Page Emergent Readers Printables for Preschoolers! 🌟🔤
Specifically crafted to captivate young minds and foster a love for reading, this pack is the perfect stepping stone into the world of books.
Each page is carefully designed to introduce and reinforce essential sight words and simple sentence structures, empowering preschoolers to read independently.
📖 Educational Adventures:
Sight Words Mastery: Lay the foundation for reading success by immersing children in essential sight words crucial for early literacy.

Sentence Fluency: Build confidence in reading as preschoolers practice decoding and reading simple sentences in a fun and accessible format.

Story Comprehension: Foster early comprehension skills as young readers explore charming stories designed for their developmental stage.
🌟 Why Choose Our Emergent Readers Printables?
Extensive Content: 22 pages featuring a variety of engaging stories and sight word practice for a diverse reading experience.

Engaging Design: Colorful illustrations and relatable stories that make reading a joyful and immersive experience for preschoolers.

Literacy Foundations: Lay a strong groundwork for reading fluency and comprehension, setting the stage for a lifelong love of books.
🎁 Perfect Gift for Little Bookworms!
Ignite a passion for reading early on with our Emergent Readers Printables. Whether for at-home reading practice or as an educational resource in the classroom, these printables pave the way for literary adventures.
📥 Instant Download:
No waiting, just reading! Instantly download your printables and embark on a literary journey filled with imagination and discovery.
Please note: This is a digital product. No physical items will be shipped. After purchase, you will receive a link to download your printable pack.
Contact us
Crystal & Co.
P O Box 55263
Hurst, Texas 76054
crystalandcomp@yahoo.com
Sign up to our mailing list