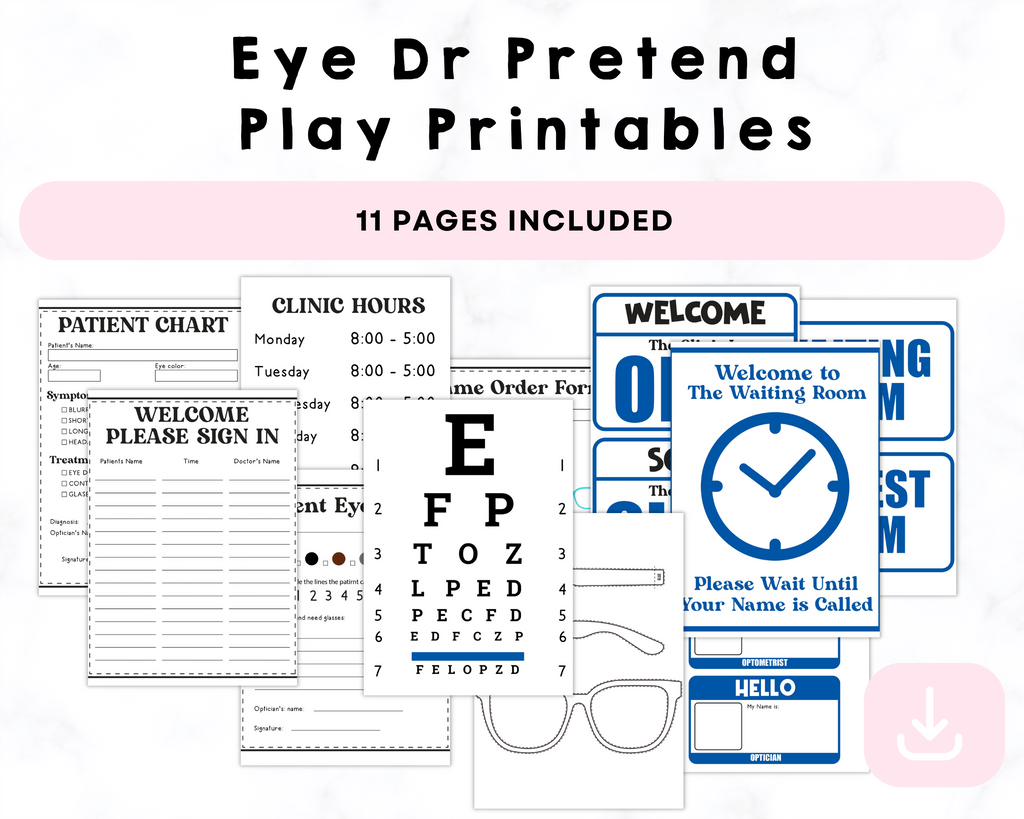 Eye Dr Pretend Play Printables
Eye Dr Pretend Play Printables
description
👁️ Dive into the world of pretend play with our Eye Doctor Pretend Play Printables! These 11 engaging pages are meticulously crafted to give your preschooler a taste of what it's like to be an eye doctor. Whether they dream of wearing a white coat and stethoscope or are fascinated by the world of optometry, this printable set is sure to captivate their senses.

🔍 **Explore the Eye Exam:**
Let your child play the role of a skilled eye doctor, conducting eye exams and identifying letters on the chart. This activity not only encourages creativity but also sharpens their recognition skills.

🖍️ **Coloring and Creativity:**
Unleash your little one's creativity as they color and design their very own pair of glasses. This allows them to express themselves and experiment with different color combinations.

📚 **Educational and Informative:**
With this printable set, your child can learn about different parts of the eye and gain knowledge about the importance of eye health in a fun and interactive way.

🌈 **Vibrant and Playful Designs:**
Our printables are adorned with lively and colorful designs that are sure to grab your preschooler's attention and keep them engaged for hours.

📝 **Learning Through Play:**
Encourage cognitive development and fine motor skills as your child engages in tracing, drawing, and matching activities, all while embracing the joy of imaginative play.

👪 **Perfect for Group Play:**
Ideal for playdates, preschool groups, or family time, these printables foster social interaction, collaboration, and teamwork, making learning a delightful group experience.

🛒 **Easy to Print and Use:**
Print these eye-catching pages from the comfort of your home and watch your child's eyes light up with excitement as they step into the shoes of an eye doctor.

Ignite your preschooler's imagination and enhance their learning with our 11-page Eye Doctor Pretend Play Printables. Order now and set them on a journey of discovery and play!
Please note: This is a digital product. No physical items will be shipped. After purchase, you will receive a link to download your printable pack.
Contact us
Crystal & Co.
P O Box 55263
Hurst, Texas 76054
crystalandcomp@yahoo.com
Sign up to our mailing list