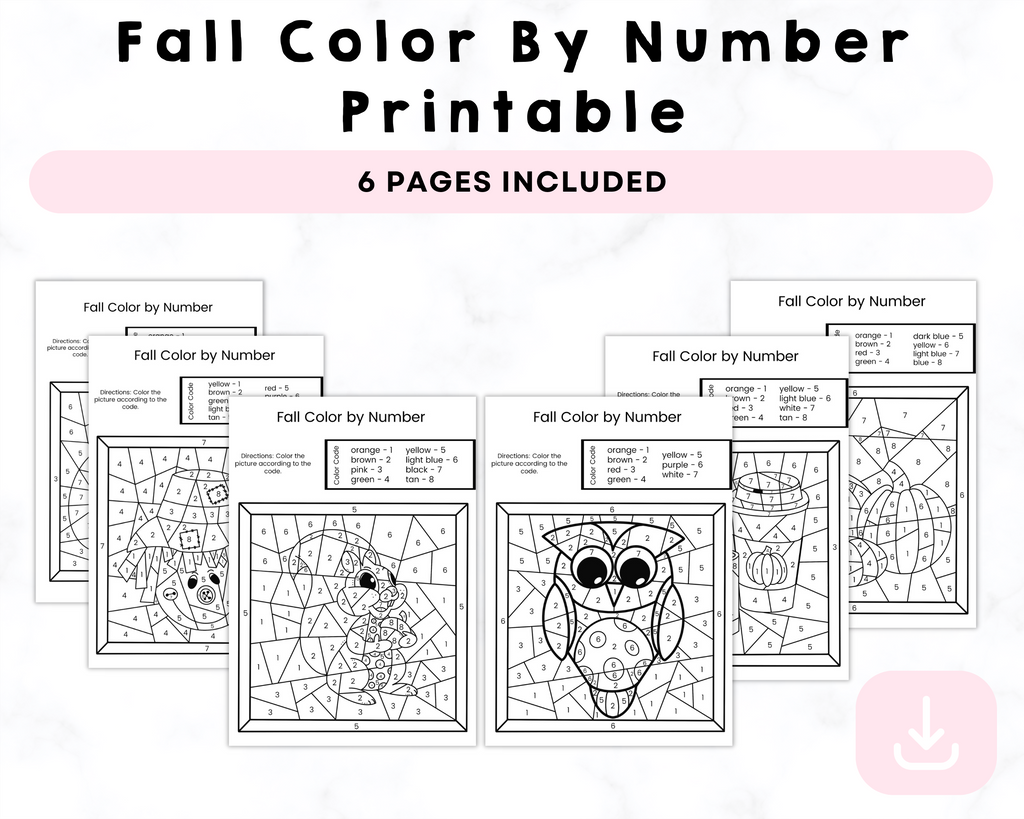 Fall Color By Number Printable
Fall Color By Number Printable
description
Introducing our Fall Color By Number Printable - a delightful and engaging activity perfect for embracing the cozy vibes of the autumn season. This printable pack includes six beautifully designed pages, each adorned with intricate illustrations, ready to be brought to life with a splash of color and creativity.

🍁 **Features:**

1. **Captivating Fall Scenes:** Immerse yourself in the magic of fall with scenes carefully crafted to evoke the spirit of autumn.

2. **Numbered Coloring:** Each section of the illustration is marked with a corresponding number. Simply match the numbers to the color key and let your artistic flair guide you as you bring these images to life.

3. **Vivid Color Key:** Our color key ensures that you choose the perfect shades for every element, making it easy and enjoyable to create a stunning masterpiece.

4. **Intricate Designs:** Our designs are thoughtfully created to provide a satisfying coloring experience for both beginners and enthusiasts.

5. **Digital Download:** Conveniently downloadable, this PDF file can be printed at home or your local print shop, giving you the freedom to start coloring right away.

6. **Relaxing and Therapeutic:** Coloring is not only a creative outlet but also a relaxing and therapeutic activity that can help reduce stress and improve focus.

🎨 Elevate your autumn experience and let the colors of fall ignite your creativity. Dive into the world of autumn with our Fall Color By Number Printable and enjoy hours of artistic enjoyment. Happy coloring! 🍂

Please note: This is a digital product. No physical items will be shipped. After purchase, you will receive a link to download your printable pack.

Contact us
Crystal & Co.
P O Box 55263
Hurst, Texas 76054
crystalandcomp@yahoo.com
Sign up to our mailing list