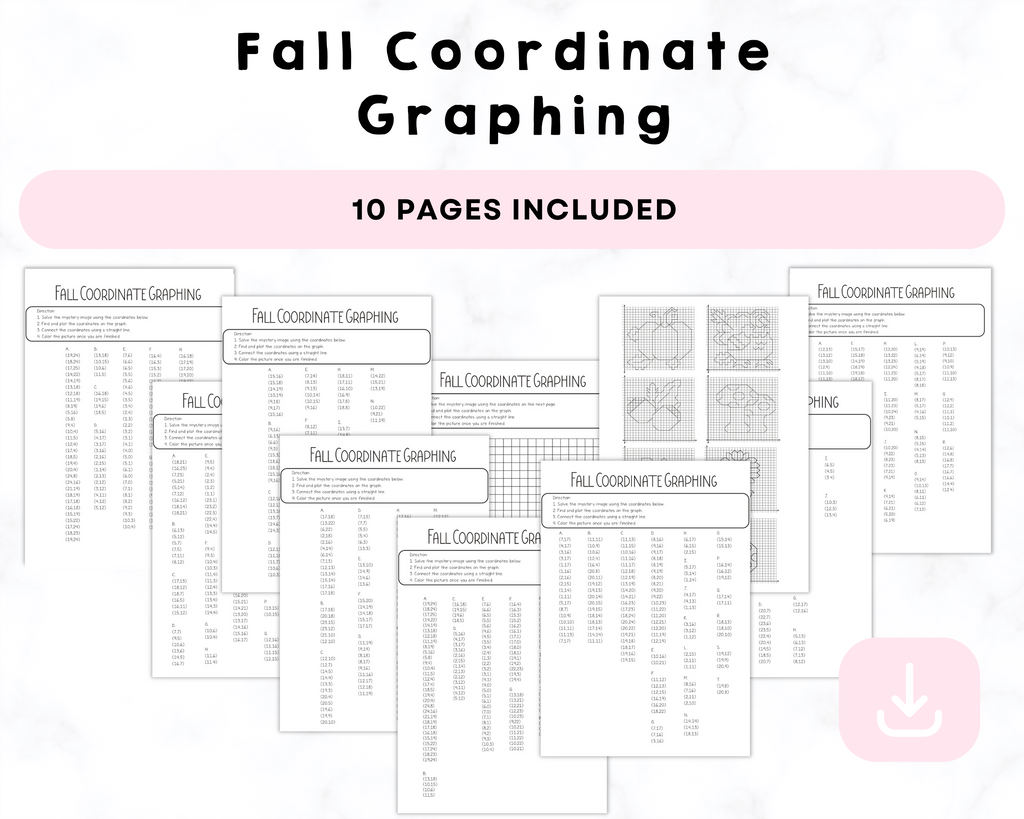 Fall Coordinate Graphing Printable
Fall Coordinate Graphing Printable
description
Introducing our Fall Coordinate Graphing Printable - a delightful 10-page adventure that combines the joys of fall with the excitement of solving mystery imagery using coordinates. Unleash your inner detective and embark on a captivating journey through the autumnal wonderland of graphs and grids!

**Product Description:**

🍁 **Embrace the Autumn Quest:**
Dive into the enchanting world of fall with our Fall Coordinate Graphing Printable. With 10 expertly crafted pages, each brimming with autumnal charm, you'll follow a trail of coordinates to unveil hidden mysteries that capture the essence of this magical season.

🍂 **Solve Puzzles, Reveal Art:**
Each page is a canvas of mystery waiting to be unraveled! Use your numerical wit to decode coordinates and reveal stunning fall-themed images. From cozy scarves to pumpkins, watch as each coordinate point connects to craft a delightful piece of art.

🌻 **Perfect for All Ages:**
Whether you're a budding math whiz or simply looking for a delightful fall-themed activity, this printable is designed for all ages and skill levels. Sharpen your graphing skills and revel in the beauty of autumn simultaneously.

🍎 **Enhance Learning Through Fun:**
Make learning engaging and enjoyable with this educational tool. Your child will develop critical thinking, improve their understanding of coordinates, and boost their confidence in mathematics - all while relishing the vibrant colors and symbols of fall.

🧩 **Interactive & Intriguing:**
Invite a group of friends or family members to join in the fun! Collaboratively solve the mystery imagery using coordinates, fostering teamwork and bonding over the wonders of fall.

🎨 **Express Your Creativity:**
Once you've revealed the mystery images, let your creativity flow! Encourage coloring, shading, and personalizing the artwork to truly make it your own. Display your finished creations proudly, and share the joy of fall with others.

📚 **Learning Never Looked So Good:**
We believe education can be both enriching and visually delightful. Our Fall Coordinate Graphing Printable blends the educational benefits of coordinates with the picturesque allure of fall, ensuring a memorable and enjoyable learning experience.

🛒 **Get Your Fall Coordinate Graphing Printable Now:**
Embrace the vibrant hues of autumn and unravel the mysteries of coordinates with our 10-page Fall Coordinate Graphing Printable. Make learning an adventure and celebrate the beauty of fall with every plotted point.

Don't miss out on this opportunity to combine fun, learning, and the magic of fall. Grab your copy now and set off on a journey of discovery!
Please note: This is a digital product. No physical items will be shipped. After purchase, you will receive a link to download your printable pack.