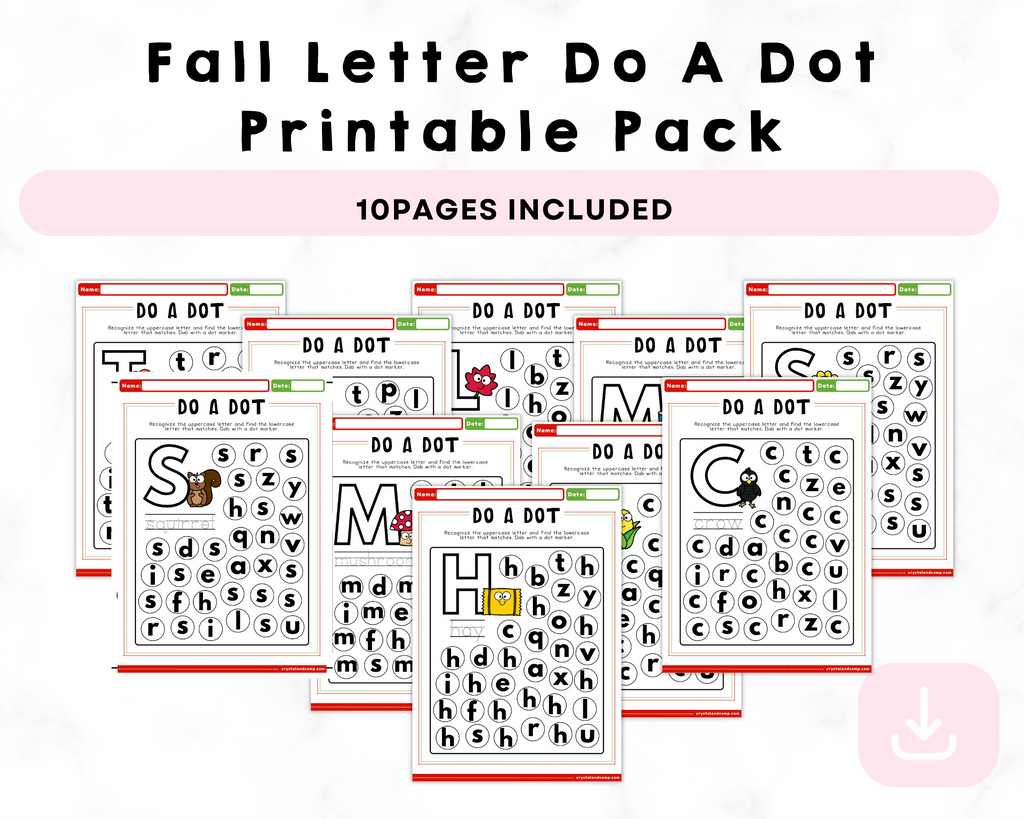 Fall Letter Do A Dot Printable Pack
Fall Letter Do A Dot Printable Pack
description
🍂🔤 Celebrate Fall with Our 10-Page Fall Letter Do A Dot Printable Pack! Explore Letters Amidst Autumn's Charm! 🌟🖍️
Immerse yourself in the spirit of autumn with our vibrant 10-page Fall Letter Do A Dot Printable Pack! Perfect for young learners, these printables showcase autumn-themed letters, combining the joy of the season with letter recognition activities.
🔤🍂 What's Included?
Each page presents a different autumn-inspired letter, inviting children to engage in letter recognition, fine motor skills, and creative expression.
🍁🎨 Educational and Creative Adventures:
Letter Recognition: Explore the alphabet while embracing the sights of fall, recognizing and identifying letters in an autumn setting.
Fine Motor Skills: Enhance hand-eye coordination and dexterity through dotting activities while filling the letters with colors.
Autumn Inspiration: Combine learning and creativity by associating letters with the charm of fall foliage.
🌟🖍️ Perfect for Fall Learning:
Tailored for the fall season, our Fall Letter Do A Dot Printable Pack infuses the spirit of autumn into letter recognition, fostering a love for learning letters amidst the captivating beauty of the season.
🍂🔤 Get Your 10-Page Fall Letter Do A Dot Pack and Dive into Autumn Letter Adventures Today! Explore Letters with the Charm of Fall! 🌟🖍️🍁

Please note: This is a digital product. No physical items will be shipped. After purchase, you will receive a link to download your printable pack.

Contact us
Crystal & Co.
P O Box 55263
Hurst, Texas 76054
crystalandcomp@yahoo.com
Sign up to our mailing list