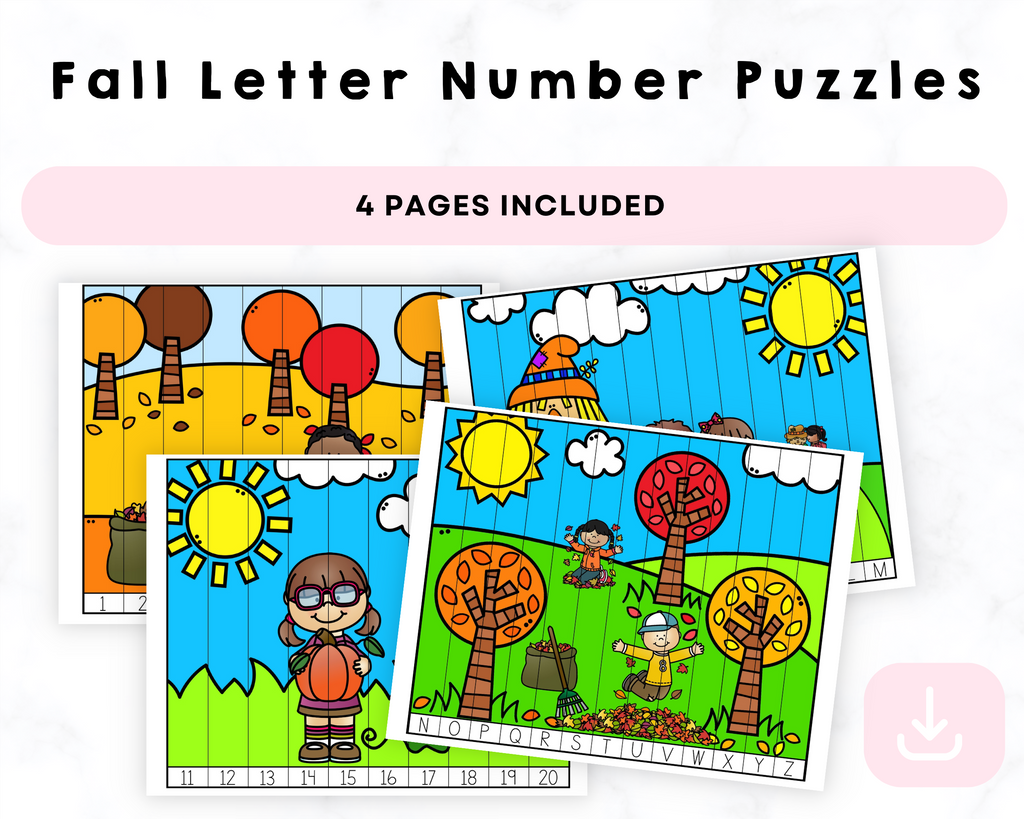 Fall Printable Letter Number Puzzles
Fall Printable Letter Number Puzzles
description
Introducing our Fall Printable Letter Number Puzzles - a delightful educational resource that combines the beauty of autumn with the excitement of learning. Perfect for young learners and educators alike, these printable puzzles are designed to engage, educate, and entertain during the crisp fall season. Let the vibrant colors of fall foliage and playful design captivate your audience while providing an enriching learning experience.

**Product Features:**

1. **Fall-Themed Delight:** Immerse yourself in the autumnal wonderland with our Fall Printable Letter Number Puzzles. Each puzzle is adorned with delightful fall imagery to infuse the seasonal spirit into learning.

2. **Educational and Engaging:** Learning has never been more fun! These puzzles are designed to teach both numbers and letters, encouraging cognitive development, pattern recognition, and problem-solving skills in an enjoyable manner.

3. **Print and Play:** Convenient and easy to use, our printable puzzles can be quickly printed from the comfort of your home. Simply follow the instructions provided, cut along the lines, and start solving the puzzles for hours of educational entertainment.

4. **4-Page Variety Pack:** With four unique pages of puzzles, you'll have a diverse range of challenges to keep young minds stimulated. Whether it's identifying numbers or mastering the alphabet, our puzzles offer a wide array of learning opportunities.

**How to Use:**

1. **Print and Prepare:** Once you've purchased our Fall Printable Letter Number Puzzles, download and print the pages on standard letter-sized paper.

2. **Cut and Arrange:** Cut out the puzzle pieces along the designated lines. Mix up the pieces and arrange them in a scattered order.

3. **Solve and Learn:** Encourage your little learners to solve the puzzles by completing the alphabet or number sequence. It's a fantastic way to reinforce foundational skills while embracing the beauty of fall.

**Specifications:**

- Pages: 4 unique puzzle pages
- Format: PDF file for easy printing
- Age Range: 3-6 years

Embark on a journey of fall-themed learning and play with our Fall Printable Letter Number Puzzles. Explore the wonders of autumn while fostering a love for learning in an engaging and interactive way. Grab your copy today and watch as education and enjoyment seamlessly intertwine in this delightful fall adventure!

Please note: This is a digital product. No physical items will be shipped. After purchase, you will receive a link to download your printable pack.