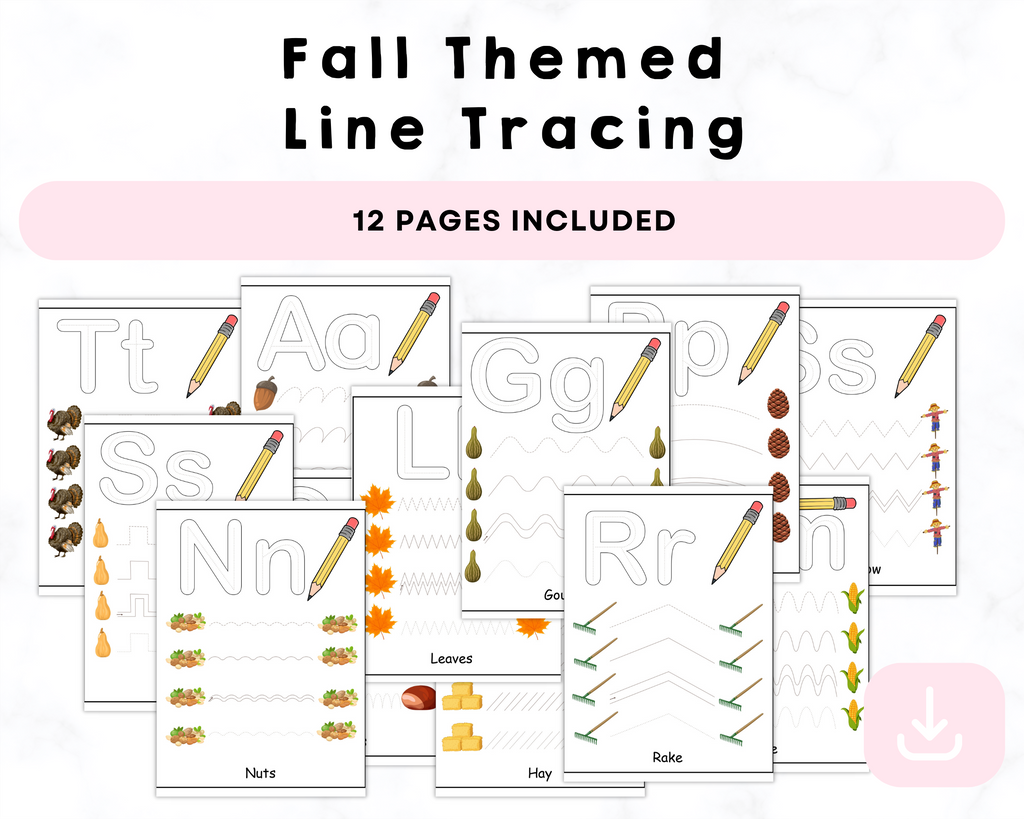 Fall Themed Line Tracing Printable
Fall Themed Line Tracing Printable
description
Introducing our Fall Themed Line Tracing Printable - a delightful 12-page educational resource designed to enhance fine motor skills and letter recognition in young learners. With the vibrant hues of autumn leaves and the charm of the fall season, this printable is a perfect addition to your teaching toolkit.

**Product Features:**

1. **Engaging Fall Themes:** Dive into the enchanting world of autumn with adorable illustrations of scarecrows, turkeys, leaves and more. Each page is carefully crafted to captivate and educate.

2. **Fine Motor Skill Development:** Help your child develop essential fine motor skills as they trace along the lines and letters, enhancing their control and precision.

3. **Letter Recognition:** As your little ones trace each letter, they'll simultaneously learn to recognize and associate the alphabets, setting the foundation for their reading and writing journey.

4. **Printable and Reusable:** Print these pages as many times as you need for endless learning opportunities. Use them with crayons, markers, or colored pencils for a reusable educational experience.

5. **Interactive and Educational:** Watch as your child engages with the captivating fall-themed designs, making learning a joyful and interactive experience.

6. **Parental Involvement:** Enjoy quality bonding time with your child as you guide them through the tracing exercises, fostering a love for learning and creativity.

**How to Use:**

1. **Print and Prepare:** Simply print the pages of this Fall Themed Line Tracing Printable and ensure you have writing tools like crayons or pencils ready.

2. **Start Tracing:** Encourage your child to trace along the lines, improving their hand-eye coordination and dexterity.

3. **Letter Tracing:** Move on to tracing the letters, promoting letter recognition and correct writing strokes.

4. **Repetition and Mastery:** Encourage repetition to ensure mastery of the tracing exercises, building confidence in your child's abilities.

Empower your child to embark on a learning adventure with our Fall Themed Line Tracing Printable. Order now and watch them blossom into confident learners this fall season!

Please note: This is a digital product. No physical items will be shipped. After purchase, you will receive a link to download your printable pack.

Contact us
Crystal & Co.
P O Box 55263
Hurst, Texas 76054
crystalandcomp@yahoo.com
Sign up to our mailing list