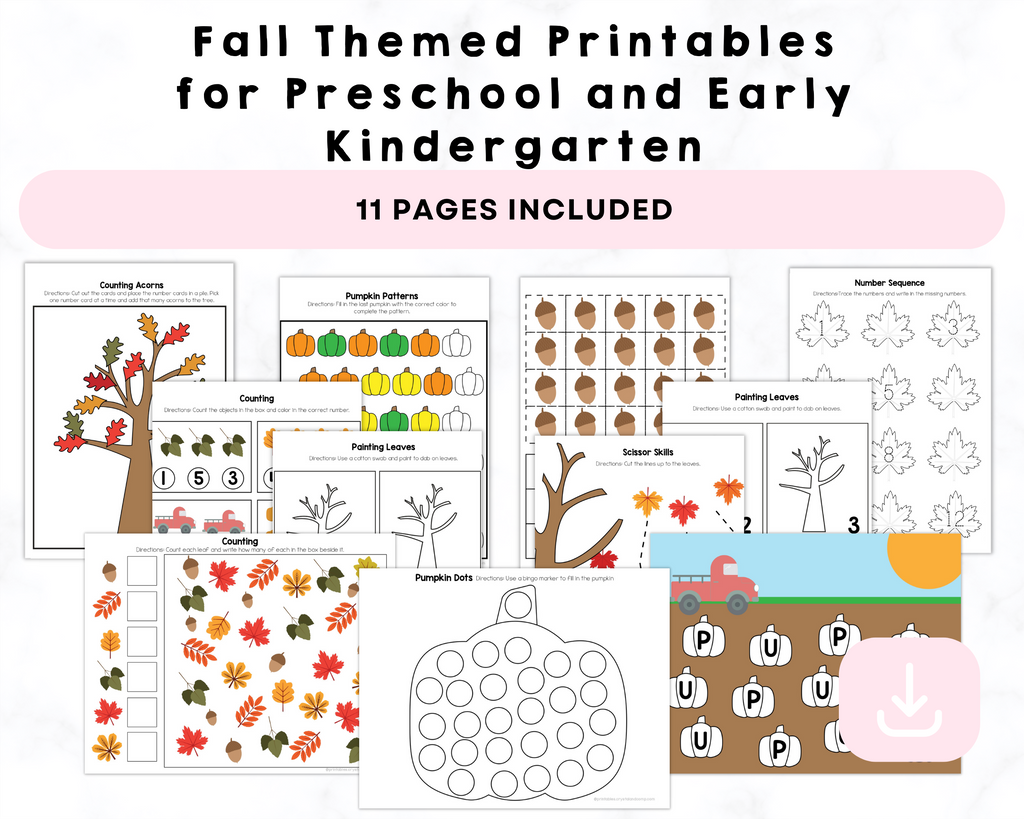 Fall Themed Printable for Preschool and Early Kindergarten
Fall Themed Printable for Preschool and Early Kindergarten
description
Introducing our Fall Themed Printable for Preschool and Early Kindergarten – a delightful 11-page activity bundle designed to engage young learners in the magic of the autumn season! This digital download is a fantastic educational resource that combines creativity with learning, perfect for parents, teachers, and homeschoolers alike.

**Product Description:**

🍁 **Fall into Learning Fun!** 🍁

Explore the wonders of fall with our vibrant 11-page Fall Themed Printable for Preschool and Early Kindergarten. Packed with engaging activities, this digital download is a versatile tool for enhancing fine motor skills, creativity, counting abilities, and more.

**Key Features:**

1. **Cutting Practice:** Help your little ones develop their fine motor skills as they practice cutting along designated lines. Engage them in the joy of crafting while refining their scissor techniques.

2. **Painting Adventures:** Unleash creativity by inviting your young artists to bring fall-themed illustrations to life through painting. Watch as they blend colors and express their imagination on the canvas.

3. **Counting and Number Recognition:** Make learning numbers a breeze with interactive counting exercises, using adorable fall-themed elements. Enhance numeracy skills and foster a love for math in a playful and engaging way.

4. **Pumpkin Coloring:** Delight in the autumn spirit with pumpkin coloring pages. Encourage creativity and artistic expression as children choose their colors and design their perfect pumpkins.

**Why Choose Our Fall Themed Printable?**

✔️ **Educational and Entertaining:** Each activity is designed to seamlessly blend education with entertainment, keeping young minds captivated and excited about learning.

✔️ **Tailored for Young Learners:** Specifically crafted for preschool and early kindergarten age groups, ensuring age-appropriate challenges and an enjoyable learning experience.

✔️ **Easy Access and Instant Download:** Simply purchase, download, and print these activity pages at your convenience, providing immediate access to quality educational content.

Fall is a season of change and discovery, and our Fall Themed Printable for Preschool and Early Kindergarten is here to make learning a colorful and exciting journey. Embrace the wonders of autumn and enhance your child's learning experience with this comprehensive and engaging activity bundle.

🍂 Dive into autumn with us and watch your little learners blossom! 🍂

Please note: This is a digital product. No physical items will be shipped. After purchase, you will receive a link to download your printable pack.