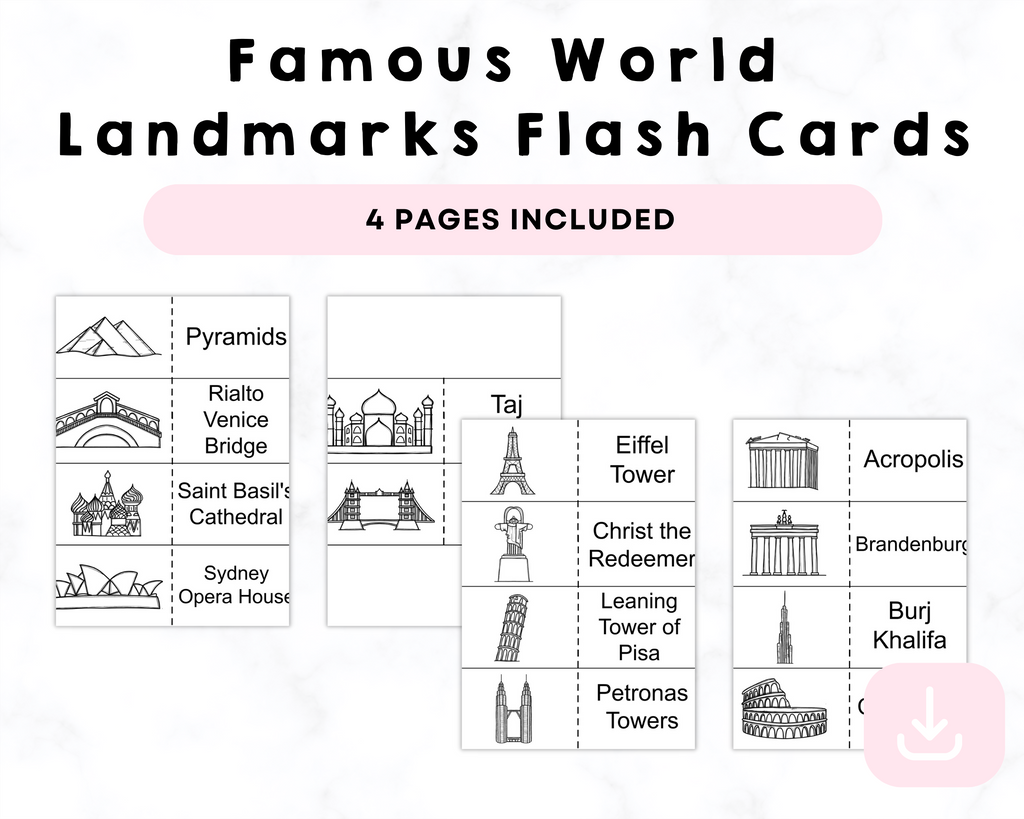 Famous World Landmarks Flash Cards Printables
Famous World Landmarks Flash Cards Printables
description
Certainly! Creating an engaging product description is crucial for attracting your target audience. Here's a draft for your Famous World Landmarks Flash Cards Printables:

---

**Introducing Our Famous World Landmarks Flash Cards Printables for Preschoolers: A Journey Across Continents!**

🌍✨ **Explore the World in Four Pages!** ✨🌍

Embark on a global adventure with our meticulously crafted Famous World Landmarks Flash Cards Printables designed exclusively for preschoolers. Each set is a passport to iconic landmarks, introducing little explorers to the wonders of our diverse world.

**Key Features:**

1. 🗺️ **Educational and Entertaining:** Turn learning into an exciting journey! These flashcards are more than just images; they're gateways to knowledge. Watch as your preschooler discovers the Eiffel Tower, the Great Wall of China, the Pyramids of Giza, and more!

2. 🌈 ** Engaging Design:** Our flashcards are a visual delight, featuring vibrant colors and captivating illustrations that make each landmark come to life. The eye-catching design ensures an immersive learning experience for your little one.

3. 🧠 **Early Learning Development:** Foster cognitive skills and early geography knowledge. As your child flips through these flashcards, they'll be introduced to shapes, colors, and cultural diversity, laying the foundation for a lifelong love of learning.

4. 🎨 **Printable and Customizable:** Conveniently printable at home, these flashcards offer flexibility for your child's learning journey. Print multiple sets, create a personalized booklet, or even frame them as decorative pieces for your preschooler's room.

👶 **Designed for Preschoolers:** Tailored for young minds, these flashcards strike the perfect balance between education and entertainment.

🌟 **Quality You Can Trust:** Created by experts in early childhood education, our flashcards meet the highest standards of quality and safety.



Please note: This is a digital product. No physical items will be shipped. After purchase, you will receive a link to download your printable pack.
Contact us
Crystal & Co.
P O Box 55263
Hurst, Texas 76054
crystalandcomp@yahoo.com
Sign up to our mailing list