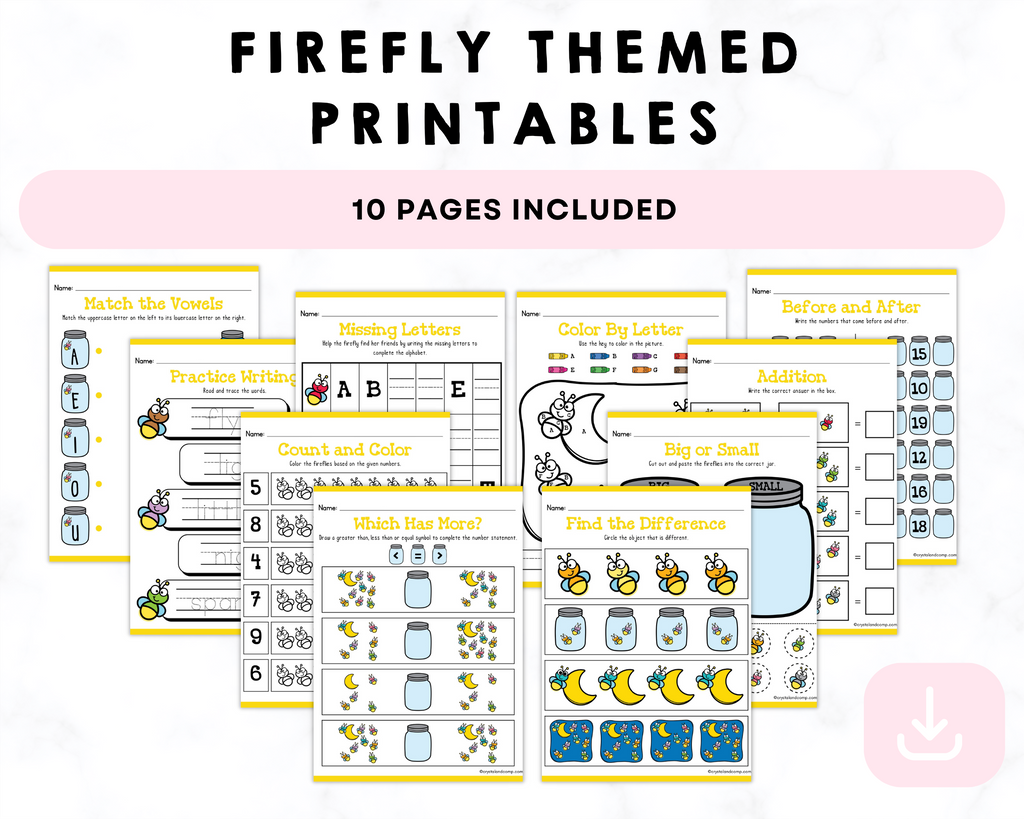 Firefly Themed Printables
Firefly Themed Printables
description
Introducing our "Enchanted Firefly Themed Printables for Preschoolers" - a delightful and educational collection that will captivate your little one's imagination while fostering essential early learning skills. With 10 captivating pages of enchanting designs and activities, this printable set is the perfect addition to your child's educational journey.

**Key Features:**

1. **Practice Writing:** Our Firefly Themed Printables offer your preschooler the opportunity to practice their handwriting skills. The carefully crafted exercises guide them in forming letters and shapes, helping them build the foundation for confident penmanship.

2. **Match the Vowels:** Watch as your child's face lights up with excitement when they match vowels with these charming firefly illustrations. It's a playful way to reinforce their understanding of vowel sounds and recognition.

3. **Find the Difference:** Sharpen your child's observation and critical thinking skills with engaging "Find the Difference" puzzles. As they spot the distinctions between similar images, they'll enhance their attention to detail and problem-solving abilities.

**Why Choose Our Firefly Themed Printables?**

- **Educational Fun:** Your preschooler will adore exploring the enchanting world of fireflies while learning fundamental skills, making education an enjoyable adventure.

- **Versatile Learning:** These printables are designed for use in various educational settings, from home to the classroom. They can be used as stand-alone activities, part of lesson plans, or during playtime.

- **Printable Convenience:** Download and print the pages from the comfort of your home, ensuring that you have an endless supply of engaging learning materials at your fingertips.

- **Boosts Creativity:** Fireflies are magical creatures that stimulate imagination. By incorporating them into educational activities, your child can embark on creative journeys while learning.

Don't miss out on this enchanting opportunity to foster your preschooler's growth and development. Our Firefly Themed Printables are not only a joy to explore but also an essential tool in building the foundations for a bright future.

Please note: This is a digital product. No physical items will be shipped. After purchase, you will receive a link to download your printable pack.

Contact us
Crystal & Co.
P O Box 55263
Hurst, Texas 76054
crystalandcomp@yahoo.com
Sign up to our mailing list