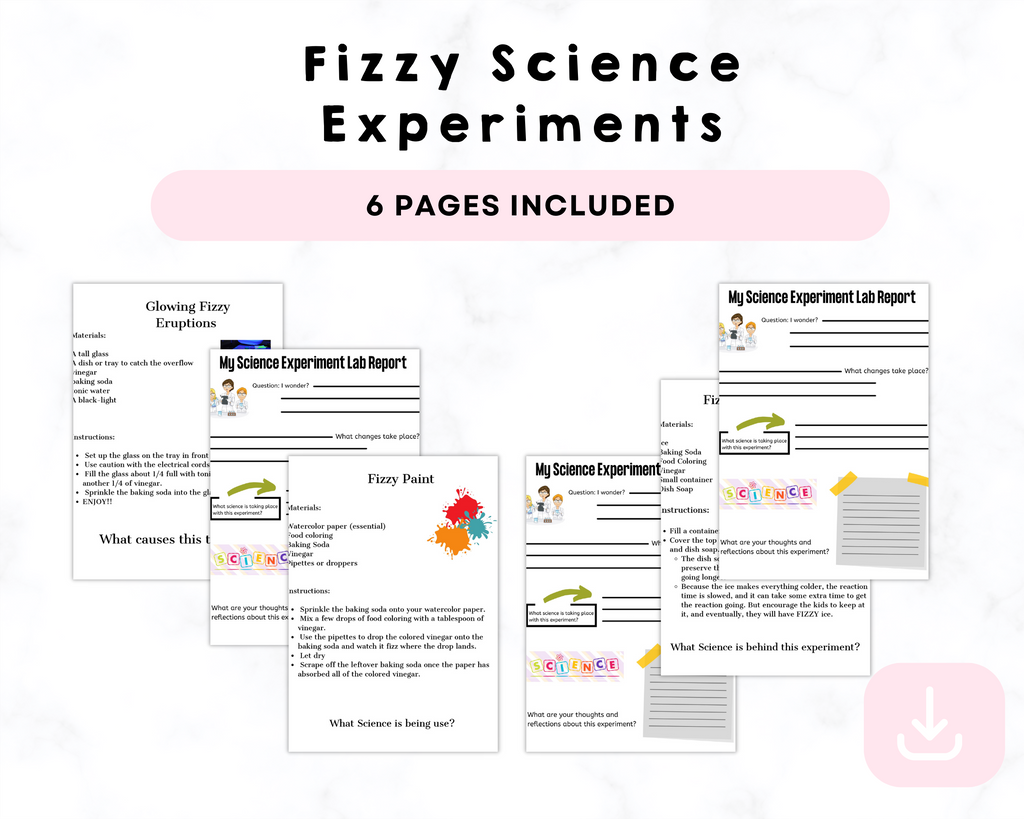 Fizzy Science Experiment Printables
Fizzy Science Experiment Printables
description
Explore 6 meticulously designed pages that include a comprehensive science lab report, experiment guides, and step-by-step instructions. Each page is packed with interactive elements that guide children through fun and educational experiments.
🧪 Educational Adventures:
Science Lab Report: Engage in structured scientific exploration with a lab report format, fostering scientific methodology and observation skills.

Experiment Guide & Instructions: Follow clear and concise guides that outline the experiment setup, materials required, and step-by-step procedures.
📝 How to Use:
Print, experiment, observe, and record! These printables serve as a roadmap for young scientists, encouraging them to explore scientific principles in a hands-on and structured manner. Ideal for parents, educators, and caregivers seeking to inspire a love for science and experimentation.
🌟 Why Choose Our Experiment Printables?
Comprehensive Content: 6 pages offering a guided journey through exciting scientific experiments.

Structured Approach: Lab report format and detailed instructions that instill scientific thinking and methodology.

Interactive Learning: Engaging activities that foster curiosity and critical thinking while making science accessible and fun.
🚀 Perfect for Young Explorers!
Inspire a passion for science with our Fizzy Science Experiment Printables. Whether for homeschooling, science enthusiasts, or as a hands-on learning tool, these printables fuel the curiosity and creativity of budding scientists.
📥 Instant Download:
Instantly download your printables and embark on an adventure of scientific discovery. No waiting, just experimenting! 
👶 For Ages 6 and Up:
Tailored to budding scientists' developmental needs, our pack encourages structured exploration and learning.
🛒 Add to Cart Now and Unleash the Scientific Curiosity! 🔬🌈🚀
Please note: This is a digital product. No physical items will be shipped. After purchase, you will receive a link to download your printable pack.
Contact us
Crystal & Co.
P O Box 55263
Hurst, Texas 76054
crystalandcomp@yahoo.com
Sign up to our mailing list