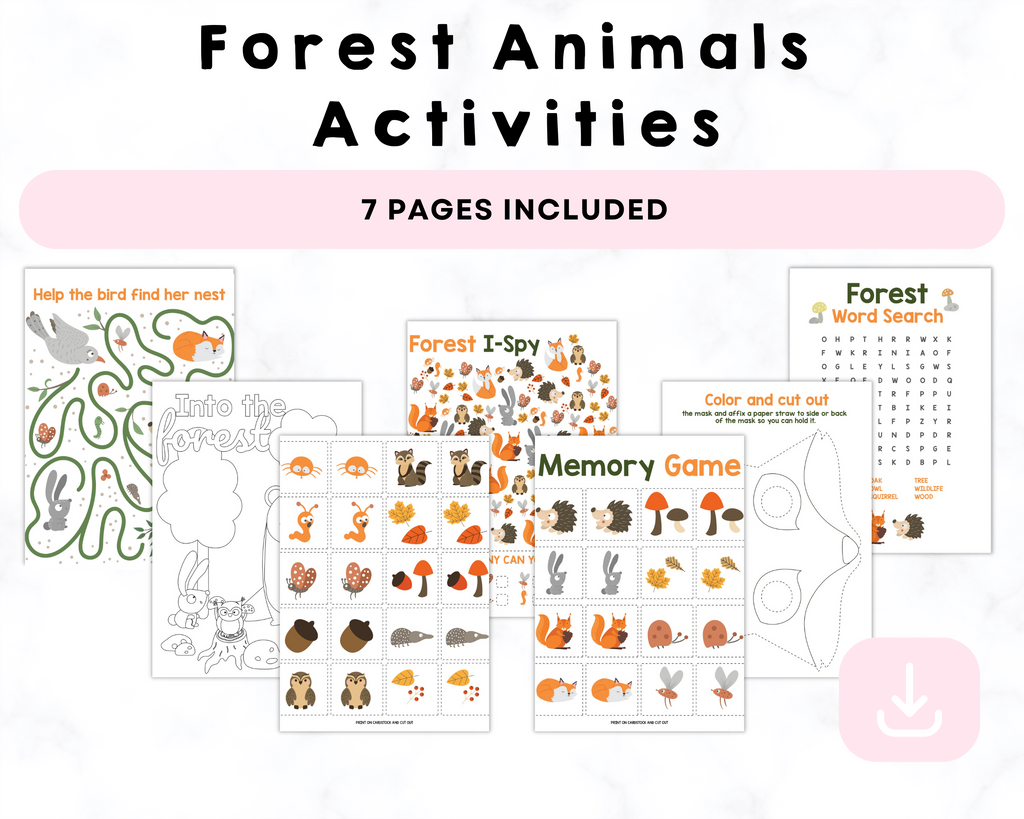 Forest Animals Activities Printables
Forest Animals Activities Printables
description
Enhance your child's learning adventure with our captivating **Forest Animals Activities Printables**! This delightful 7-page collection is designed to spark creativity, boost cognitive development, and provide hours of educational fun for young minds.

🌲 **Explore the Forest with Adorable Animals:**
Discover a world teeming with friendly forest creatures, from playful squirrels to majestic deer, all brought to life in engaging, high-quality illustrations. Each page is thoughtfully crafted to showcase the beauty of nature and its inhabitants.

🖍️ **Engaging Activities for Every Curious Mind:**
Our printables offer a diverse range of activities, including coloring pages, puzzles, mazes, connect-the-dots, and more. Encourage problem-solving skills, fine motor development, and color recognition as your child navigates through these exciting challenges.

🌈 **Color Your World:**
Let your child's imagination run wild as they bring these forest scenes to life with their favorite hues. Coloring promotes creativity, improves concentration, and fosters a love for art and expression.

👨‍👩‍👦 **Quality Family Bonding Time:**
Share memorable moments with your little one as you explore the forest together, sparking conversations about wildlife and nature. Our printables are perfect for family activities, classroom use, or a rainy day at home.

🖨️ **Easy to Print and Use:**
Convenience is key! Download and print these engaging activities from the comfort of your own home. Whether you use a home printer or a local print shop, you'll have the materials in hand within minutes.

🌿 **Eco-Friendly and Sustainable:**
We care about our planet. Our printables are designed to minimize waste and reduce our environmental footprint, promoting sustainability for a better tomorrow.

💌 **A Perfect Gift for Young Explorers:**
Gift a world of adventure to the little ones in your life. Our Forest Animals Activities Printables make a fantastic present for birthdays, holidays, or just because. Inspire a love for learning and ignite their passion for the natural world.

**Order your Forest Animals Activities Printables today and embark on a forest-themed educational journey with your child!**

Please note: This is a digital product. No physical items will be shipped. After purchase, you will receive a link to download your printable pack.

Contact us
Crystal & Co.
P O Box 55263
Hurst, Texas 76054
crystalandcomp@yahoo.com
Sign up to our mailing list