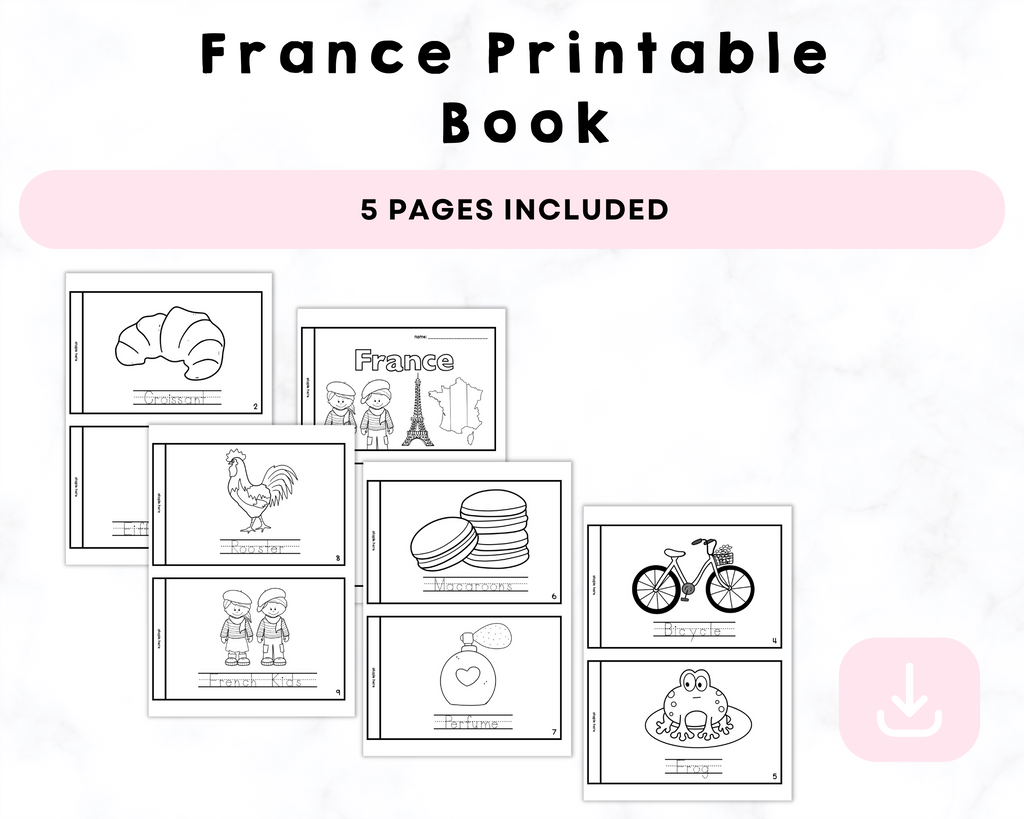 France Printable Book
France Printable Book
description
Introducing our 5-Page France Printable Book: a captivating journey through the beauty and culture of France, designed to ignite creativity and learning in children and adults alike.

🗼 **Page 1: The Eiffel Tower Adventure**
Embark on an adventure to the iconic Eiffel Tower! Trace the letters and words, discovering fascinating facts about this architectural wonder. Let your imagination run wild as you add vibrant colors to bring the Eiffel Tower to life.

🏰 **Page 2: Château Exploration**
Travel to the enchanting French châteaux! Practice word tracing to learn new French words related to castles and their intriguing history. Get creative with your coloring skills and design your dream château.

🎨 **Page 3: Artistic Inspiration from the Louvre**
Step into the world of art at the Louvre! Delve into word tracing exercises that introduce you to famous artists and their masterpieces. Express your creativity by adding your unique touch to timeless paintings with a burst of color.

🍞 **Page 4: A Culinary Adventure**
Embark on a culinary journey through French cuisine! Trace words that describe delicious French dishes and learn about the art of gastronomy. Let your creativity flow as you color in delectable food illustrations.

🌸 **Page 5: The Beauty of French Gardens**
Explore the serene beauty of French gardens! Perfect your tracing skills while learning about various elements of a garden. Use your favorite hues to make the flowers and landscapes come alive, creating your own picturesque garden.

Immerse yourself in the charm of France with our 5-Page Printable Book. A blend of educational word tracing and joyful coloring awaits, making learning about France an enjoyable and enriching experience for all ages. Bring the magic of France into your home today!
Please note: This is a digital product. No physical items will be shipped. After purchase, you will receive a link to download your printable pack.
Contact us
Crystal & Co.
P O Box 55263
Hurst, Texas 76054
crystalandcomp@yahoo.com
Sign up to our mailing list