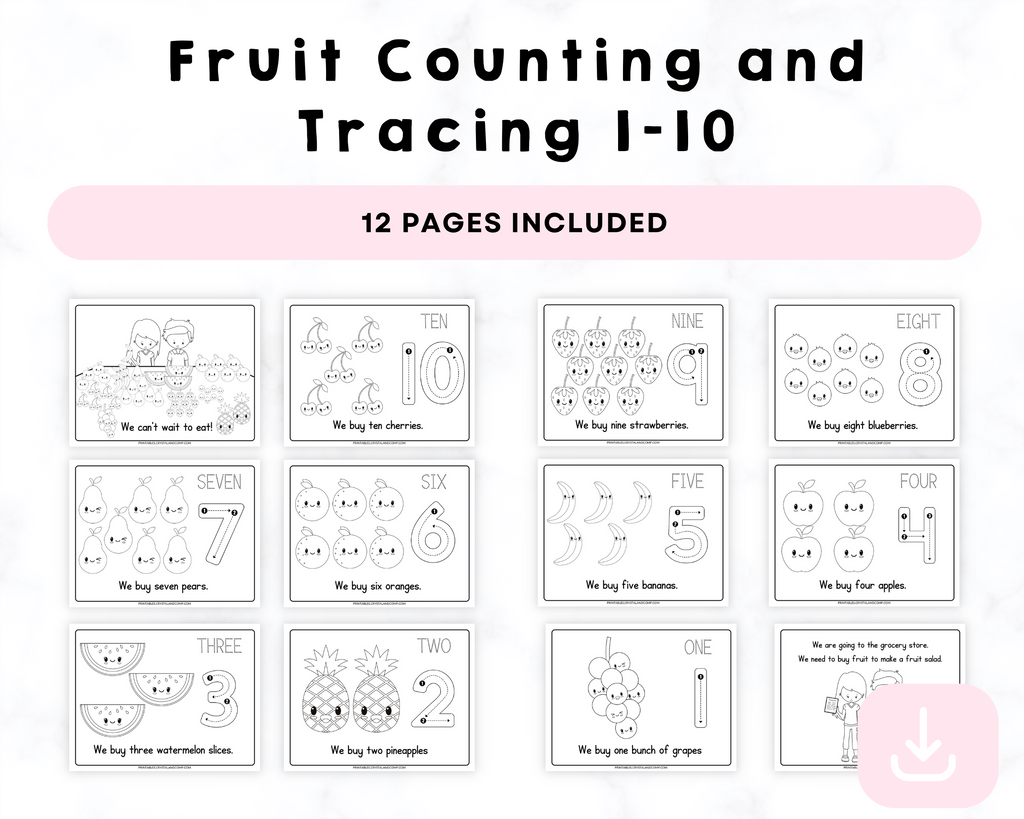 Fruit Counting and Tracing 1-10 Printables
Fruit Counting and Tracing 1-10 Printables
description
🍎🍌 Explore Numbers and Fruits with Our 14-Page Fruit Counting and Tracing 1-10 Printables! Learn, Trace, and Play with Fruity Fun! 🌟🖍️
This pack combines the vibrant world of fruits with engaging activities that introduce numbers, tracing, and creative play.
🔍 What's Inside?
Explore 14 creatively designed pages featuring a delightful combination of fruit-themed counting, number tracing, coloring activities, and engaging storytelling elements. From apples to bananas, these printables offer a captivating learning journey through numbers and fruits.
🍇🔢 Educational Adventures:
Fruit Counting: Engage in a fun-filled counting adventure with a variety of fruits from 1 to 10, fostering numerical understanding.

Number Tracing: Develop fine motor skills and numerical recognition by tracing numbers associated with each fruit.

Colorful Creations: Encourage creativity and color recognition with engaging fruit coloring pages.

Storytelling with Fruits: Stimulate imagination and language skills with storytelling elements centered around fruity tales.
👧🍐 Perfect for Little Learners!
Inspire a love for numbers and fruits with our Fruit Counting and Tracing 1-10 Printables. Whether for reinforcing early math skills, creative storytelling, or as a fun educational resource, these printables offer an enjoyable journey through numbers and fruity adventures.
📝 How to Use:
Print, count, trace, create, and play! These printables are designed for simplicity and effectiveness, making them ideal for parents, educators, and caregivers seeking interactive and educational activities.
🛒 Add to Cart Now and Let the Fruity Learning Begin! 🍊📚✨


Please note: This is a digital product. No physical items will be shipped. After purchase, you will receive a link to download your printable pack.

Contact us
Crystal & Co.
P O Box 55263
Hurst, Texas 76054
crystalandcomp@yahoo.com
Sign up to our mailing list