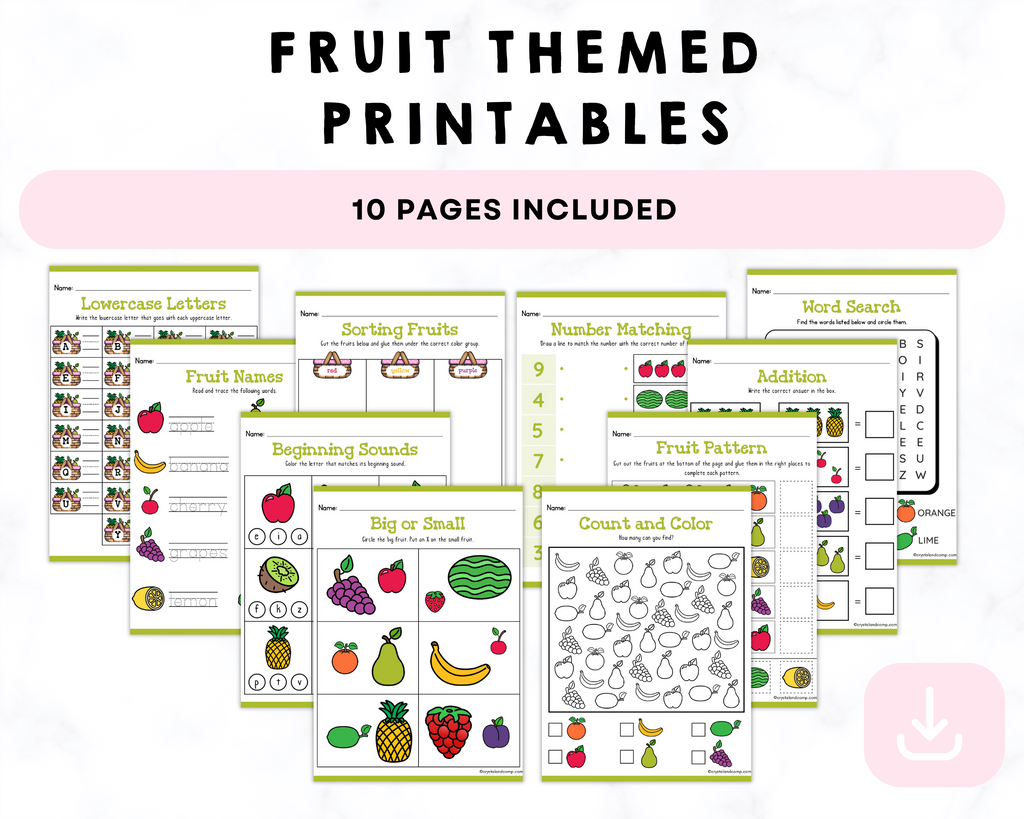 Fruit Themed Printables
Fruit Themed Printables
description
Introducing our delightful 10-Page Fruit Themed Printables for Preschoolers! Packed with vibrant and educational content, this set of printables is designed to make learning fun and engaging for your little ones. Let's take a closer look at what's included:

**Count and Color:**
- Your child will have a blast learning to count from 1 to 10 with our cheerful fruit illustrations. Each page features a different fruit, and your preschooler can practice counting and coloring the corresponding number of items on the page.

**Fruit Pattern:**
- We've created unique and eye-catching fruit patterns on each page, making these printables visually appealing and exciting for your child. The patterns not only encourage creativity but also help in developing pattern recognition skills.

**Fruit Name:**
- Learning about fruits has never been this much fun! Alongside the fruit illustrations, we've included the names of each fruit in clear, easy-to-read lowercase letters. This encourages early literacy and introduces your child to the world of reading and writing.

**Educational Benefits:**
- These printables offer numerous educational benefits for your preschooler. They can enhance their counting skills, fine motor skills through coloring, pattern recognition, and letter recognition. Plus, they'll become more familiar with the names of various fruits, which can be an excellent starting point for discussions about healthy eating.


Ignite your preschooler's curiosity and love for learning with our 10-Page Fruit Themed Printables. This product is a fantastic addition to your educational resources, ensuring that your child has a fruitful and fun learning experience. Get ready to watch them blossom as they explore the world of fruits, numbers, colors, and lowercase letters. Purchase your digital download today and let the learning adventures begin!
Please note: This is a digital product. No physical items will be shipped. After purchase, you will receive a link to download your printable pack.
Contact us
Crystal & Co.
P O Box 55263
Hurst, Texas 76054
crystalandcomp@yahoo.com
Sign up to our mailing list