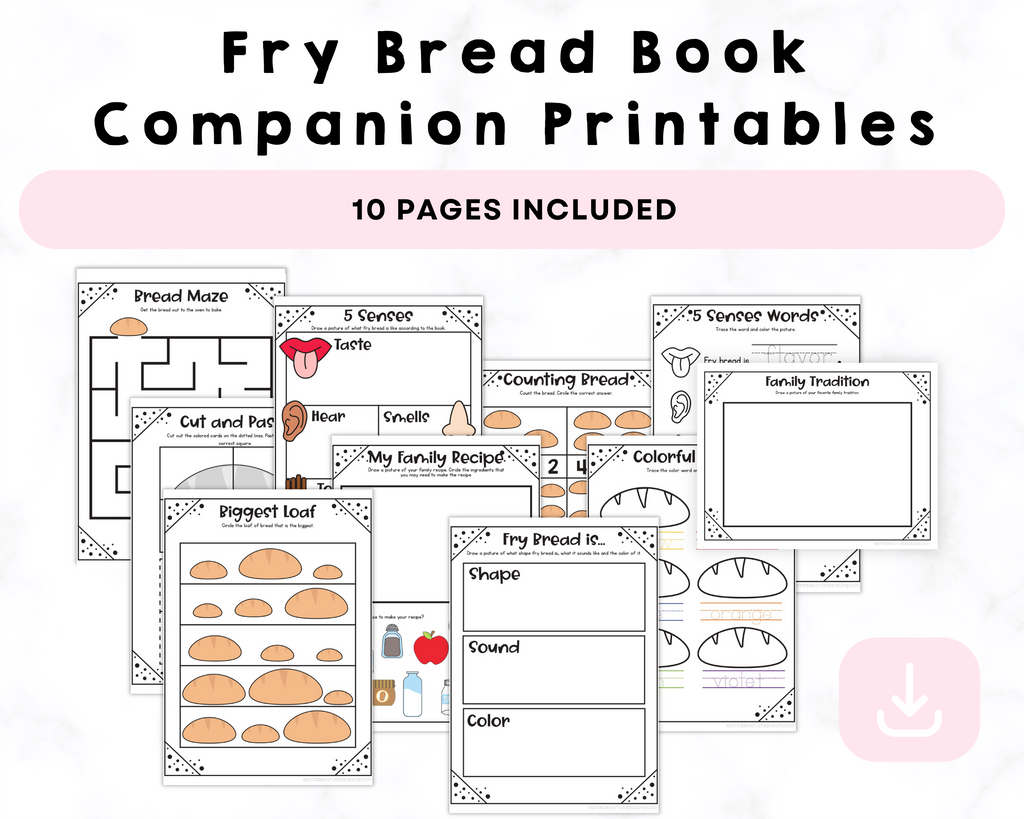 Fry Bread Book Companion Printables
Fry Bread Book Companion Printables
description
Introducing our "Fry Bread Adventure: A 10-Page Book Companion Printables Set" – the perfect educational tool to elevate the learning experience for young readers! Dive into the world of fry bread with engaging activities that stimulate imagination and foster a deeper connection to this beloved Native American staple.

**Product Description:**

🍞 **Fry Bread Adventure: A 10-Page Book Companion Printables Set**

Explore the rich history and cultural significance of fry bread with our comprehensive 10-page book companion printables set. Perfectly designed to complement the fry bread narrative, this set brings learning to life through a variety of interactive and enjoyable activities.

🔍 **Bread Maze:**
Embark on a thrilling fry bread maze adventure, navigating through the twists and turns that illustrate the journey of creating this cherished traditional dish. A fun way to enhance problem-solving skills while learning about the steps involved in fry bread preparation.

👁️ **Engage the 5 Senses:**
Immerse young learners in a sensory exploration of fry bread with a unique 5 senses activity. Allow them to touch, smell, see, hear, and even taste the essence of this cultural delight. Enhancing sensory perception while promoting cultural understanding has never been more enjoyable!

✂️ **Cut and Paste Creations:**
Encourage creativity and fine motor skills with cut and paste activities that let children craft their own fry bread scenes. From assembling ingredients to designing the perfect fry bread toppings, this hands-on experience enhances artistic expression while reinforcing the learning process.

📚 **More Engaging Activities:**
Delve further into the fry bread narrative with coloring pages, word searches, and fill-in-the-blank exercises that challenge young minds while keeping them entertained. This set ensures a holistic learning approach, fostering comprehension and fostering a love for reading.

🎨 **Perfect for Educators and Parents:**
Designed for educators, homeschoolers, and parents alike, our 10-page book companion printables set is a versatile tool to support and enrich fry bread lessons. It aligns with diverse learning styles, making it an invaluable resource for classrooms, home learning environments, and cultural education initiatives.

Discover the delicious world of fry bread through our 10-page Fry Bread Adventure: A Book Companion Printables Set. Bring the joy of learning to life and cultivate a deeper understanding of this cherished cultural treasure. Order now and embark on a fry bread journey like no other! 🌽🍽️

Please note: This is a digital product. No physical items will be shipped. After purchase, you will receive a link to download your printable pack.