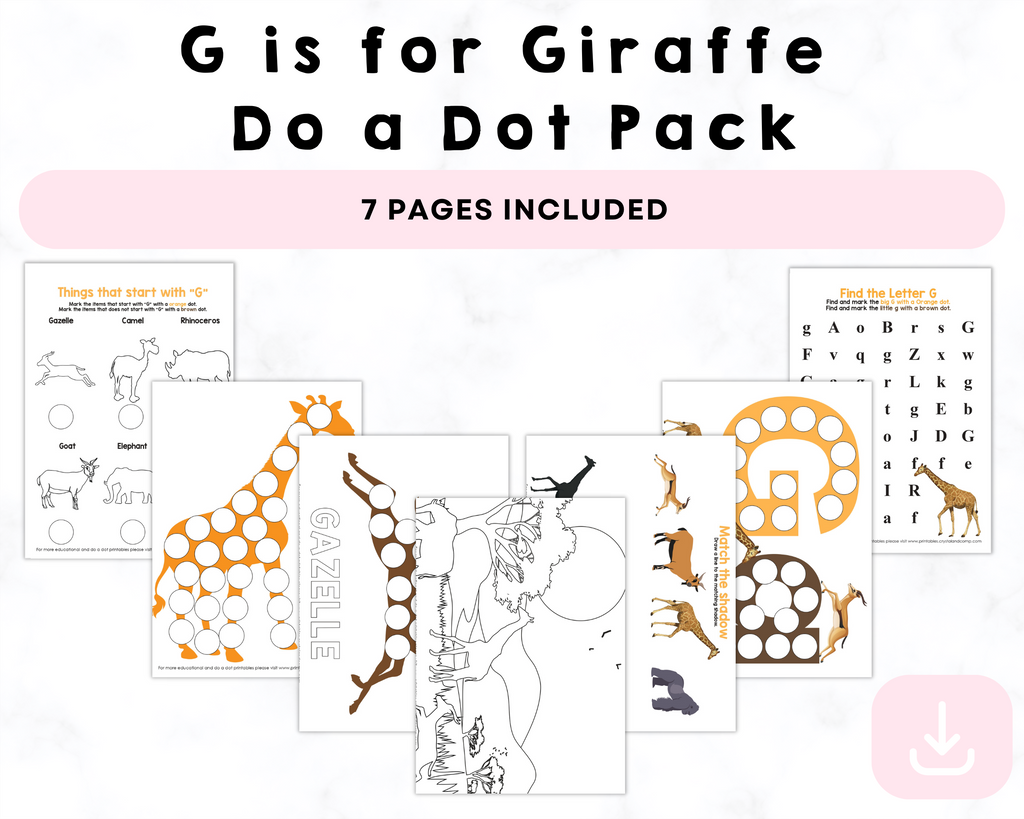 G is for Giraffe Do a Dot Pack Printable
G is for Giraffe Do a Dot Pack Printable
description
Introducing our captivating "G is for Giraffe Do a Dot Pack Printable" – an educational and fun-filled activity perfect for little learners! This 7-page printable is a fantastic addition to your child's early learning repertoire, focusing on the letter 'G' through the enchanting world of giraffes. Engage and inspire your child's creativity while aiding in their letter recognition skills with this delightful do-a-dot pack.

**Product Features:**

1. **Engaging Giraffe-Themed Pages:** Your child will embark on a journey through seven captivating pages, each thoughtfully designed with adorable giraffe illustrations, stimulating their imagination and curiosity.

2. **Letter 'G' Exploration:** Immerse your child in the wonders of the letter 'G' as they navigate through fun dot-to-dot activities, fostering letter recognition in an interactive and enjoyable manner.

3. **Educational and Interactive:** This printable encourages learning through play, allowing your child to explore the connection between the letter 'G' and the captivating world of giraffes.

4. **Fine Motor Skills Development:** The dot-to-dot activities in this pack are excellent for refining your child's fine motor skills as they carefully connect the dots to reveal charming giraffe designs.

5. **Printable Convenience:** Easily print this pack from the comfort of your home, providing endless opportunities for learning and bonding with your child.

6. **Ideal for Preschoolers and Kindergarteners:** Tailored to suit the developmental needs of young minds, this pack is a wonderful addition to any early learning curriculum.

7. **Parent-Approved Learning:** Join the ranks of satisfied parents who have witnessed their children's excitement and joy as they interact with this engaging G is for Giraffe Do a Dot Pack Printable.

Ignite your child's love for learning and letters with our G is for Giraffe Do a Dot Pack Printable. Add this delightful and educational resource to your collection and watch your child's creativity and understanding of the letter 'G' blossom!

Please note: This is a digital product. No physical items will be shipped. After purchase, you will receive a link to download your printable pack.

Contact us
Crystal & Co.
P O Box 55263
Hurst, Texas 76054
crystalandcomp@yahoo.com
Sign up to our mailing list