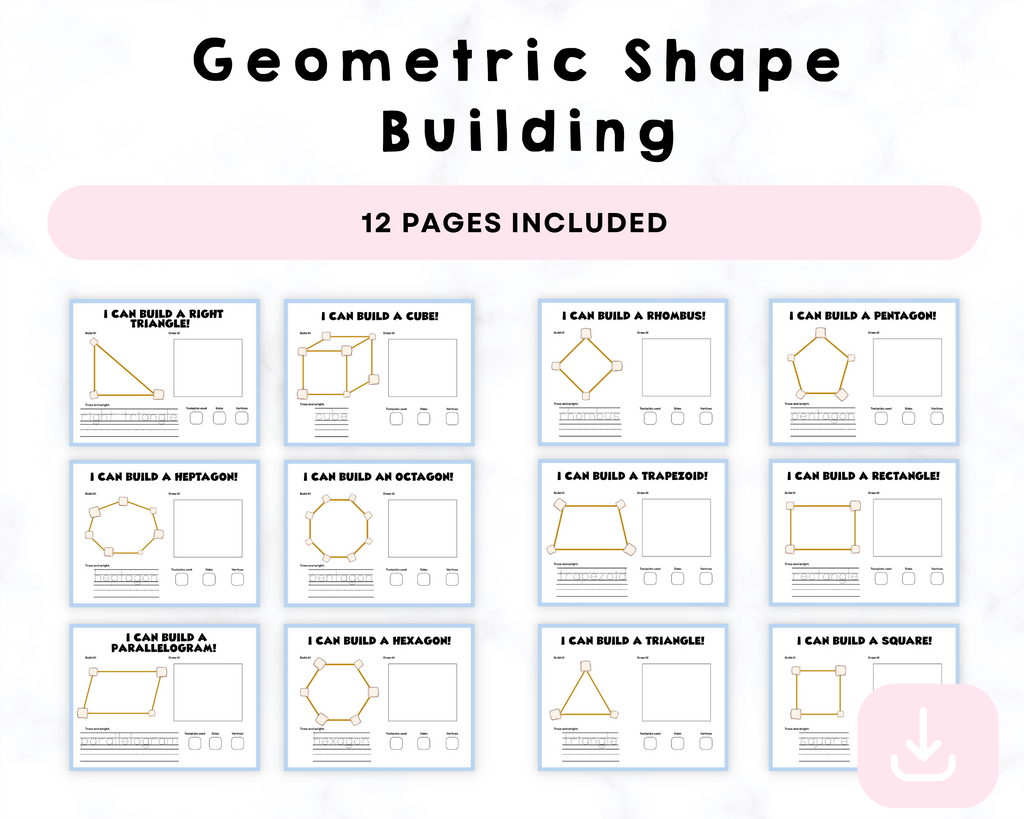 Geometric Shape Building Printables
Geometric Shape Building Printables
description
Introducing our captivating 12-page Geometric Shape Building Printables, specially designed to ignite the imagination of preschoolers while fostering essential cognitive skills. Unleash the world of shapes with this interactive and visually stunning set, carefully curated to make learning a joyous adventure.

🌈 **Engaging Exploration:**
Each page is a gateway to a world of shapes waiting to be discovered. From circles to triangles, rectangles to squares, our printables provide a vibrant and engaging way for little ones to identify and explore the fascinating realm of geometry.

🖍️ **Hands-On Learning:**
Let their creativity flourish as they trace and write the names of each shape, enhancing fine motor skills and hand-eye coordination. Watch with delight as your preschoolers bring these shapes to life, one stroke at a time.

🏰 **Building Blocks of Knowledge:**
Transforming education into play, our printables go beyond identification. With hands-on building activities, children learn to assemble shapes into imaginative structures. The possibilities are endless, encouraging problem-solving and spatial awareness in a fun, educational setting.

👶 **Tailored for Preschool Minds:**
Crafted with the developmental needs of preschoolers in mind, our printables strike the perfect balance between education and entertainment. Each page is a captivating journey that keeps young minds enthralled, paving the way for a lifelong love of learning.

 Unleash the power of play and education in one delightful package! 


Please note: This is a digital product. No physical items will be shipped. After purchase, you will receive a link to download your printable pack.

Contact us
Crystal & Co.
P O Box 55263
Hurst, Texas 76054
crystalandcomp@yahoo.com
Sign up to our mailing list