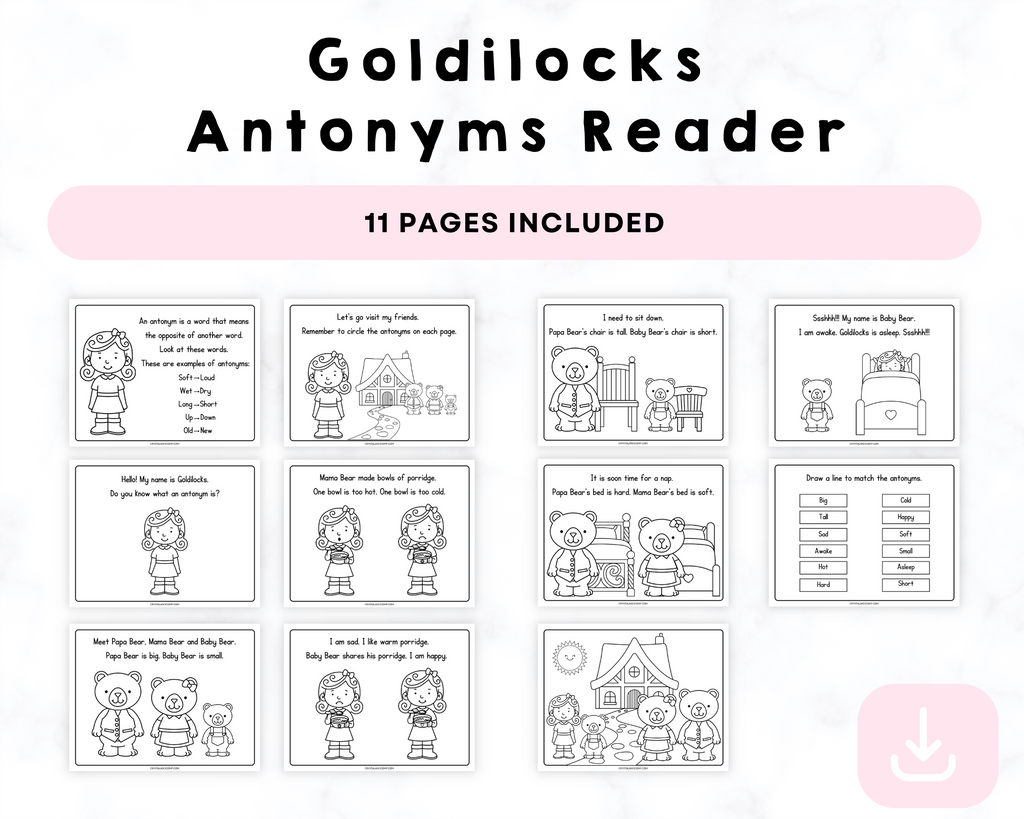 Goldilocks Antonyms Reader Printables
Goldilocks Antonyms Reader Printables
description
📚🐻 Immerse in Storytelling Adventures with Our 11-Page Goldilocks Antonyms Reader Printables! 🌟🎨
Explore 11 creatively designed pages filled with the timeless story of Goldilocks and exciting antonym-based activities. From colorful illustrations to antonym exercises, each page offers a delightful journey through the familiar story with a language twist.
📖 Educational Adventures:
Goldilocks Storytelling: Engage in the beloved tale of Goldilocks while exploring opposites through antonyms.

Antonym Exploration: Discover antonyms woven into the story, fostering language development and comprehension.
🎨 Coloring Fun: Encourage artistic expression with coloring pages featuring key scenes from the story, bringing the tale to life through creativity.
📝 How to Use:
Print, read, color, and learn! These printables merge storytelling with language exploration, making learning about antonyms an interactive and enjoyable experience. Perfect for parents, educators, and caregivers seeking to combine literacy and creativity in young readers.
🌟 Why Choose Our Reader Printables?
Storytelling Integration: 11 pages intertwining a classic tale with antonym-based activities for a unique learning experience.

Engaging Design: Vibrant illustrations and activities that make learning about language and opposites exciting and relatable.

Language Development: Promote vocabulary expansion and understanding of word relationships through antonym exploration.
🎭 Perfect for Little Wordsmiths!
Inspire a love for storytelling, language, and creativity with our Goldilocks Antonyms Reader Printables. Whether for home-based learning, classroom enrichment, or as an engaging resource, these printables offer an imaginative twist on a timeless tale.
👶 For Ages 4-6:
Tailored to preschoolers' developmental needs, our pack introduces language concepts in a playful and immersive way.
🛒 Add to Cart Now and Let the Goldilocks Antonyms Adventure Begin! 📚🐻🌈
Contact us
Crystal & Co.
P O Box 55263
Hurst, Texas 76054
crystalandcomp@yahoo.com
Sign up to our mailing list