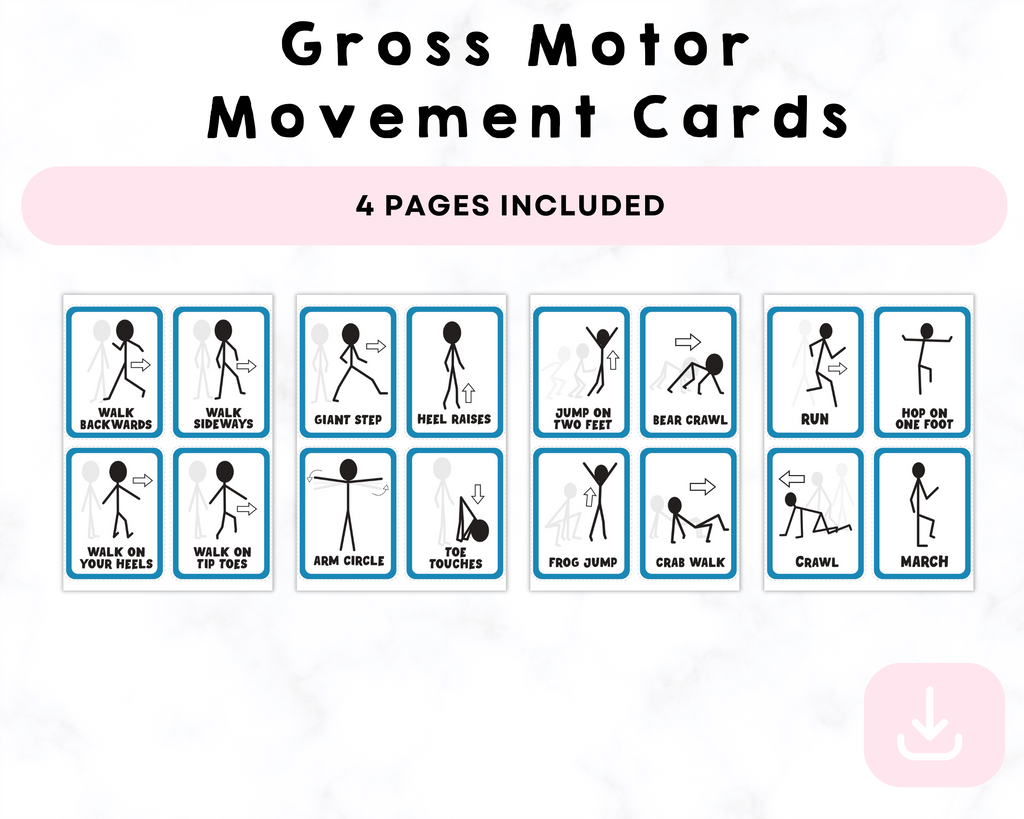 Gross Motor Movement Cards Printables
Gross Motor Movement Cards Printables
description
🤸‍♂️🃏 Energize Playtime with Our 4-Page Gross Motor Movement Cards Printables! Foster Active Fun and Development Through Creative Play! 🌟🎲
Transform playtime into an active adventure with our dynamic 4-Page Gross Motor Movement Cards Printables! Designed to engage and develop gross motor skills, these cards are a fantastic resource for parents, educators, and caregivers seeking to infuse movement into children's daily routines.
🏃‍♀️💨 Educational Adventures:
Active Play: Engage children in a series of gross motor movements that promote physical activity and coordination.

Creative Movement: Encourage imaginative play as children interpret and act out movements in their unique ways.

Developmental Benefits: Foster the development of essential gross motor skills crucial for physical well-being and overall health.
🌟 Why Choose Our Movement Cards?
Targeted Movements: 4 pages featuring a variety of gross motor movements, ensuring a well-rounded physical activity experience.

Easy Integration: Seamlessly incorporate these cards into playtime or educational activities for a quick and energizing break.

Promoting Physical Well-Being: Instill a love for movement and exercise, contributing to children's overall health and development.
👧👦 Perfect for Little Movers!
Inspire active play and physical development with our Gross Motor Movement Cards Printables. Whether for energizing breaks, classroom activities, or fun at home, these cards offer a playful approach to fostering gross motor skills.
📝 How to Use:
Print, play, move, and enjoy! These printables are designed for simplicity and effectiveness, making them a perfect addition to home play or classroom activities. Incorporate them into daily routines for a burst of active and imaginative fun.
🛒 Add to Cart Now and Let the Gross Motor Fun Begin! 🤸‍♂️🎉🎈


Please note: This is a digital product. No physical items will be shipped. After purchase, you will receive a link to download your printable pack.

Contact us
Crystal & Co.
P O Box 55263
Hurst, Texas 76054
crystalandcomp@yahoo.com
Sign up to our mailing list