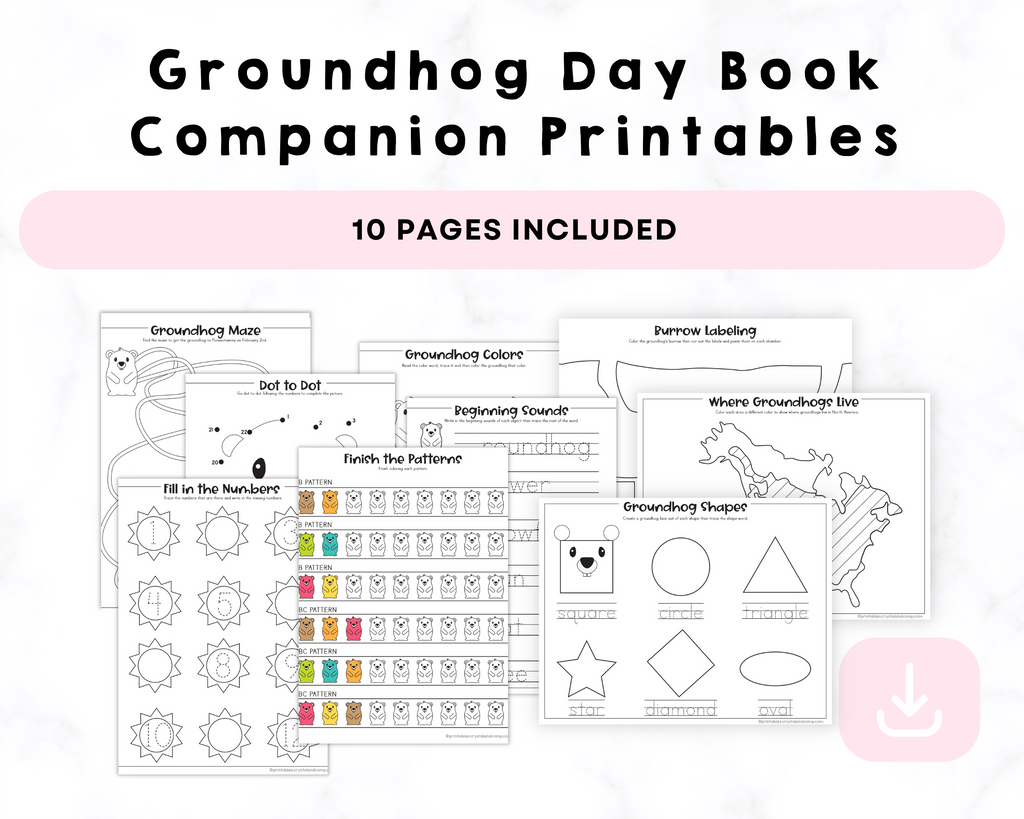 Groundhog Day Book Companion Printables
Groundhog Day Book Companion Printables
description
🌟📚 Delight in Learning with Our 10-Page Groundhog Day Book Companion Printables! Explore Beginning Sounds, Dot-to-Dot, Mazes, Coloring, and More! 

 Designed to accompany the Groundhog Day story, these pages offer a variety of engaging activities like beginning sounds, dot-to-dot, mazes, coloring, and numeric challenges.

🔤🖍️ **Activities Included:**

- **Beginning Sounds:** Explore the alphabet and groundhog-related vocabulary with delightful beginning sound exercises.
- **Dot-to-Dot:** Connect the dots to reveal charming Groundhog Day images, making learning a playful adventure.
- **Mazes:** Navigate through engaging groundhog-themed mazes, adding an element of fun and problem-solving.
- **Coloring:** Unleash creativity with beautifully detailed illustrations, bringing groundhog colors to life.
- **Number Fill-Ins:** Reinforce number recognition and counting skills through engaging fill-in activities.

📚🦫 **Educational Adventures:**

- **Holistic Learning:** Connect story comprehension with diverse activities, fostering well-rounded learning experiences.
- **Skill Development:** Enhance fine motor skills, logical thinking, and creativity while diving into Groundhog Day celebrations.
- **Engaging Exploration:** Encourage curiosity and cognitive growth through a variety of entertaining exercises.

👧🧑 **Perfect for Young Learners:**

Ideal for homeschooling or classroom activities, our Groundhog Day Book Companion Printables offer an array of engaging tasks that complement the story, making learning enjoyable and memorable.

🌟🦫 **Get Your 10-Page Groundhog Day Book Companion Printables and Dive into a World of Educational Fun! Explore, Learn, and Celebrate Groundhog Day with Engaging Activities! 🖍️🔤🦔**

Please note: This is a digital product. No physical items will be shipped. After purchase, you will receive a link to download your printable pack.

Contact us
Crystal & Co.
P O Box 55263
Hurst, Texas 76054
crystalandcomp@yahoo.com
Sign up to our mailing list