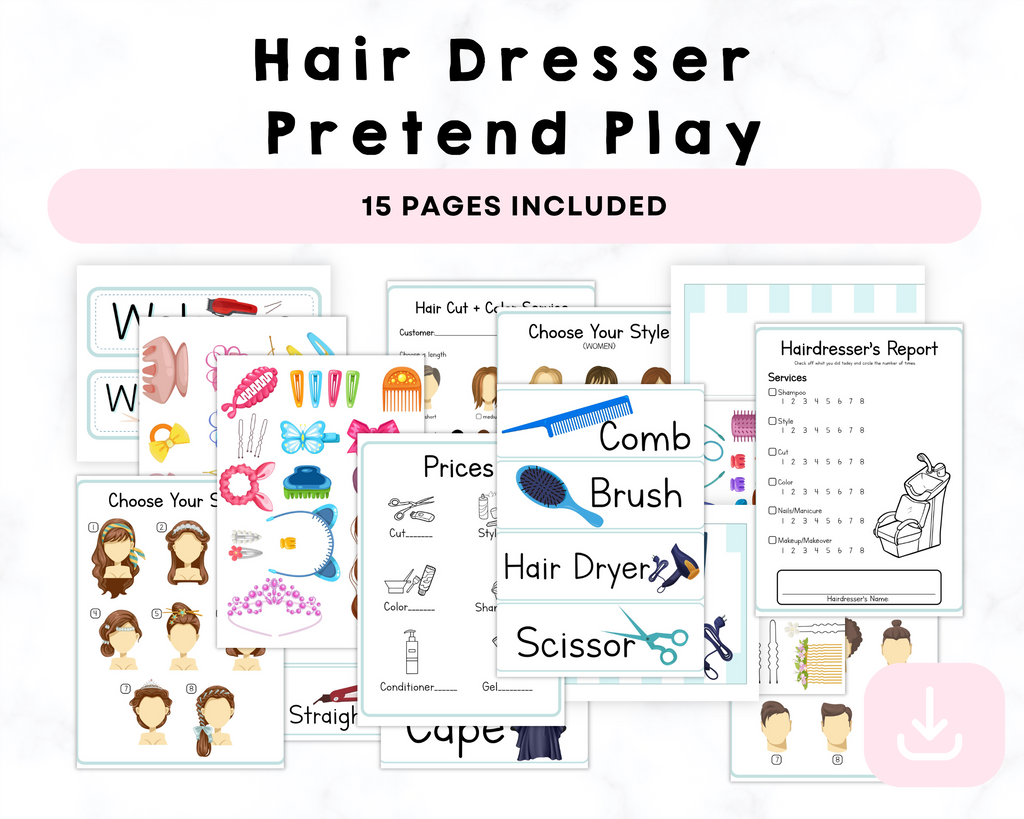 Hair Dresser Pretend Play Printable
Hair Dresser Pretend Play Printable
description
Introducing our Hair Dresser Pretend Play Printable for Preschoolers – a creative and engaging activity set that will have your little ones styling and snipping with endless imagination! This 15-page printable is designed to nurture your child's creativity, fine motor skills, and social interaction while fostering a love for pretend play.

🌟 Key Features 🌟

🌈 15 Printable Pages: Our Hair Dresser Pretend Play set includes 15 vibrant and meticulously crafted pages filled with salon-themed activities that will keep your preschooler engaged for hours.

💇‍♀️ Salon Essentials: Your child will have access to essential tools such as scissors, combs, hairdryers, and more, all within the printable. They can cut, style, and pamper their imaginary clients with ease.

👫 Social Play: Encourage teamwork and social interaction as your little one takes on the role of the stylist and welcomes their friends as clients. This promotes communication, empathy, and sharing.

🌟 What's Included? 🌟

1. Hair Salon Front Desk: Welcome clients, schedule appointments, and manage the salon.
2. Stylist's License: A fun certificate to make your child an official hair stylist.
3. Salon Chair: Where the magic happens – let your child take the seat of the stylist!
4. Client Hairstyle Cards: Inspirational templates for different hairdos.
5. Hair Accessories: Decorate and accessorize the clients' hair in style.
6. Salon Price List: Teach counting and math skills by setting prices for services.
7. And much more!

📚 Educational Benefits 📚

- Develops Fine Motor Skills: Cutting and styling hair encourage hand-eye coordination and dexterity.
- Sparks Creativity: Your child can invent unique hairstyles and color schemes.
- Encourages Role Play: Pretend play fosters imagination and empathy.
- Boosts Confidence: Completing tasks and styling hair builds a sense of accomplishment.

🎨 How to Use 🎨

Simply download and print the PDF file, and you're ready to embark on a hair styling adventure with your preschooler. This activity is perfect for rainy days, playdates, or just some creative "me time."

👶 Age Recommendation 👶

This Hair Dresser Pretend Play Printable is suitable for preschoolers aged 3 and above, but younger children can also enjoy it with adult supervision.

Unleash your child's inner stylist and let their imagination flourish with our Hair Dresser Pretend Play Printable. Purchase today and watch them create, style, and enjoy endless hours of imaginative fun!
Please note: This is a digital product. No physical items will be shipped. After purchase, you will receive a link to download your printable pack.