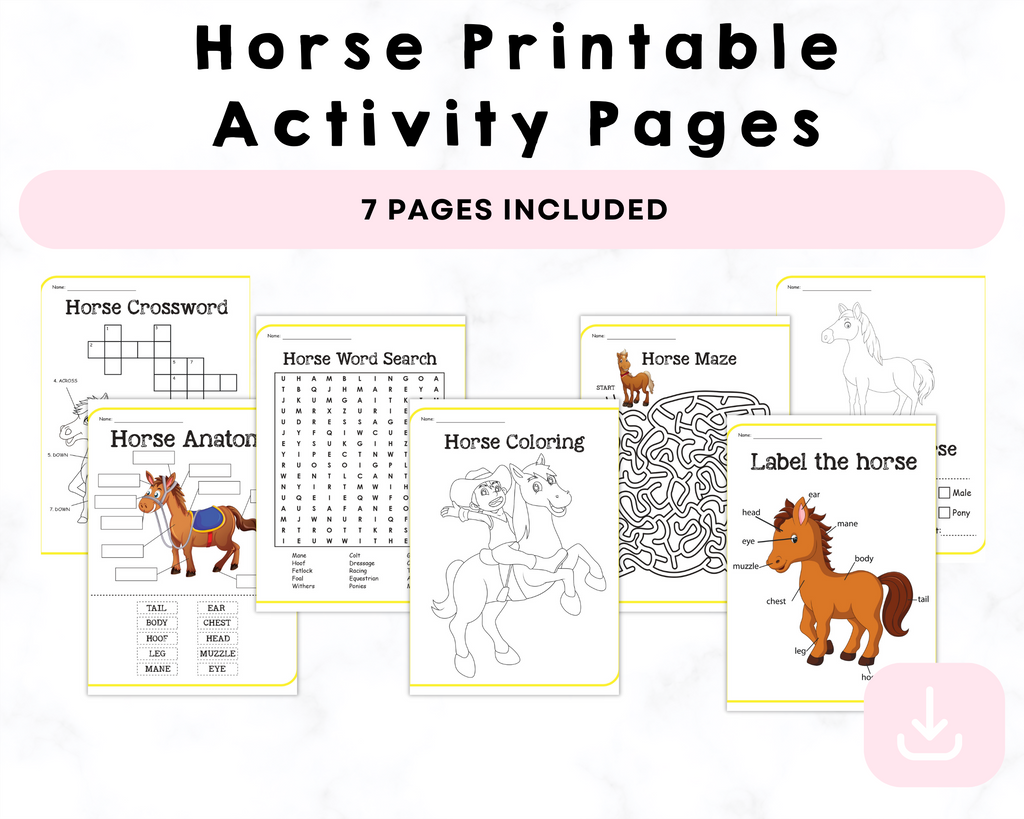 Horse Printable Activity Pages Printable
Horse Printable Activity Pages Printable
description
🐴🎨 Explore the World of Horses with Our 7-Page Horse Printable Activity Pages! Engage in Anatomy Identification, Word Puzzles, Coloring, and More in an Equine Adventure! 🌟📝
Saddle up for an exciting journey into the equestrian world with our captivating 7-Page Horse Printable Activity Pages! This pack offers a delightful array of activities, from identifying horse anatomy to solving puzzles and coloring, providing an immersive experience for horse enthusiasts.
🔍 What's Inside?
Anatomy Identification: Learn about horse anatomy through interactive labeling exercises.
Word Puzzles: Challenge vocabulary and problem-solving skills with entertaining horse-themed word searches and crosswords.
Coloring: Unleash creativity with beautifully detailed horse illustrations awaiting vibrant colors.
Maze: Navigate through an adventurous horse maze, adding an element of fun and skill.
📝🖍️ Educational Adventures:
Print, identify, solve, color, and explore! These printables are designed to entertain and educate, perfect for young horse enthusiasts looking to delve deeper into the world of horses, whether at home or in a classroom setting.
🌿🏇 Perfect for Equine Enthusiasts!
Inspire a love for horses and learning with our Horse Printable Activity Pages. Ideal for homeschooling, leisure activities, or as an educational supplement, these printables offer an enriching and enjoyable equine experience.
🛒 Add to Cart Now and Embark on a Horse-Lover's Adventure! 🖌️🐴✨

Please note: This is a digital product. No physical items will be shipped. After purchase, you will receive a link to download your printable pack.

Contact us
Crystal & Co.
P O Box 55263
Hurst, Texas 76054
crystalandcomp@yahoo.com
Sign up to our mailing list