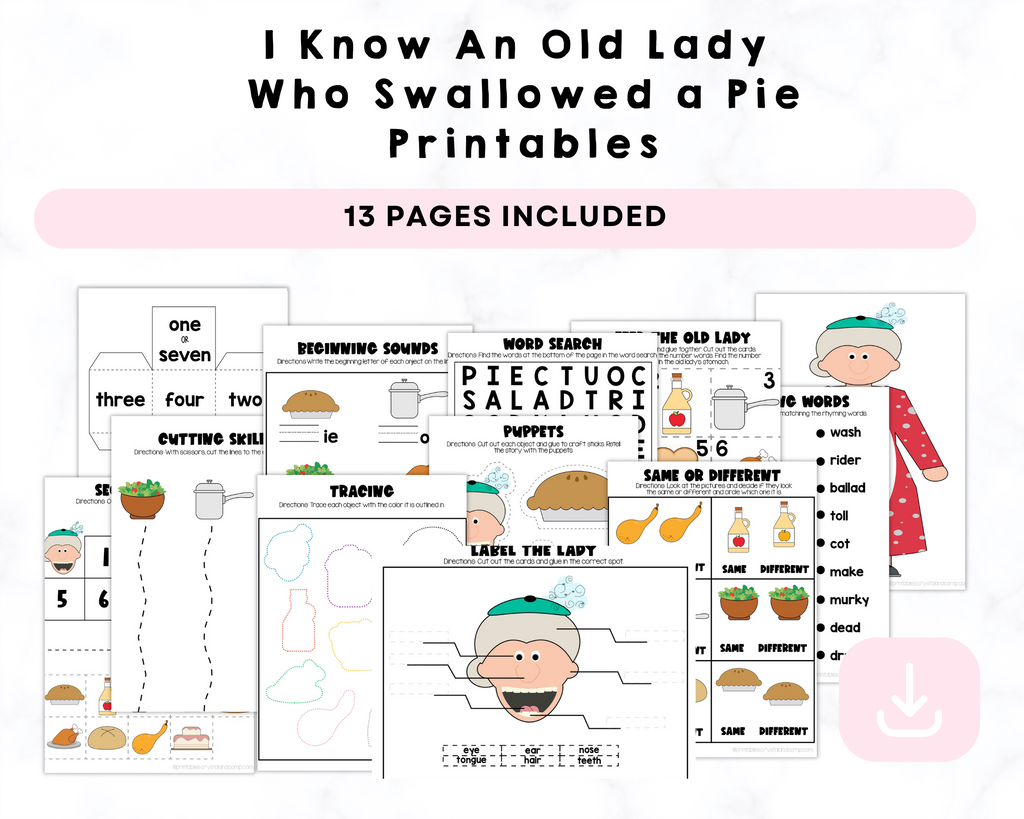 I Know An Old Lady Who Swallowed a Pie Printables
I Know An Old Lady Who Swallowed a Pie Printables
description
Introducing our delightful "I Know An Old Lady Who Swallowed a Pie Printables" package! Enhance your storytelling and engage young learners with this fantastic set of 13-page printables inspired by the beloved children's tale.

🎉 **Product Features:**

1️⃣ **Comprehensive Learning Experience:** Our printables are designed to enrich the reading experience of "I Know An Old Lady Who Swallowed a Pie." Each page is meticulously crafted to align with the storyline, encouraging interactive learning and creativity.

2️⃣ **Vivid Illustrations:** Immerse young readers in the charming world of the old lady and her playful escapades. Our printables feature colorful and eye-catching illustrations that bring the story to life, fostering imagination and curiosity.

3️⃣ **Educational Content:** Dive into a variety of educational activities and exercises that promote vocabulary building, comprehension, sequencing, and critical thinking. These printables are an excellent addition to classrooms, homeschooling environments, or family reading sessions.

4️⃣ **Print-and-Play Convenience:** Simply print the pages and get ready for an adventure! Our printables are formatted for easy printing, ensuring a hassle-free experience for both parents and educators.

5️⃣ **Engage and Entertain:** Whether you're a parent, teacher, or caregiver, these printables will captivate young minds and make learning enjoyable. Watch as children eagerly participate in the story and expand their knowledge through interactive tasks.


Fuel the imaginations of the little ones and foster a love for reading and learning with our "I Know An Old Lady Who Swallowed a Pie Printables." Order now and embark on an educational journey full of laughter and wonder!

Please note: This is a digital product. No physical items will be shipped. After purchase, you will receive a link to download your printable pack.

Contact us
Crystal & Co.
P O Box 55263
Hurst, Texas 76054
crystalandcomp@yahoo.com
Sign up to our mailing list