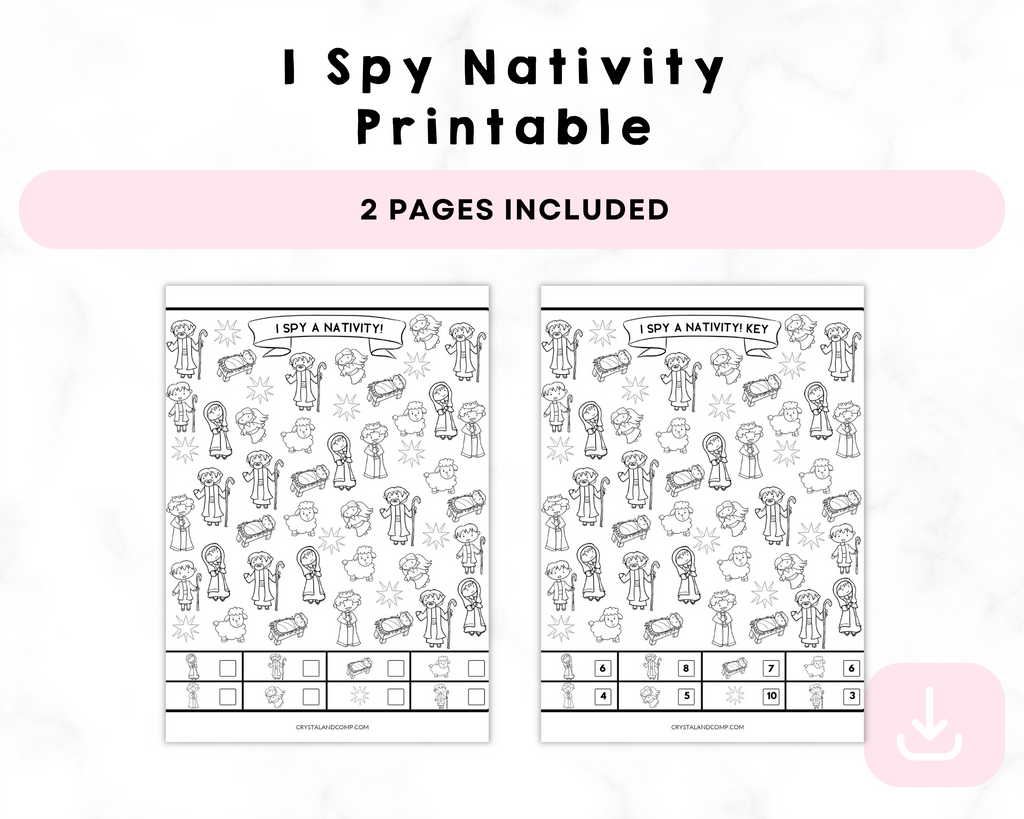 I Spy Nativity Printable
I Spy Nativity Printable
description
Introducing our enchanting 2-page I Spy Nativity Printable, perfect for adding a touch of joy and wonder to your holiday season! Unveil the magic of the nativity story through a captivating I Spy game, designed to engage and entertain both children and adults alike.

**Product Highlights:**

🌟 *Immersive Nativity Experience:* Embark on a delightful journey as you search for various nativity characters and elements within our beautifully illustrated 2-page printable. Immerse yourself in the heartwarming story of the nativity scene while enhancing observation and concentration skills

👪 *Fun for All Ages:* Whether you're a parent looking for an engaging activity for your children or a teacher wanting an educational tool for the classroom, our I Spy Nativity Printable is suitable for all ages. Gather the family or students and enjoy the excitement of discovering hidden treasures together!

🖨️ *Printable and Ready-to-Use:* Conveniently downloadable, our 2-page I Spy Nativity Printable is easily accessible for immediate enjoyment. Simply print the pages and start playing! The printable can be used multiple times, making it a cost-effective and reusable holiday activity.

🧠 *Educational and Stimulating:* Foster cognitive development and enhance observational skills in a playful and entertaining manner. The I Spy game encourages critical thinking, attention to detail, and language development, making it a valuable educational tool.

🎁 *Perfect Holiday Gift:* Looking for a thoughtful and unique holiday gift? Share the joy of the nativity story with friends, family, or colleagues by gifting them our I Spy Nativity Printable. It's a delightful surprise that will bring smiles and enrich the festive spirit.

Add a touch of magic to your holiday season with our 2-page I Spy Nativity Printable. Uncover the true essence of Christmas while enjoying a delightful game that celebrates the spirit of togetherness, love, and joy. Order now and start the festivities with an educational and entertaining adventure!
Please note: This is a digital product. No physical items will be shipped. After purchase, you will receive a link to download your printable pack.
Contact us
Crystal & Co.
P O Box 55263
Hurst, Texas 76054
crystalandcomp@yahoo.com
Sign up to our mailing list