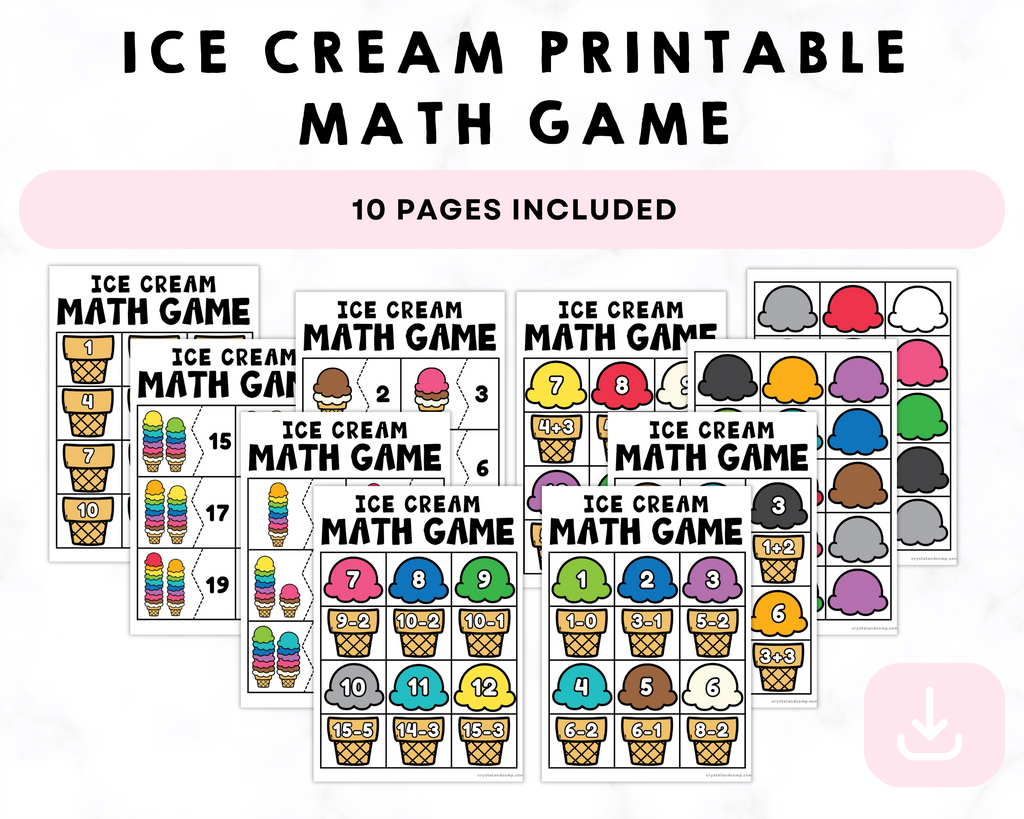 Ice Cream Printable Math Game
Ice Cream Printable Math Game
description
Indulge your little one in a delectable world of learning with our Ice Cream Printable Math Game for preschoolers! This 10-page educational masterpiece is the perfect scoop of fun, designed to make math concepts as delightful as a double scoop of your favorite ice cream flavor.

🍦 What's Inside:

1. **Ice Cream Cones and Scoops:** Dive into the world of numbers and counting with the help of colorful ice cream cones and scoops. Your child will have a blast matching numbers and practicing basic addition and subtraction.

2. **Counting Fun:** Encourage early math skills by counting the sweet scoops on each cone. Your child will be having so much fun, they won't even realize they're learning!

3. **Addition and Subtraction:** Introduce the fundamentals of addition and subtraction in a hands-on, interactive way. Each ice cream scoop becomes a visual representation of math problems, making learning fun and engaging.

4. **Printable and Reusable:** Our printable math game is easy to print and can be used again and again. You can laminate the sheets for added durability, ensuring this educational treat lasts for years.

5. **Perfect for Preschoolers:** Created with the littlest learners in mind, the ice cream theme captures their imagination and keeps them eager to learn.

6. **Interactive Learning:** Whether used in the classroom or at home, this game promotes interactive learning and helps build strong math foundations.

7. **Great for Visual Learners:** The vibrant and charming ice cream graphics make understanding math concepts easy and enjoyable for visual learners.

8. **Parent and Teacher Approved:** This printable math game has been praised by parents and educators alike for its effectiveness in teaching math in a fun and engaging way.

9. **10 Pages of Learning:** With 10 pages of math activities, there's plenty of room for your little one to explore and practice various math skills.

10. **Instant Download:** Get your hands on this delightful educational resource instantly. No need to wait for shipping; start the math learning fun right away!

🍦 Nourish your child's love for learning while satisfying their sweet tooth for all things ice cream. Our Ice Cream Printable Math Game is a scrumptious way to introduce and reinforce essential math skills. Don't miss out on this opportunity to make math as enjoyable as a summer day at the ice cream parlor. Get your printable copy now and watch your little one scoop up the magic of mathematics! 🍨📚

Please note: This is a digital product. No physical items will be shipped. After purchase, you will receive a link to download your printable pack.