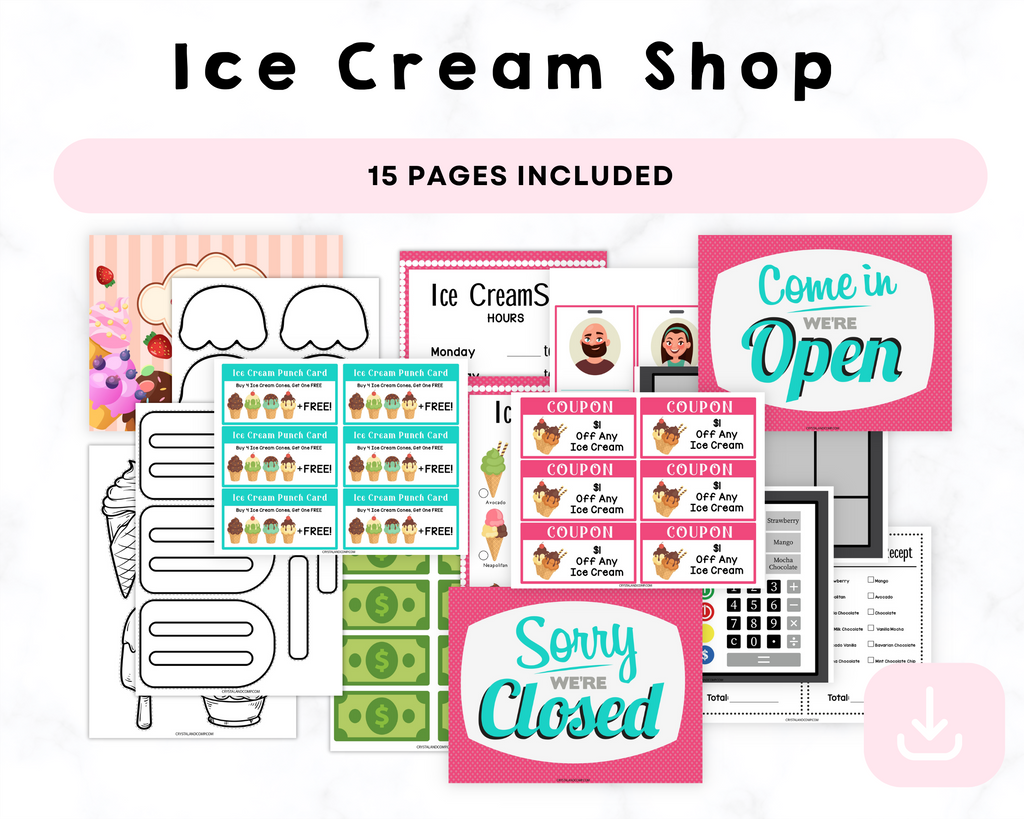 Ice Cream Shop Pretend Play Printables
Ice Cream Shop Pretend Play Printables
description
🍦 Are you ready to scoop up some delicious fun with your little one? Our Ice Cream Shop Pretend Play Printables are the perfect way to spark creativity and imagination in preschoolers. With this fantastic set of printables, your child can run their very own ice cream shop right at home!

🌟 What's Inside:
1. **Ice Cream Menu**: A vibrant menu filled with yummy ice cream flavors, toppings, and prices to help your child practice counting and basic math skills.

2. **Order Forms**: Encourage language development and communication as your child takes orders from friends and family.

3. **Ice Cream Cone Templates**: Color and customize your own ice cream cones. The possibilities are as endless as the ice cream flavors!

4. **Ice Cream Scoops**: Match the scoops to the menu for some delightful matching and fine motor skill practice.

5. **Money Play**: Learn the value of money and counting while making transactions at the ice cream shop.

6. **Price Tags**: Decorate the shop with these colorful price tags, and enhance numeral recognition.

7. **Ice Cream Truck Cutouts**: Create your own mobile ice cream shop and role-play on the go.

8. **Ice Cream Toppings**: A variety of toppings to add that extra sweetness to your imaginative play.

9. **Ice Cream Cones & Bowls**: Design your own containers for your scrumptious treats.

10. **Role-Play Accessories**: Aprons, hats, and nametags to complete the pretend play experience.

🧡 Key Features:
- Engage in imaginative role-play to build social and emotional skills.
- Develop fine motor skills through cutting, coloring, and assembling.
- Promote early math skills with counting, matching, and money play.
- Encourage creativity with customizable templates and designs.

👨‍👩‍👦‍👦 Perfect for:
- Playdates and group activities.
- Quality family time bonding over a delightful ice cream parlor experience.
- Preschools, daycares, and homeschooling lessons.

🍨 Give your child the gift of imagination and creativity with our Ice Cream Shop Pretend Play Printables. Order now and watch their playtime turn into a sweet adventure!

Please note: This is a digital product. No physical items will be shipped. After purchase, you will receive a link to download your printable pack.

Contact us
Crystal & Co.
P O Box 55263
Hurst, Texas 76054
crystalandcomp@yahoo.com
Sign up to our mailing list