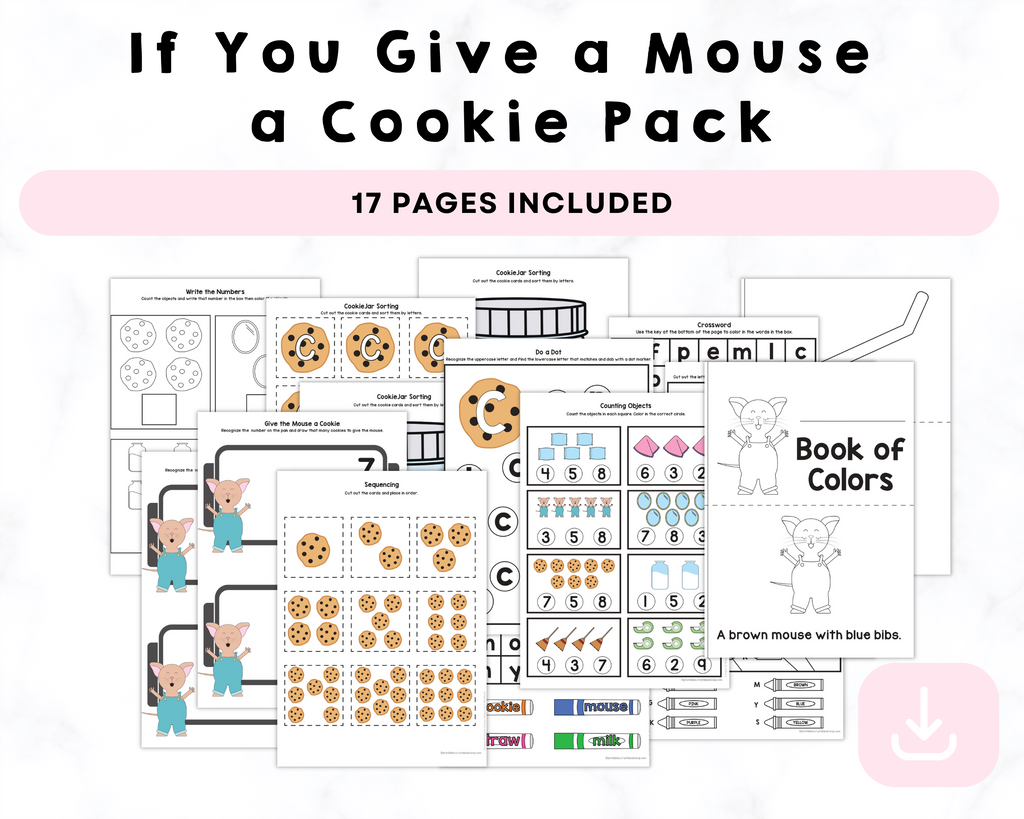 If You Give a Mouse a Cookie Pack Printables
If You Give a Mouse a Cookie Pack Printables
description
🍪 **Explore Learning Adventures with Our 17-Page "If You Give a Mouse a Cookie" Printables for Preschoolers! 📚✨**

Step into the enchanting world of "If You Give a Mouse a Cookie" with our 17-page Printables Pack! Designed to bring the beloved children's book to life, this resource fosters early learning and creativity in preschoolers.

🔍 **What's Inside?**

Discover 17 carefully crafted pages inspired by the classic tale. Each page is a mini adventure, featuring activities that engage young minds in delightful learning experiences. From counting cookies to fine motor skill exercises, the pack is a treasure trove of educational joy.

🧠 **Educational Benefits:**

1. **Sequencing Skills:** Enhance comprehension and storytelling skills by following the story's sequence through interactive activities.

2. **Math Exploration:** Make learning numbers a sweet experience with cookie-themed math exercises like counting, sorting, and matching.

3. **Fine Motor Development:** Engage little hands in cutting, pasting, and coloring activities, promoting fine motor skills and creativity.

📝 **How to Use:**

Print, play, and learn! These printables are designed for simplicity and effectiveness, perfect for parents, educators, and caregivers looking to infuse early learning into everyday activities. Whether at home or in the classroom, our pack is a versatile educational companion.

🌟 **Why Choose Our Pack?**

- **Thematic Coherence:** Aligned with the beloved children's book for a cohesive and engaging learning experience.

- **Variety of Activities:** From coloring pages to puzzles, each printable offers a unique way for preschoolers to interact with the story.

- **Inspired Creativity:** Encourage imaginative play as children explore the story world through hands-on activities.

🎁 **Perfect Gift for Little Explorers!**

Ideal for classrooms, homeschooling, or as a delightful present for any preschooler who loves stories and learning.

Please note: This is a digital product. No physical items will be shipped. After purchase, you will receive a link to download your printable pack.

Contact us
Crystal & Co.
P O Box 55263
Hurst, Texas 76054
crystalandcomp@yahoo.com
Sign up to our mailing list