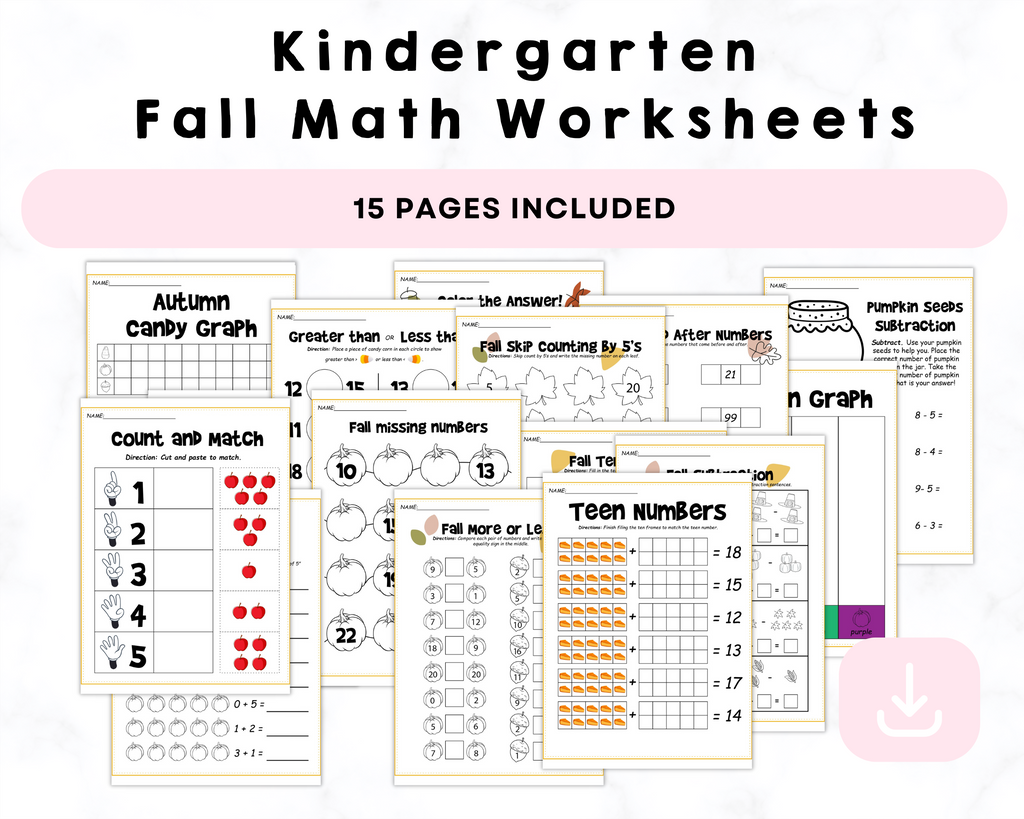 Kindergarten Fall Math Worksheet Printable
Kindergarten Fall Math Worksheet Printable
description
Introducing our Kindergarten Fall Math Worksheet Printable - a 15-page bundle designed to make learning math engaging and enjoyable for your little ones during the vibrant fall season. Packed with counting, math solving, graphing, and matching number activities, this printable will help your kindergarteners develop essential math skills while embracing the autumn spirit.

**Product Description:**

🍁 **Mathematical Adventures in Fall!**
This 15-page bundle is carefully crafted to introduce your kindergarten students to the fascinating realm of numbers and mathematical concepts, all set against the backdrop of the beautiful autumn season.

🍂 **Counting and Cardinality:**
Watch as your little learners embark on a counting adventure, discovering the joys of numbers through playful exercises. From counting autumn leaves to pumpkins, this printable encourages children to grasp the fundamentals of counting and cardinality in an enjoyable way.

🍎 **Math Solving Made Fun:**
Equip your kindergarteners with the skills to solve simple mathematical problems, setting a solid foundation for their future math endeavors. With engaging fall-themed math problems, this printable transforms learning into a playful journey of discovery.

📊 **Graphing and Visual Learning:**
Immerse your students in the world of graphs and charts, allowing them to visually represent and analyze data. The fall-themed graphs will not only enhance their math skills but also develop their ability to interpret and communicate information effectively.

🔢 **Matching Numbers and More:**
Encourage cognitive development and enhance numeracy skills through entertaining matching exercises. Your young scholars will have a blast matching numbers, objects, and quantities while immersing themselves in the autumnal charm.


Turn this fall season into an educational adventure for your kindergarteners with our Kindergarten Fall Math Worksheet Printable. Buy now and watch as the wonders of autumn bring math to life in the most delightful way! 🍂🎓

Please note: This is a digital product. No physical items will be shipped. After purchase, you will receive a link to download your printable pack.

Contact us
Crystal & Co.
P O Box 55263
Hurst, Texas 76054
crystalandcomp@yahoo.com
Sign up to our mailing list