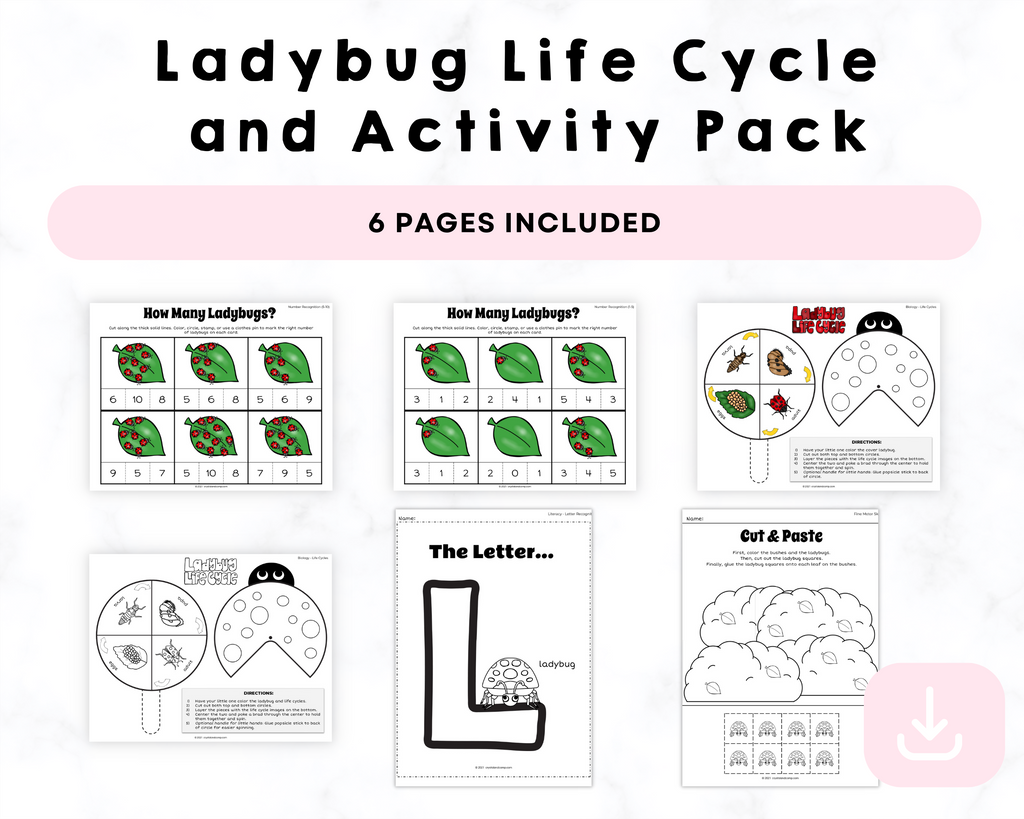 Ladybug Life Cycle and Activity Pack Printables
Ladybug Life Cycle and Activity Pack Printables
description
Discover 6 thoughtfully designed pages filled with enchanting activities centered around the ladybug life cycle. From counting exercises that involve ladybug spots to cut-and-paste activities depicting their life stages, each page offers a delightful exploration of these charming insects.
🐞 Educational Adventures:
Ladybug Life Cycle: Dive into the stages of a ladybug's life with interactive exercises that depict their fascinating transformation.

Counting Ladybug Spots: Engage in counting activities using ladybug spots, promoting numerical skills while learning about these insects' characteristics.

Cut and Paste Creativity: Foster fine motor skills and creativity with cut-and-paste activities that illustrate the ladybug life cycle.
🖍️ How to Use:
Print, count, create, and learn! These printables are designed to make learning about the ladybug life cycle interactive and enjoyable. Ideal for parents, educators, and caregivers seeking to inspire curiosity and knowledge in young learners.
🌟 Why Choose Our Activity Pack?
Comprehensive Content: 6 pages offering a rich exploration of the ladybug life cycle and engaging activities for preschoolers.

Interactive Design: Colorful illustrations and interactive exercises that make learning about nature an adventure.

Holistic Development: Promote not only knowledge about the life cycle but also numerical skills and artistic expression through coloring.
🎨 Perfect for Little Nature Enthusiasts!
Inspire a love for nature and learning with our Ladybug Life Cycle and Activity Pack. Whether for homeschooling, classroom activities, or as an educational resource, these printables bring the wonders of the natural world to young explorers.
📥 Instant Download:
No waiting, just discovering! Instantly download your printables and embark on an engaging journey through the life cycle of ladybugs.
👶 For Ages 3-5:
Tailored to preschoolers' developmental needs, our pack introduces nature's wonders in a playful and educational way.
🛒 Add to Cart Now and Let the Ladybug Adventure Begin! 🐞🌿🎒

Please note: This is a digital product. No physical items will be shipped. After purchase, you will receive a link to download your printable pack.


Contact us
Crystal & Co.
P O Box 55263
Hurst, Texas 76054
crystalandcomp@yahoo.com
Sign up to our mailing list