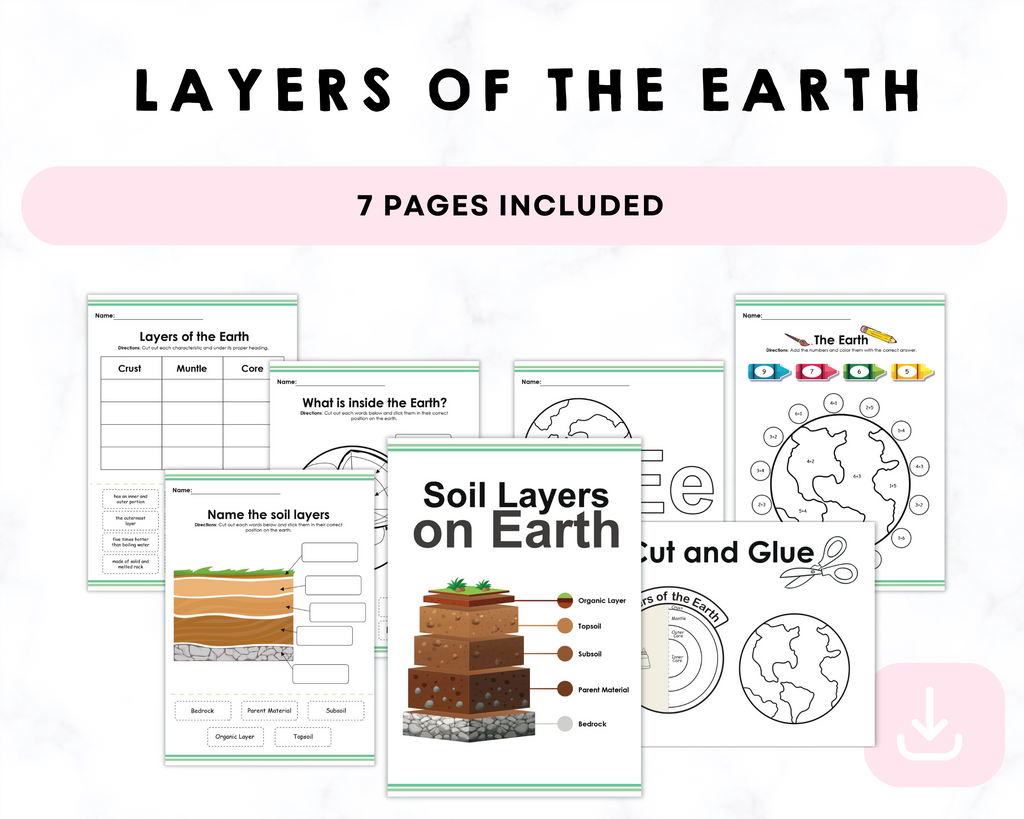 Layers of the Earth Printables
Layers of the Earth Printables
description
Introducing our exclusive 7-page Layers of the Earth Printables package—a must-have educational resource for budding geologists and science enthusiasts! Dive into the depths of the Earth and uncover its secrets with this engaging and informative set of printables.

**Product Features:**

1. **Comprehensive Learning:** Our 7-page Layers of the Earth Printables provide a comprehensive overview of the Earth's composition and structure, helping learners grasp the fundamentals of geology in a visually engaging manner.

2. **Detailed Illustrations:** Each page is adorned with meticulously designed, high-quality illustrations that vividly depict the layers of the Earth, making learning both enjoyable and educational.

3. **Color-Coded Diagrams:** The layers of the Earth are color-coded for easy identification and understanding, ensuring that learners can visually distinguish between the crust, mantle, outer core, and inner core effortlessly.

4. **Educational Content:** Accompanying the illustrations are clear, concise descriptions of each layer, offering essential information about its composition, characteristics, and role in Earth's geological processes.

5. **Interactive Learning:** Encourage interactive learning experiences by using these printables for discussions, quizzes, or classroom activities, fostering a deeper understanding of Earth's geological features.

6. **Versatile Use:** Ideal for both classroom teaching and homeschooling, these printables can also be used for educational presentations, science fairs, or even as captivating wall decor in a science-themed bedroom or study area.

7. **Printable and Ready-to-Use:** Conveniently downloadable and printable, our Layers of the Earth Printables are ready for immediate use. Simply print the PDF files and start exploring the fascinating layers that make up our planet.

Make learning about the Earth's layers an exciting adventure with our 7-page Layers of the Earth Printables. Unlock the secrets beneath the surface and inspire a lifelong love for geology and Earth sciences. Grab your set today and embark on a journey to the center of our world!

Please note: This is a digital product. No physical items will be shipped. After purchase, you will receive a link to download your printable pack.

Contact us
Crystal & Co.
P O Box 55263
Hurst, Texas 76054
crystalandcomp@yahoo.com
Sign up to our mailing list