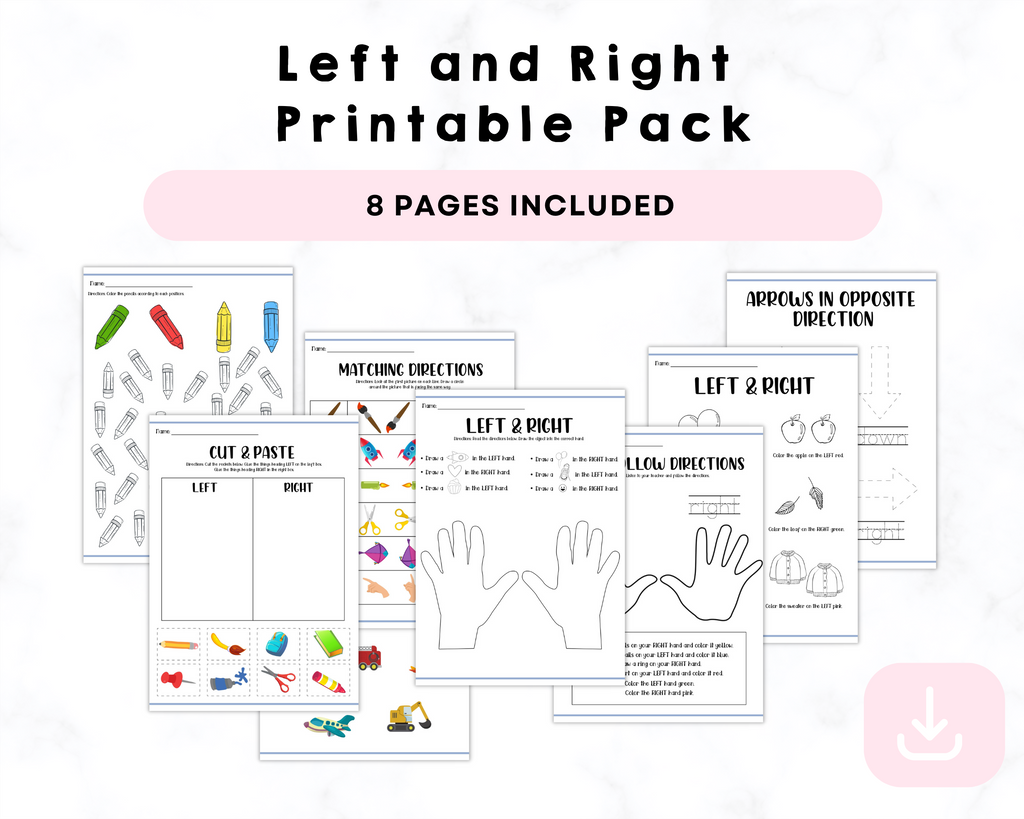 Left and Right Printable Pack Printables
Left and Right Printable Pack Printables
description
👈👉 Engage Young Minds with Our 8-Page Left and Right Printable Pack for Preschoolers! 🌟✂️
Introduce the concepts of left and right in an exciting and interactive way with our 8-page Printable Pack! Tailored for preschoolers, this pack is a playful journey through directional learning, enhancing cognitive skills and spatial awareness.
🔍 What's Inside?
Explore 8 creatively designed pages packed with engaging activities focused on left and right directions. From matching directions and following instructions to cut-and-paste exercises, each page is a hands-on exploration of spatial concepts.
🧩 Educational Adventures:
Matching Directions: Enhance cognitive skills by matching objects based on left and right instructions, promoting understanding of directional concepts.

Left and Right Mastery: Foster spatial awareness as children follow directions to identify left and right positions and sequences.

Cut and Paste Fun: Engage in creative activities involving cutting and pasting, reinforcing directional concepts through hands-on tasks.
📝 How to Use:
Print, follow, learn, and play! These printables are designed to make learning about left and right engaging and effective. Ideal for parents, educators, and caregivers seeking to introduce directional concepts in a fun and interactive manner.
🌟 Why Choose Our Printable Pack?
Comprehensive Content: 8 pages offering diverse and age-appropriate activities for reinforcing left and right concepts.

Interactive Design: Colorful illustrations and activities that make learning directional concepts enjoyable and relatable.

Skill Development: Promote not only left-right awareness but also fine motor skills and comprehension through hands-on tasks.
🎁 Perfect Gift for Little Explorers!
Make learning directional concepts an adventure! Whether for at-home activities, classroom engagement, or as a fun educational resource, these printables offer an exciting journey into spatial understanding.
📥 Instant Download:
No waiting, just learning fun! Instantly download your printables and embark on an imaginative exploration of left and right.
👶 For Ages 3-5:
Tailored to preschoolers' developmental needs, our pack introduces directional concepts in an engaging and age-appropriate way.
🛒 Add to Cart Now and Let the Left-Right Learning Adventures Begin! 👈🌈👉

Please note: This is a digital product. No physical items will be shipped. After purchase, you will receive a link to download your printable pack.