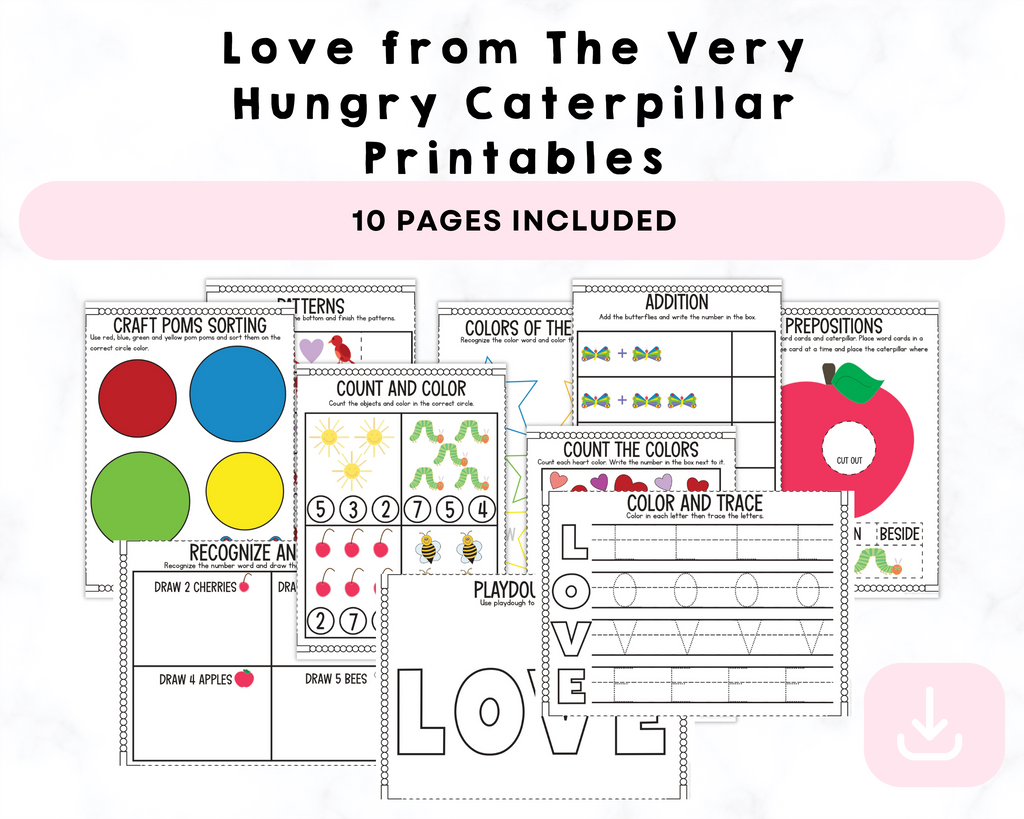 Love from The Very Hungry Caterpillar Printables
Love from The Very Hungry Caterpillar Printables
description
Introducing our delightful "Love from The Very Hungry Caterpillar Printables" - a 10-page treasure trove designed to captivate the hearts and minds of preschoolers! Immerse your little ones in the magical world of colors, counting, prepositions, and tracing, all inspired by the iconic Very Hungry Caterpillar.

**Count and Color:**
Watch as your preschooler delights in counting along with the endearing caterpillar, enhancing their numeracy skills while splashing vibrant colors across the pages. Encourage them to identify numbers and associate them with corresponding quantities, making learning a joyful experience.

**Preposition Play:**
Join the adventure of prepositions as the caterpillar explores the world around it! From "inside" to "on top," our printables introduce essential prepositions in a playful and interactive manner. Your child will love engaging with the caterpillar and understanding how language shapes their understanding of space and relationships.

**Color and Trace:**
Unleash your child's creativity and fine motor skills through the exciting "Color and Trace" pages. Each printable is a canvas waiting to be brought to life with vivid hues. As your little artist traces along the caterpillar's journey, they'll refine their hand-eye coordination and color recognition abilities.

**Additions and More:**
Enhance the learning experience with exciting additions on each page. From pattern recognition to simple addition exercises, these printables offer a holistic approach to early education. Help your preschooler grasp fundamental math concepts while nurturing their love for storytelling and creativity.

Invite the magic of The Very Hungry Caterpillar into your home and ignite a passion for learning in your child with our exclusive 10-page Love from The Very Hungry Caterpillar Printables. Each page is a journey of exploration and education, designed to nurture your little one's growth and love for learning. Grab your set now and watch their imagination blossom!
Please note: This is a digital product. No physical items will be shipped. After purchase, you will receive a link to download your printable pack.

Contact us
Crystal & Co.
P O Box 55263
Hurst, Texas 76054
crystalandcomp@yahoo.com
Sign up to our mailing list