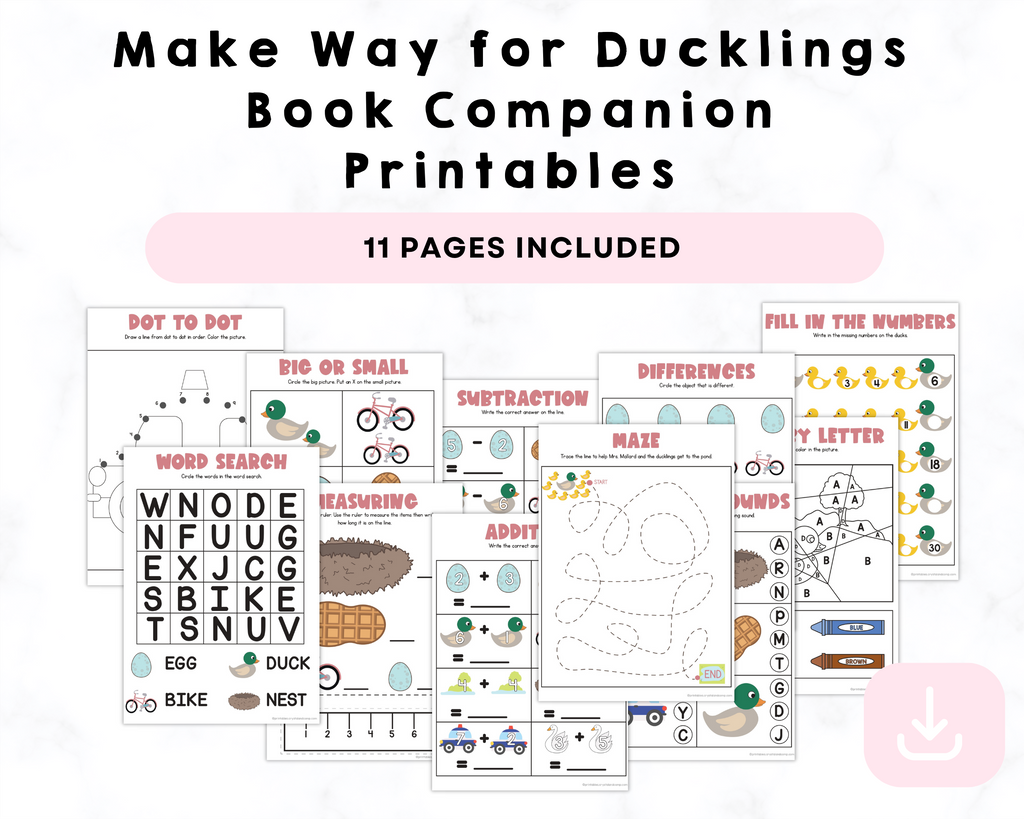 Make Way for Ducklings Book Companion Printables
Make Way for Ducklings Book Companion Printables
description
🦆📚 Enhance Learning Adventures with Our 11-Page Make Way for Ducklings Book Companion Printables for Preschoolers! 🌟🎨
 Crafted specifically to complement this beloved story, this pack combines storytelling with a diverse range of engaging activities.
🎯 Educational Adventures:
Math Exploration: Engage in fill-in-the-number, addition, and subtraction exercises tailored for preschoolers, reinforcing basic numerical skills.

Word Search & Big or Small: Encourage literacy through word searches and comparison activities that reinforce concepts of size and differences.

Dot-to-Dot & Maze Fun: Foster fine motor skills with dot-to-dot exercises and problem-solving skills with entertaining maze challenges.
📝 How to Use:
Print, solve, connect, and learn! These printables are designed to blend storytelling with educational activities, making learning enjoyable. Perfect for parents, educators, and caregivers seeking to combine literacy and skill-building in a playful manner.
🌟 Why Choose Our Book Companion Printables?
Comprehensive Content: 11 pages offering a variety of activities that enrich the storytelling experience.

Interactive Design: Colorful illustrations and engaging exercises that bring the story to life, encouraging participation and skill development.

Multi-Skill Development: Promote literacy, numeracy, and fine motor skills through diverse and age-appropriate activities.
📚 Perfect for Little Explorers!
Inspire a love for storytelling and learning with our Make Way for Ducklings Book Companion Printables. Whether for home-based activities, classroom engagement, or as a supplemental resource, these printables offer a rich and immersive learning experience.
📥 Instant Download:
No waiting, just learning fun! Instantly download your printables and embark on an adventure inspired by this timeless tale.
👶 For Ages 4-6:
Tailored to preschoolers' developmental needs, our pack introduces foundational skills in a delightful and interactive way.
🛒 Add to Cart Now and Dive Into the Ducklings' World of Learning! 🦆🌈📚

Please note: This is a digital product. No physical items will be shipped. After purchase, you will receive a link to download your printable pack.

Contact us
Crystal & Co.
P O Box 55263
Hurst, Texas 76054
crystalandcomp@yahoo.com
Sign up to our mailing list