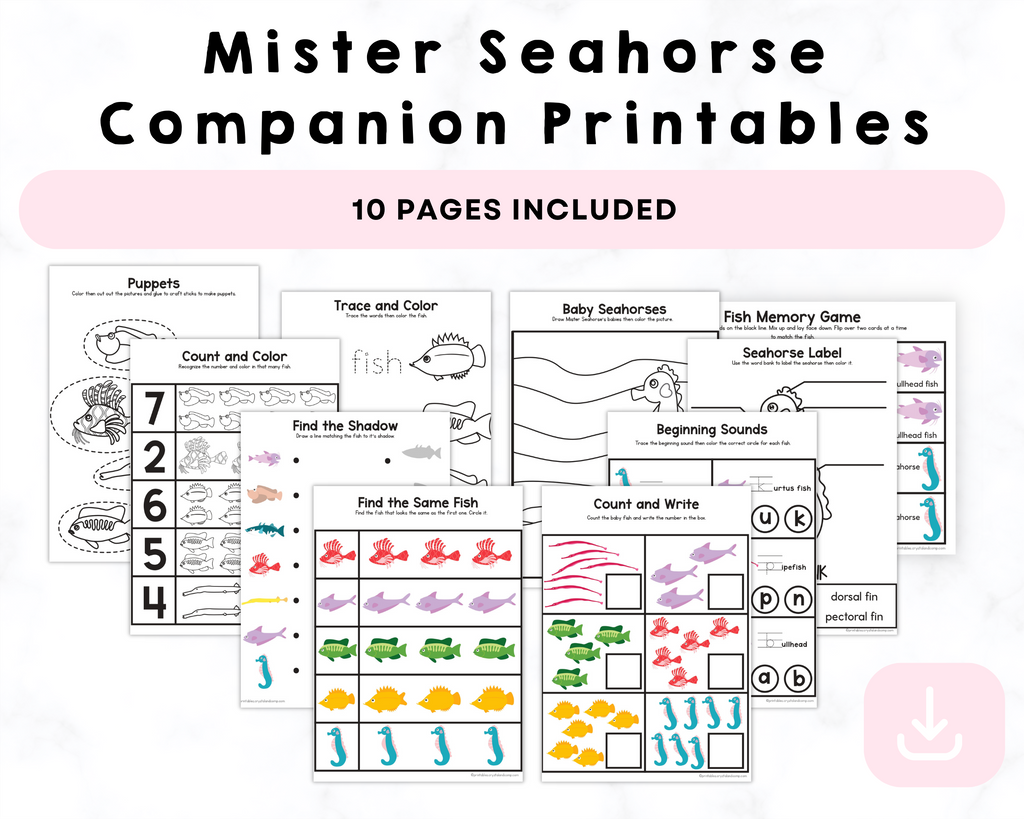 Mister Seahorse Companion Printables
Mister Seahorse Companion Printables
description
🌊 Dive into the enchanting world of Mister Seahorse with our comprehensive 10-page companion printables designed to captivate and educate your little ones. These delightful resources are perfect for preschoolers, combining the joy of creativity with early learning.

🦑 **What's Included:**

1. **Coloring Pages:** Let your child's imagination run wild as they bring the vibrant sea creatures of Mister Seahorse to life with a set of engaging coloring pages. From seahorses to vibrant seadragons, your little artist will have a blast!

2. **Mazes and Puzzles:** Foster problem-solving skills with entertaining mazes and puzzles featuring the characters from the story. Help Mister Seahorse find his way through the coral maze or piece together a puzzle of his oceanic friends.

3. **Seahorse Fun Facts:** Discover the fascinating world of seahorses with fun and informative facts that encourage learning through play. Did you know seahorse dads are the ones who carry the babies?

4. **Counting and Matching Games:** Enhance early math skills with counting and matching games that feature the marine life of Mister Seahorse. Count the seahorses and match them to their corresponding shells!

5. **Creative Drawing Prompts:** Spark your child's creativity with drawing prompts inspired by the book. Encourage them to illustrate their own seahorse adventures!

6. **Cut and Paste Activities:** Improve fine motor skills with cut and paste activities that help your child assemble their own underwater scenes with seahorses and their friends.

7. **Alphabet Tracing:** Aid in letter recognition and writing skills with alphabet tracing exercises. Trace the letters of the seahorse's name and other aquatic creatures.

8. **Word Search:** Boost vocabulary and concentration with a delightful word search game featuring words from the story.

9. **Color Matching:** Teach colors in a playful way by matching seahorses to their corresponding shades in this entertaining activity.

10. **Ocean Life Flashcards:** Dive deeper into marine biology with ocean life flashcards, perfect for expanding your child's knowledge of the creatures living beneath the waves.

🌊 Our Mister Seahorse Companion Printables offer hours of entertainment and learning for your preschooler, making it a fantastic addition to your educational toolkit. Whether you're a parent or teacher, these printables are designed to stimulate young minds and foster a love for learning about the wonders of the ocean.

🐠 Make learning an adventure, and bring the magical world of Mister Seahorse to your child's fingertips with our printables. Purchase now and embark on an educational journey that's as enchanting as the deep blue sea!



Please note: This is a digital product. No physical items will be shipped. After purchase, you will receive a link to download your printable pack.