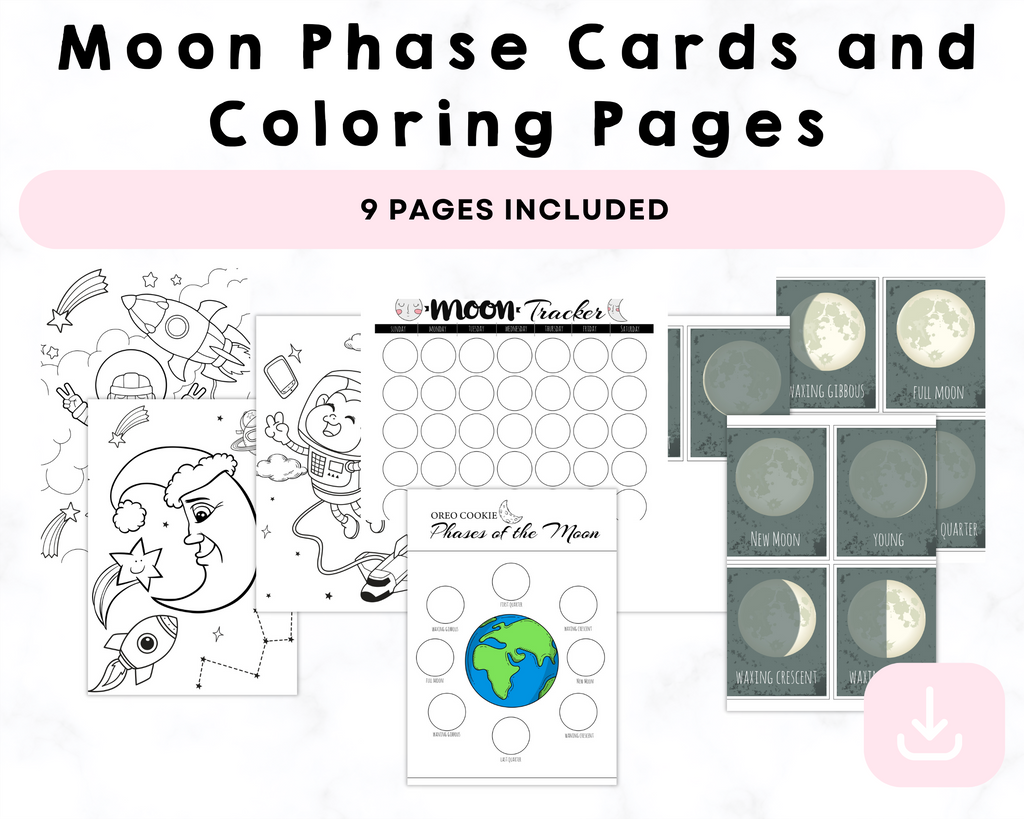 Moon Phase Cards and Coloring Pages Printable
Moon Phase Cards and Coloring Pages Printable
description
🌕🎨 Discover the Moon's Phases with Our 9-Page Moon Phase Cards and Coloring Pages Printable! Color, Learn, and Identify Lunar Phases in a Cosmic Adventure! 🌟🌑
Embark on an astronomical journey with our captivating 9-Page Moon Phase Cards and Coloring Pages Printable! Dive into the fascinating world of lunar phases through coloring and identifying the different faces of the moon.
🔍 What's Inside?
From waxing crescents to full moons and waning gibbous, each page invites exploration and creativity through coloring, aiding in recognizing and understanding the moon's phases.
🎨🌒 Educational Exploration:
Coloring Pages: Encourage artistic expression and lunar exploration through vibrant coloring activities depicting different moon phases.

Identify Moon Phases: Engage in a learning experience by recognizing and naming various lunar phases, fostering a deeper understanding of celestial cycles.
🌌🌓 Perfect for Cosmic Enthusiasts!
Inspire a fascination for astronomy and lunar cycles with our Moon Phase Cards and Coloring Pages Printable. Whether for homeschooling, classroom enrichment, or as a captivating learning activity, these printables provide an illuminating journey through the different phases of our celestial neighbor.


📝 How to Use:
Print, color, identify, and learn! These printables offer an engaging and educational tool for parents, educators, and curious minds seeking to unravel the mysteries of the moon's phases in an interactive way.

Please note: This is a digital product. No physical items will be shipped. After purchase, you will receive a link to download your printable pack.

Contact us
Crystal & Co.
P O Box 55263
Hurst, Texas 76054
crystalandcomp@yahoo.com
Sign up to our mailing list