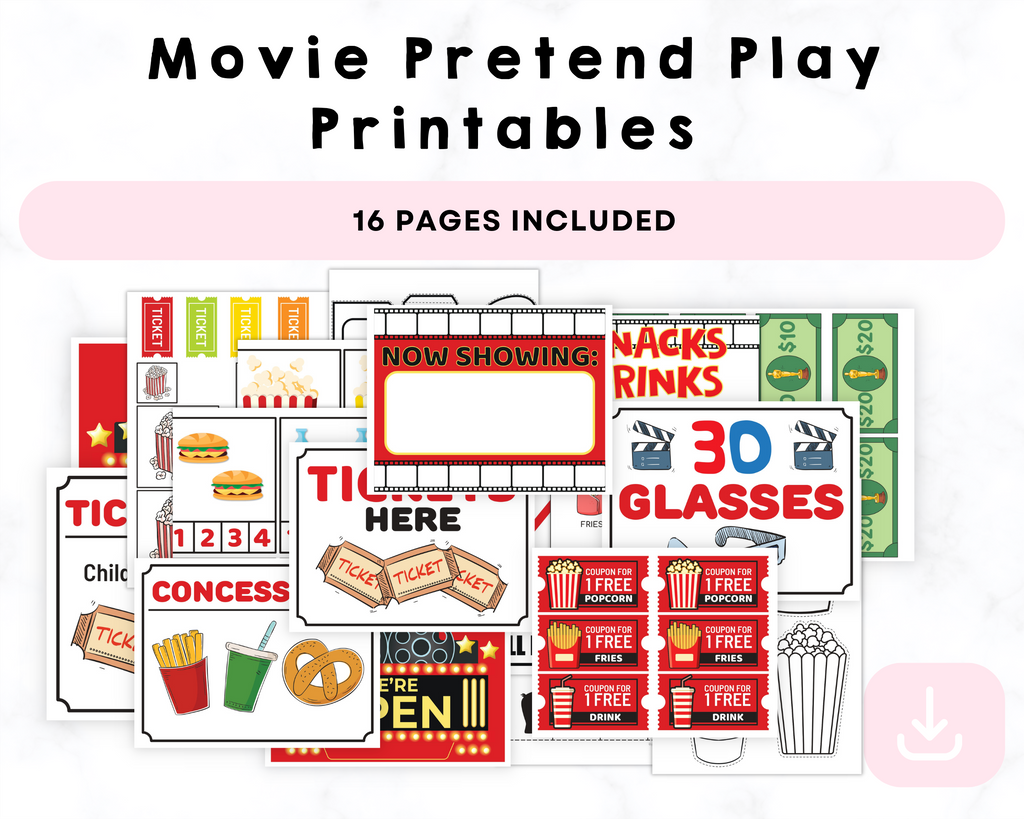 Movie Pretend Play Printable
Movie Pretend Play Printable
description
Introducing our Movie Pretend Play Printable Kit - a 16-page adventure into the world of make-believe and cinematic creativity! Transform any playtime into a captivating movie experience with this exciting digital download. Perfect for young aspiring directors, actors, and imaginative minds, this printable kit provides a seamless way to stage your very own movie magic right at home.

🎬 **Key Features:**

1. **16 Exciting Pages:** Dive into a world of imagination with 16 beautifully designed pages, each offering a unique element to enhance the pretend play experience.

2. **Scene Setup Sheets:** Plan and create your movie scenes effortlessly using our detailed scene setup sheets. From setting the stage to placing characters, it's all covered.

3. **Character Cutouts:** Bring your story to life with an array of adorable character cutouts. Choose from heroes, villains, and supporting roles to craft your movie's cast.

4. **Prop Printables:** Access a variety of props that add depth and realism to your scenes. From magical wands to treasure chests, the possibilities are endless.

5. **Speech Bubble Templates:** Allow your characters to express themselves with our speech bubble templates. Fill them in with dialogue and create engaging conversations that enrich your storyline.

6. **Printable Tickets:** Design your own movie tickets for an authentic cinematic touch. Add excitement to your pretend play experience by handing out tickets to fellow "audience members."

7. **Creative Writing Prompts:** Encourage creativity and language skills with fun writing prompts inspired by the movie theme. Let your little ones jot down their ideas and expand their storytelling abilities.

🎥 **How to Use:**

Simply download, print, and let the adventure begin! Cut out the elements, arrange your scenes, and watch your imaginative story unfold. Gather friends and family to play different roles, making every movie unique and entertaining.

Immerse your child in the magical world of pretend play, where creativity knows no bounds. Our Movie Pretend Play Printable Kit is the ticket to hours of fun and imaginative storytelling. Grab yours today and let the movie-making magic commence! 🌟

Please note: This is a digital product. No physical items will be shipped. After purchase, you will receive a link to download your printable pack.

Contact us
Crystal & Co.
P O Box 55263
Hurst, Texas 76054
crystalandcomp@yahoo.com
Sign up to our mailing list