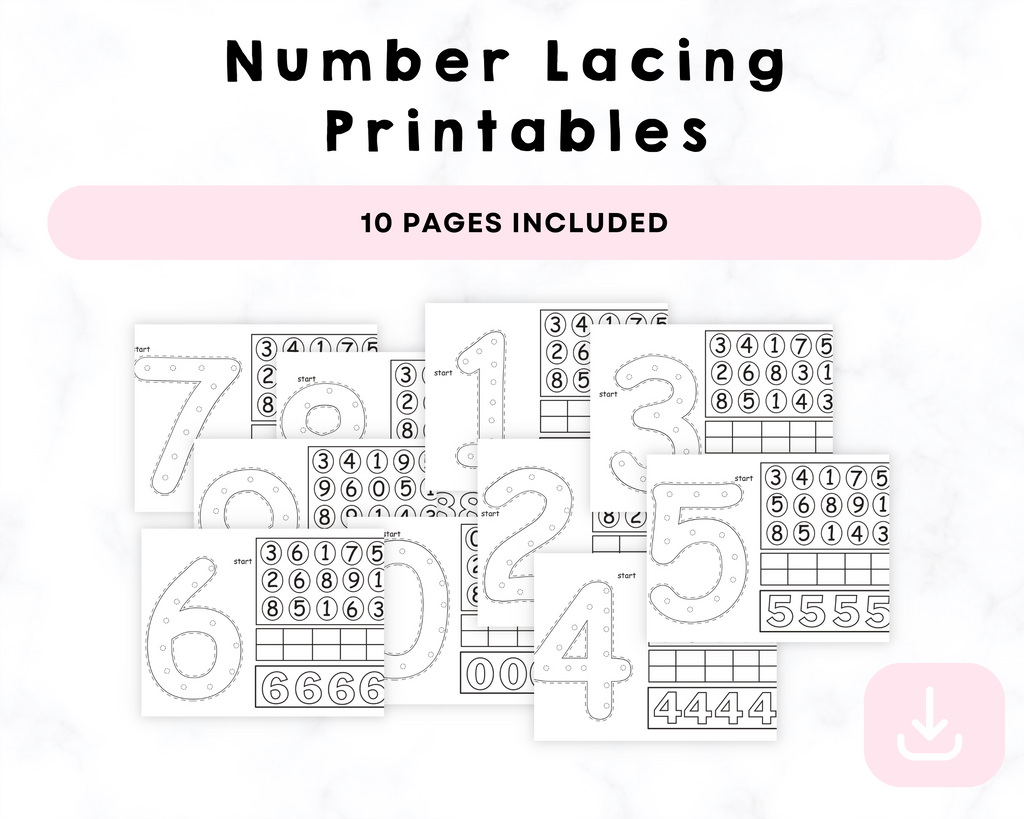 Number Lacing Printables
Number Lacing Printables
description
Introducing our 10-page Number Lacing Printables – a delightful and educational activity designed to enhance your child's learning experience. These engaging printables are carefully crafted to foster essential early math skills and fine motor development in a fun and interactive way.


✏️ Fine Motor Skill Development: Our Number Lacing Printables encourage the development of fine motor skills, promoting hand-eye coordination and precision in lacing the numbers.

🖨️ Printable and Reusable: Easily print and use these educational resources again and again to reinforce number recognition and sequencing in a sustainable and cost-effective manner.

🎨 Interactive Learning: Transform learning into a hands-on activity as your child laces through the numbers, making education exciting and interactive.

📚 Educational Value: These printables are designed to introduce and reinforce numerical concepts, helping your child grasp counting, number identification, and basic math skills.

👩‍👧‍👦 Suitable for All Ages: Ideal for preschoolers, kindergarteners, and early elementary school children, providing a versatile learning tool that adapts to various age groups.

🎁 Great Gift Idea: Perfect for parents, educators, and caregivers seeking an educational gift that combines fun and learning in one delightful package.


Bring the joy of learning into your child's hands with our 10-page Number Lacing Printables. Order now and watch your little one flourish in the world of numbers while having a blast!

Please note: This is a digital product. No physical items will be shipped. After purchase, you will receive a link to download your printable pack.

Contact us
Crystal & Co.
P O Box 55263
Hurst, Texas 76054
crystalandcomp@yahoo.com
Sign up to our mailing list