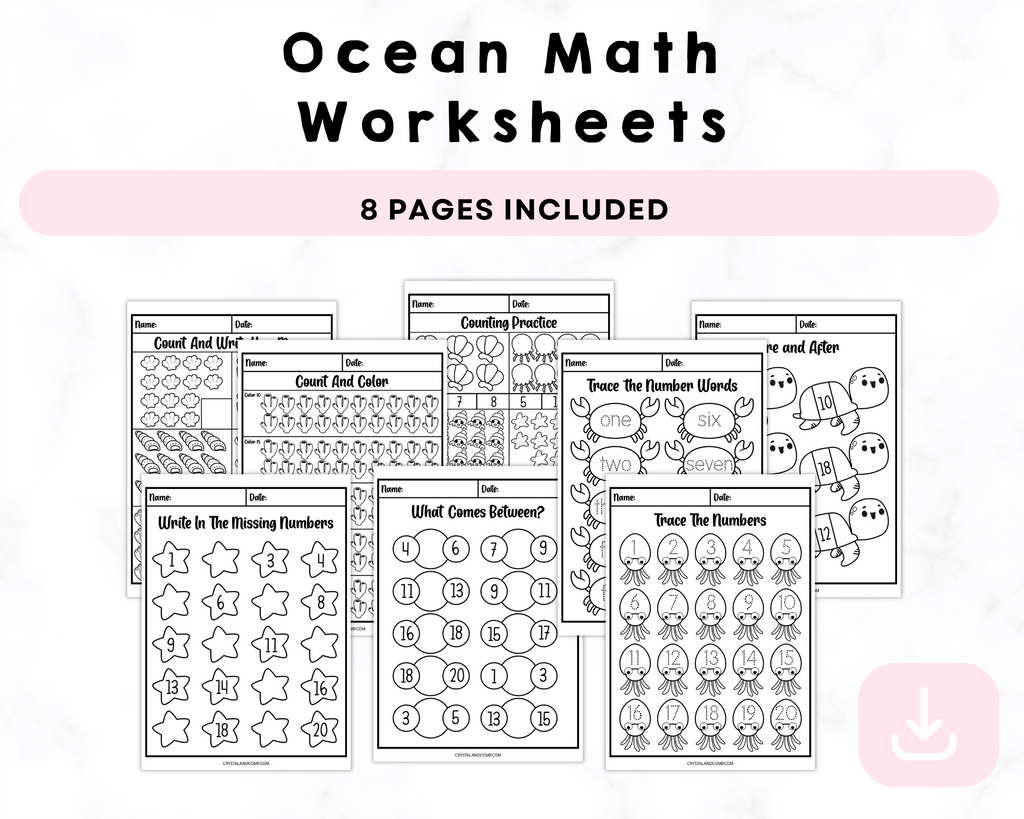 Ocean Math Worksheet Printables
Ocean Math Worksheet Printables
description
Introducing Our 8-Page Ocean Math Worksheet Printables for Preschoolers!

Dive into a world of ocean-themed learning with our 8-page Ocean Math Worksheet Printables specially designed for preschoolers. These engaging worksheets are the perfect way to make math fun while helping your little ones develop essential early math skills. Packed with exciting activities, these printables will keep your child entertained and educated for hours.

**What's Inside:**

1. **Trace the Number Words:** Our worksheets feature large, easy-to-trace number words, making it simple for preschoolers to practice their handwriting while learning to recognize numbers.

2. **Count and Color:** The ocean-themed illustrations will captivate your child's imagination. They'll have a blast counting sea creatures and using their artistic skills to bring these underwater wonders to life with vibrant colors.

3. **Counting Practice:** With a variety of counting exercises, your preschooler will master the art of counting in no time. From counting seashells to starfish, these worksheets offer endless counting opportunities.

**Why Choose Our Ocean Math Worksheet Printables:**

- **Educational Fun:** Learning math has never been so enjoyable! Your child will eagerly tackle math concepts while exploring the enchanting world of the ocean.

- **Skill Development:** These worksheets are specifically designed to enhance your child's number recognition, counting, and fine motor skills. They'll be well-prepared for kindergarten and beyond.

- **Engaging Design:** Colorful ocean-themed graphics, cute sea creatures, and playful underwater scenes will keep your child entertained and motivated to complete each worksheet.

- **Easy to Use:** The printables are user-friendly, ensuring a stress-free experience for both parents and kids.

- **Versatile Learning:** Whether you're a homeschooling parent or simply looking to supplement your child's education, these worksheets are an excellent addition to any preschooler's curriculum.

Our 8-Page Ocean Math Worksheet Printables for preschoolers provide a fantastic opportunity for your child to develop foundational math skills while enjoying the enchanting world of the ocean. Watch as your little one's confidence grows with every traced word, counted creature, and colored wave. Purchase today and set sail on a journey of learning and fun!
Please note: This is a digital product. No physical items will be shipped. After purchase, you will receive a link to download your printable pack.